East End Market is going to be a game changer, and probably the most significant thing to happen to the local Central Florida and Orlando food scene in years. East End Market will truly be a food lovers' delight.
And hopefully they will open very soon, most likely this August if construction efforts remain on schedule. It's been a long time coming.
East End Market is a neighborhood market and food hub in the Audubon Park Garden District of Orlando, Florida. The Market showcases some of Central Florida's top food entrepreneurs, tradespeople, artists, and chefs.
I recently went to visit the construction site and meet with a few of the local food artisans and chefs at the East End Market during a press event.
The two-story structure is home to a dozen merchants, a large event space, a demonstration kitchen, an incubator kitchen, offices, retail shops, a full-time, award-winning caterer and a world-class restaurant.

The first floor hosts ten independently-owned businesses offering local produce, meats, daily baked bread, Italian prepared meals and sweets, Kombucha, organic juice, raw food specialties, artisan cheeses, savory soups and sauces, and more.
Contiguous to the market hall is a farm-fresh restaurant, Txokos Basque Kitchen, a new culinary concept from the owners of Spanish River Grill.
James Beard award nominated Chef Henry Salgado of Spanish River Grill in New Smyrna Beach explains about the upcoming Txokos Basque Kitchen at East End Market.
A working Market Garden will take the space of the sizeable lawn off of Corrine drive. My Yard Farm, Central Florida's premier Edible Landscape Company, will design the garden to be a functional garden, whichTxokos Basque Kitchen can use as a source for fresh vegetables and herbs. My Yard Farm provides a vast array of services and knowledge for both residential and commercial business, such as the Whisper Creek Farm at the Grande Lakes Marriott Resort. Their expertise in farm planning and implementation has allowed them the reputation for growing high quality, local, orgaincally produced specialty crops to support the area's local food scene.
Vendors at East End Market will include:
Txokos Basque Kitchen
Michele Salgado: michele@thespanishrivergrill.com
A Txokos (cho-kos) refers to the underground gastronomic clubs that emerged in the Basque region of Spain during the Franco regime. Not allowed to enjoy their language, customs or food, the men would gather secretly to cook, speak their native tongue and sing their time honored songs together. Today the Basque country is recognized not only for its rich culture and heritage but for its outstanding food and creative chefs. With an open kitchen, and an Asador for grilling, Txokos Basque Kitchen will celebrate the proud spirit of this special part of Spain with food that is both traditional and fresh. With a year round growing season, Txokos will source as many ingredients as possible from its East End Market neighbors and from the abundant and talented local farmers in Central Florida.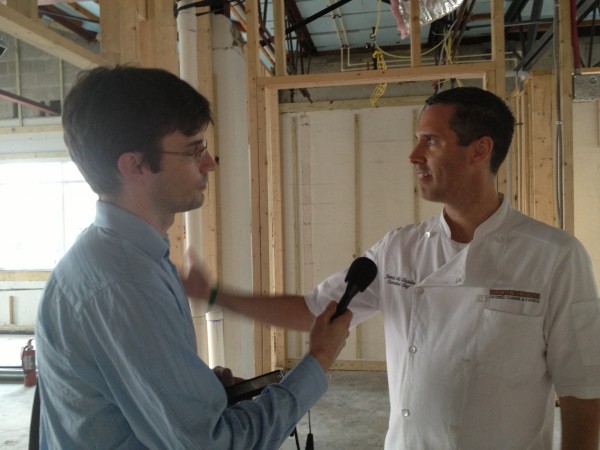 Cuisiniers Catered Cuisine & Events
Jamie McFadden: Info@cuisinierscater.com
"Constantly striving for Perfection," has been Cuisiniers Executive Chef Jamie McFadden's goal over the past decade. His culinary education and travels throughout Europe and the United States have enabled him to build a solid foundation on which he continues to exceed expectations of palettes throughout Central Florida.
After graduating from Baltimore's International Culinary College and La Varenne Cooking School in Burgundy, France, Jamie worked abroad under Master Chef Petter Timmins at the Park Hotel in County Cavan, Ireland. His reputation as an award-winning chef in Central Florida was earned at various high profile restaurants including his own restaurant, Mimi's Cafe & Wine Bar.

Fatto In Casa
Elisa Scarpa: elisa@fattoincasa.us
Fatto in Casa, Italian for "homemade," was founded in 2009 in Winter Park by Italian born and raised Elisa Scarpa. From appetizers to desserts, using the highest quality ingredients, original & seasonal recipes, Fatto in Casa thrives to provide outstanding authentic Italian food to the greater Orlando area. Freshly prepared specialties will be available daily.
Houndstooth Sauce Company
David Bressler: david@houndstoothsauces.com
David Bressler of Houndstooth Sauce Company will serve his famous red & white BBQ sauces, marinades, dressings, glazes, dipping sauces, rubs, soups, sandwiches, salads & apparel.
La Femme Du Fromage
Tonda Corrente: tonda@tondaskitchen.com
Tonda Corrente is a local cheese and wine enthusiast with a passion for food and the everyday celebration of life that happens around the dining table. She is a self taught chef and the owner of Tonda's Kitchen, a catering company. She is committed to using local and organic products. La Femme Du Fromage will be Orlando's premier destination for learning about and obtaining artisan cheeses. The shop will provide guests with high quality, hand crafted and unique cheeses, and a friendly and passionate retail experience.
Local Roots Farm Store
Emily Rankin: emily@localrootsdistribution.com
The Local Roots Farm Store brings together Florida farmers, artisans, and local food lovers. From the farm to the city, local roots offers "all Florida, all year." You can pick-up your farm-fresh eggs, local honey, a bounty of fresh Florida seasonal produce, as well as an unparalleled selection of Florida naturally raised meats. Bringing the farm to your table! Within the store, The Roots Cellar will be offering craft beer on tap and wine by the glass. The beer selection will include Florida craft beers, as well as a beautiful selection of wine from domestic boutique producers. Come enjoy the flavors of Florida!
Olde Hearth Bread Company
Shannon Talty: shannon@oldehearthbreadcompany.com
A family-owned artisan bakery committed to bringing you the most natural, hand-crafted breads and pastries that you can get your hands on in Central Florida. No Perservatives. No artificial flavors. When simple is good. Shannon and Janice Talty created the Olde Hearth Bread Company in 1998. The original vision was to establish a retail and wholesale business offering high quality artisan breads and pastries. However, the demands by chefs in Central Florida for quality breads, previously unavailable to them, ignited the wholesale business and gave the company its direction.
Skyebird
Devin Edwards: devin@skyebird.com
Skyebird is a locally owned and operated juice bar and experimental kitchen that uses the best mix of local and organic produce to make fresh juices, smoothies, house brewed Kombucha and a full raw food menu. Skyebird's goal is to provide a healthy alternative to support a variety of nutrition and lifestyle based diets. The term 'experimental' refers to their approach to food, which brings a constantly evolving menu as they work with new seasonal ingredients, equipment and processes to challenge themeselves and their customers' appetites. Skyebird will serve a vegetarian & vegan friendly breakfast, lunch and dinner.
99 Market
Jennifer Crotty: jennifer@99market.org
99 Market provides inspired plantings and florals as well as gifts for the home and embellishments for celebrations. Offering gifts honoring nature and all of its curiosities, we feature local crafts, materials, art, and re-purposed items for the home and garden. Originally founded in Charleston with the making of old world troughs, fountains, and topiary, we have traveled the flower show circuit and found a cozy home in the East End Market. 99 Market will continue to serve customers at local farmers markets and at East End Market by combining the worlds of landscape and floral design to make people happy by making beautiful things.
Wild Ocean Seafood Market
Cinthia Sandoval: cinthias@wildoceanmarket.com
For over four generations, Wild Ocean Seafood Market has provided local, wild-caught seafood from the Florida coast, getting their start as the premiere provider of Florida Rock Shrimp. Their family-owned and operated markets in Titusville and Port Canaveral now carry a wide selection of the ocean's best seafoods. Most of their seafood finds its way across their docks in Port Canaveral, but they also carry seafood from locations throughout the southeast from waterways such as the Indian River, the St. Johns River, and the Banana River.
Winter Park Distilling Company
Paul Twyford: paul@wpdistilling.com
The Winter Park Distilling Company was established by Paul Twyford and Andrew Asher to cultivate the time-honored tradition of locally handmade distilled spirits within their community. Both hometown boys and natives to Winter Park, Paul and Andrew craft their fine distilled spirits in a manner that hearkens back to the days of George Washington's Mount Vernon estate distillery. Paul and
Andrew's whiskies and vodkas reflect their simple commitment to using only the finest ingredients, as well as time-tested recipes developed over multiple generations. The Winter Park Distilling Company is the first genuine artisanal distillery in Winter Park and Metro-Orlando.