In my pursuit to discover the sweet spots of Orlando, I stumbled upon a neighborhood establishment located in the Milk District off of Primrose/Robinson Street at the former location of Spooky Black Cat Cafe.
Se7en Bites has been in business with some of the best restaurants in Orlando, delivering creative dessert mini-pies to locations such as Pom Pom's and Blue Bird Bake Shop.
Owner and Pastry Chef Trina Gregory-Propst is now expanding upon her magical pies and fabulous desserts to offer breakfast, brunch, lunch, and locally blended coffee from her new storefront.
Chef Trina elevates simple ingredients to create sweet and savory signature recipes that will satisfy your taste buds.
Favorites include her signature Salted Caramel Dark Chocolate Pecan Pie, Homemade Biscuits with Peach Ginger Jam, Savory Breakfast Bread Pudding with Hollandaise, Pimento Grilled Cheese and Bacon Sandwich and the Meatloaf Sandwich, a throwback to downtown's classic Sandwich King (Se7en Bites is in the former Sandwich King location). Weekend must-tastes are the warm Cinnamon Rolls and Biscuits and Gravy.
And, if you're wondering…the name "Se7en Bites" has quite a special meaning in Chef Trina's life and food philosophy. Chef Trina has maintained an amazing 187-pound weight loss for more than seven years. Her gastric bypass surgery limits her to just seven bites of each meal, which inspires her to make every bite count.

Chicken Pot Pie
Comfort food classic. This signature recipe is house-made with celery seed crust and filled with hearty ingredients. It was hard to put the fork down!
Salted Caramel Dark Chocolate Pecan Pie
Happiness in a tin can – my personal favorite. Brought this pie home with me and it only took one bite a day to satisfy my craving – and cherish the pie a little longer. Made with a salted butter crust mixed with caramelized pecan filling in dark chocolate.
Iced Coffee (left) and Orange Blossom Iced Tea (right)
The coffee is cold brewed overnight to create a full bodied rich taste. I also found the Orange Blossom Iced Tea to be refreshingly different and delightful to have for any time of the day. The tea combines a citrus and floral flavor that is fresh and not too sweet.
Dark Chocolate Salted Peanut Butter Bacon Crumble Cupcake
Dark chocolate salted peanut butter cupcake topped with Italian butter frosting , bacon bits, and peanut brittle.
Duffin
Hybrid of a donut and muffin. Cake donut dipped in brown butter cinnamon sugar.
Chocolate Chip Coconut Biscotti
Hazelnut Coffee Cake
A modern twist of Trina's grandmother's recipe. Hazelnut brown sugar coffee cake with brown butter glaze.
Dark Chocolate Stout Cake
Dark chocolate salted pudding layers topped with sliced crumbs to create rich texture.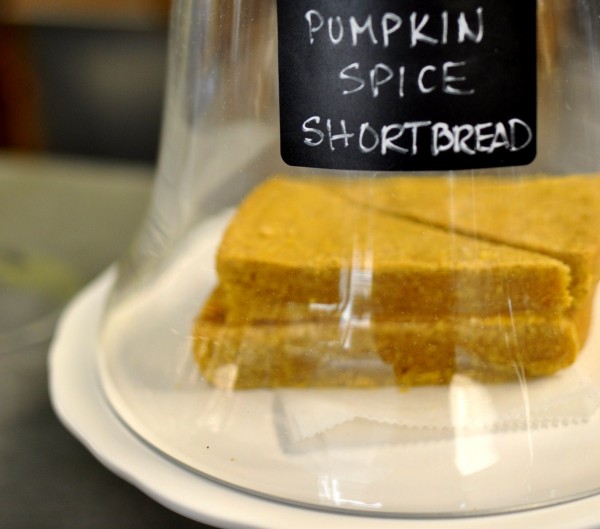 Pumpkin Spice Shortbread and Pumpkin Spice Ginger Cream Cake.
Pumpkin Spice Shortbread and Pumpkin Spice Ginger Cream Cake. Celebrate Fall with some seasonal sweets!
Pom Moon Pie Ingredients
Graham cracker sandwich with a vanilla bean bacon crumble marshmallow center dipped in chocolate. Dedicated to Pom Moongauklang from Pom Pom's Teahouse & Sandwicheria. The moon pie captures the perfect blend of crunchiness, saltiness, and sweetness!
Se7en Bites is a new neighborhood gem that is becoming popular among the locals. Many of the dishes are house-made using genuine whole ingredients with consistent quality. The oak paneled walls and booths creates an inviting space for a casual breakfast or lunch. I will have to visit soon to try out their special breakfast items!
For more information, visit:
Pastry Chef/Owner: Trina Gregory-Propst
General Manager: Kevin Thornton
Email: delishinfo@se7enbites.com
Address: 207 N Primrose Dr, Orlando, Florida 32803
Phone: (407) 203-0727
Hours of Operation
Tue – Fri: 7:30 am – 3:30 pm
Sat – Sun: 9:00 am – 3:00 pm
Photos taken by Krystle Nguyen with the Nikon D5000 DSLR