Purple Orchid Thai Cafe and Grocery store is located in a rather "sketchy" hidden strip mall plaza on the south side of Colonial Drive, just east of the SR 417 exit. Of course, it's never good to judge a book by its cover and Purple Orchid is no exception.
Purple Orchid's owner Nisa recently moved down to Florida from the DC area, leaving her job as a pharmacist to follow her dreams and her daughter who is attending college at the nearby University of Central Florida.
This is her first time running a restaurant, but she is fearless and has some really great, authentic Thai dishes that make the place stand out. Everything is also very reasonably priced, as well, with many dishes for lunch ranging from $5.95 to $7.95.
I visit with my dining companion, Justin, who heads up the new Chowzter app, that serves like a Zagat for local small restaurants,  available on iOS and Android.

Purple Orchid's owner Nisa (like Lisa but with a N)
The back area of the cafe serves as a Thai grocery store. I suppose they will always have the ingredients needed for their dishes!
On Fridays, they have lunch specials served from the cart, like this massaman curry chicken.
We start off with the Thai dumplings (Kanom Jeeb), a type of siumai like steamed dumpling filled with a shrimp and pork meat mixture, spices, and served with soy sauce.
I really enjoyed the Thai fish cakes (tod mun) – deep fried spicy Thai fish paste cakes served with sweet and sour sauce and pickled cucumber salad. They had a nice crunchy texture and the spices in the fish cake brought out the flavors well.
For more lunch, I ordered the Thai Beef Noodle soup, served with beef meat balls, rice noodles, in a spicy Chinese 5 Spice based broth and topped with mint herbs and scallions.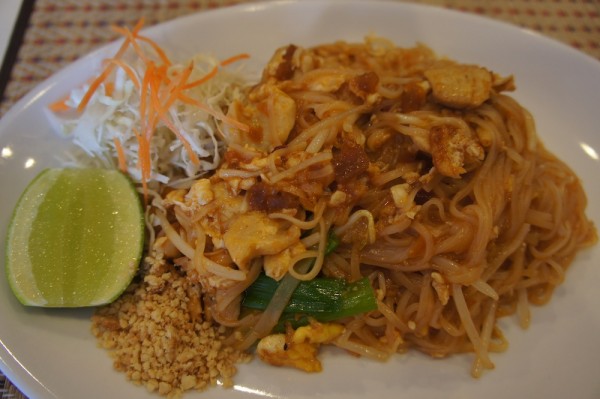 Justin ordered the pad thai ($5.95), a filling and tasty sweet  chicken pad thai mixed with bean sprouts, scallions, and eggs.
Overall, the food was delicious and the charming Purple Orchid Thai cafe might just become one of my new favorite Thai places in town.