On Friday, August 16, 2013, Ikea Orlando celebrated their annual Crayfish Party. I was invited to visit and explore the cultural food and festivities at their cafeteria.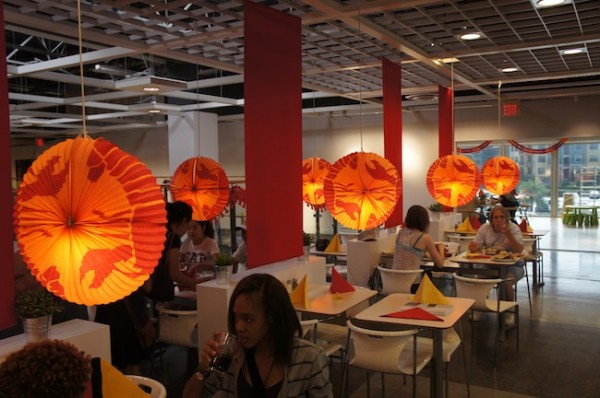 Typically at their cafeteria, Ikea would serve smoked salmon, salads, Swedish meatballs with lingonberries, and spaghetti pasta. But this time, the Ikea team brought out the big guns for this crayfish party.
The "kräftskiva" (crayfish party) is one of the most important social events of the year in Sweden. It is usually held in August during the height of the crayfish season, and it's a time for friends to gather together and celebrate the warm weather, warm company and heaping piles of fresh crayfish.
Participants often wear funny hats and enjoy "singing drinking," songs while taking snaps (or shots, as we call them.) The parties continue well into the night, when the unmistakable sounds of laughter and singing can be heard from the balconies, verdanas and gardens all across the country.
The menu included: Crayfish (a salty Swedish version rather than the cajun style we usually find here in Central Florida), tossed green salad, cucumber salad, hardboiled eggs with mayo and shrimp, shell on prawns with cocktail sauce, Najad salmon with horseradish or mustard sauce, meatballs with lingonberries, mashed potatoes, boiled dill potatoes, and cupcakes for desserts.
Photos from the event:
Swedish meatballs galore
Deviled eggs w shrimp
Najad salmon with horseradish or mustard sauce