Chef Steve Saelg is trying to bring forth the art of cooking and eating at the new Crooked Spoon Gastropub in his hometown of Clermont, Florida.
Well, the restaurant itself is kind of new – more like an evolution of sorts.
After years in the finance industry on New York's Wall Street as well as in Central Florida, Chef Saelg made the decision to explore his passion in the culinary arts.
A 2005 graduate of Le Cordon Bleu, he honed his skills by working alongside notable chefs in restaurants such as the Tavern on the Green in New York city, and then in College Park's K Restaurant and Wine Bar, and the Citrus Club in downtown Orlando.
In 2010 Chef Saelg made the decision to steer his skills into the food truck race and brought to Orlando one of its first gourmet food trucks: The Crooked Spoon. It was one of my personal favorite food trucks, especially for their absolutely perfect Crooked Spoon Burger, "life changing" 420 Burger, and creamy, decadent Six Cheese Mac & Cheese dishes.
The buzz for The Crooked Spoon food truck was so great, Chef Saelg was approached by the Cooking Channel's Eat Street to showcase a couple of his dishes on one of their episodes, and his recipe for Swordfish and Grits was ultimately featured in the official Eat Street cookbook.
Chef Steve commits to supporting local farms and ranches whenever possible by purchasing their products for his restaurant. He believes that "it is important for us to source fresh and local ingredients to support our ever-changing menu, which consists of unique takes on traditional and not-so-traditional pub food."
On my recent visit to the new brick-and-mortar restaurant in Clermont, my dining companions and I found the food to be quite good, and would warrant multiple trips back, especially for the staple menu.
Our waiter CJ seemed to be a seasoned veteran of the restaurant industry, very great service for him as he was attentive and was able to suggest quite a few great items for us this evening. I did notice however that there seemed to be a few too many staff wandering about almost aimlessly, hopefully they will find direction from management soon.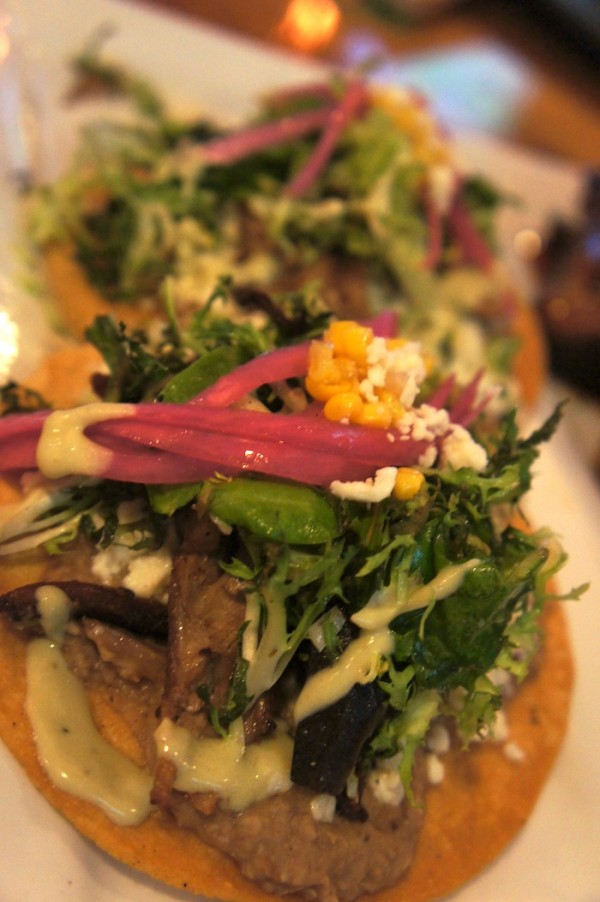 We start with the very enjoyable and fun to eat Duck Confit tostadas ($12), two piled on high crispy tortillas (reminiscent of Mexican sopes), with layers of Anasazi bean puree, tasty duck confit, farmer's cheese, spring greens, and just a dollop of avocado creme fraiche. The duck confit tostadas definitely whetted our appetites, wanting for more.
Next we tried some of the sweet hickory and pecan Smoked Chicken Wings, slathered with a 3-chili glaze, and overall delicious with a nice smokey seared taste.
One of my dining companions ordered one of their signature burgers – the Cocoa and Coffee Crusted Burger, a really fantastic burger made with fresh from Florida Angus Beef, topped with Boursin cheese, spring mix, marinated tomato, and a raspberry chipotle bbq sauce served with a batch of house-made chips. I'm glad the burger quality is at and even above what was available when The Crooked Spoon was a food truck and I believe this is due in part to their expanded kitchen capabilities.
Another dining companion ordered the Double Cut Chamomile Brined Pork Chop, a huge yet very tender and succulent brined pork chop finished with a Bourbon glaze and served on top a medley of fingerling potatoes, house made sausage and Brussels sprout hash. This was one of my favorite dishes that I tried at The Crooked Spoon Gastropub this evening as the flavors were rather delicate yet luscious at the same time.
Specials are written on the black board towards the back of the restaurant, and though the specials that we tried were good and passable, they seemed to be missing something. Maybe too much was going on or some ingredients could have been used better to make the dish really stand out.
My dining partner ordered the Tom yum special, described as consisting flank steak, pickled daikon carrots, rice noodle, spinach, Chinese sausage, fried dumpling, and shrimp cracker. Well, maybe it wasn't a great idea to order a Thai dish in an American gastropub, but we expected more flank stank for the Tom Yum, traditionally a sweet and tangy Thai soup. The soup was good, but the flank steak serving was a bit paltry and the rice noodles were slightly undercooked. My partner enjoyed her dish nonetheless despite the few missteps.
My dish was the Smoked porkloin special with mushroom gravy, boursin and mushroom bread pudding, topped with arugula on top of a smoked grape mustard. I was a bit disappointed that the porkloin was more like a ham steak, a little chewy, but with a nice smoky flavor. The bread pudding and the grape mustard was good but it was a tad too sweet for me and so there was maybe too much going on here in this dish.
For dessert, a tasty chocolate brownie.
Overall, a wonderful experience at The Crooked Spoon Gastropub, and we will be back – but more likely for the staples like the burgers and the pork chop rather than some of the specials, until they are a little more refined at least.