by Unique Michael
I was recently invited to experience Fleming's Prime Steakhouse & Wine Bar's new menu, which showcases new dry-aged steaks, bold cuts, flavorful steak companions, and a diverse wine selection.
Shortly after arriving, I was greeted by the restaurant's operating partner Irma Muns and Chef Partner Alec Cheak. Before sampling the new menu, I took note of the contemporary music playing (Artists like Mumford & Sons) and a few of the beautiful features of the interior, such as an open kitchen for guests to look into from their elegantly decorated table.
Before trying anything off of the new menu, I was informed of the two distinct preparation methods. According to Fleming's, their steaks are either classically prepared, which means that they are expertly seasoned with kosher salt and black pepper, then broiled at 1,600 degrees or iron crusted and finished with butter and fresh parsley.
In the video provide below, Corporate Chef, Russell Skall, highlights an important Fleming's philosophy by stating "Indulgence Made to Order is a philosophy; it's an experience where care and craftsmanship add up to something exceptional."
First, I sampled a juicy Pork Belly and Fennel Salad, which was accompanied with mandarin oranges. This was paired with a sweet French Chardonnay. The combination was refreshing, yet savory and well balanced.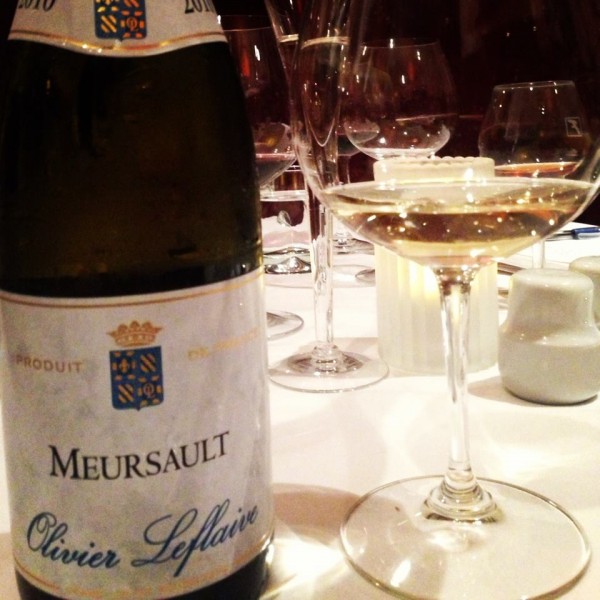 Next, I had the option of choosing between a Dry-Aged Ribeye or Dry Aged New York Strip, which was served with a steak companion of choice. I selected the New York Strip prepared using their iron-crusted method with the Truffled Poached Lobster as a side companion. It's not hard to find an average steak but it can be difficult to find an exceptional one.
This was definitely one of the exceptional ones. Like Chef Russel Skall says in the video, the outside was seared perfectly and the inside was tender and full of flavor. The texture and flavors of the lobster and steak worked well together, but the béarnaise sauce was too rich for me.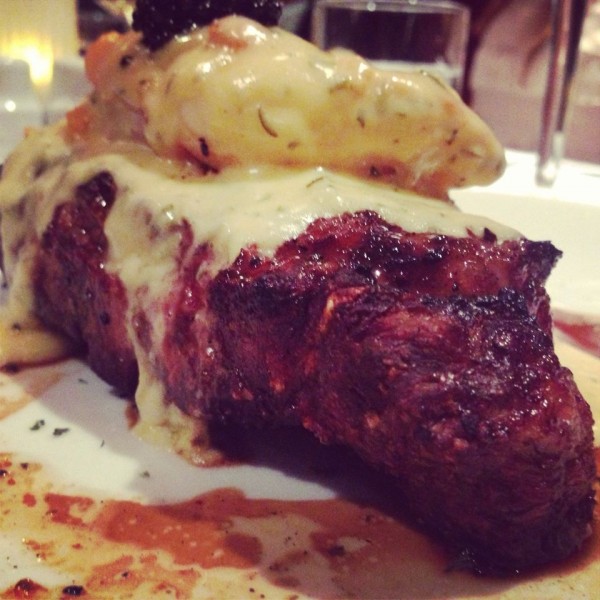 Here's a list of the steak companions:
• Truffled Poached Lobster with béarnaise sauce and caviar
• Diablo Shrimp baked with a spiced barbeque butter sauce
• King Crab with Herb Butter simmered with fresh herbs and garlic and topped with caviar
• Flavor Trio with three steaks spreads: Gorgonzola and mascarpone brulée, Sweet onion bacon jam, and Cabernet mustard.
I also tried a slice of the Wet Aged Tomahawk Steak for two, which was tender and possibly the perfect selection for a date.
Overall, the food and service was enjoyable. According to Irma Muns, all chefs and staff go through rigorous training on how Fleming's prepares their steaks, so don't be afraid to ask your server to elaborate on their new offerings or for a recommendation.
Last but not least, the restaurant gives every table a "Wine Pad," which is a beautifully designed application for the iPad that showcases the Fleming's 100 Wine List with tasting notes and suggested food pairings. The Fleming's 100 includes classics and not-to-miss selections, but also cut wines and upcoming standouts. There is a wine for every budget; 30 of the wines are less than or equal to $10 per glass. The Wine Pad works well to remove the stigma surrounding the enjoyment of fine wines. Wine connoisseurs and those that are newer to wine will equally enjoy this interactive experience.
$50 giftcard giveaway to Fleming's and bottle of Italian Wine
Enter for a chance to win a $50 gift card and a bottle of Italian wine, exclusively crafted for Fleming's. Complete the two items below to enter! Must enter by Monday October 28, 2013 5pm EST to win.
1. Subscribe to our newsletter (you are already entered if you are already subscribed): Subscribe to the TastyChomps Newsletter here
2. Answer in the comments below: What would you order for $50 at Fleming's?
3. Optional: "Like" this page on Facebook using the buttons on the left or bottom!
—————
Unique has over five years of experience in the communication industry and actively uses his Graphic Design, Business Development, Public Relations, and Marketing skills to support small businesses and local events. He is also the Director of Advertising for Tasty Chomps, Orlando's Number 1 Food Blog. Unique is currently studying Communication with a focus in Writing & Rhetoric and Mass Communication at The University of Central Florida