Although most readers may be familiar with A Land Remembered, one of my favorite places for steak in town – nearby Cala Bella – also located at Rosen Shingle Creek – is not on most people's radars even though it is one of the few AAA Four Diamond rated restaurants in town.
Cala Bella is Rosen Shingle Creek's upscale Italian restaurant features inspired Italian classics with a Mediterranean and American twist, accompanied by an extensive wine list.
The inspiration of the name Cala Bella, or "Beautiful Creek" in English, comes from owner Mr. Harris Rosen's celebration of Florida's history and the unique history of Shingle Creek itself.
Visitors can sit in the main dining room and enjoy the sunset over the golf course outside or view the open kitchen and watch the chefs prepare dishes over open flames.
The Cala Bella sampler platter is a good start, a hearty platter filled with house made meatballs, calamari fritte, bruschetta Cala Bella, and antipasto.
My dining partner, a seafood lover, ordered the Cala Bella seafood pescatore – a must try, slightly spicy, very flavorful and earthy saffron tomato broth serves as the base for this dish in which Australian lobster tail, Little Neck clams, mussels, shrimp, and scallops are braised.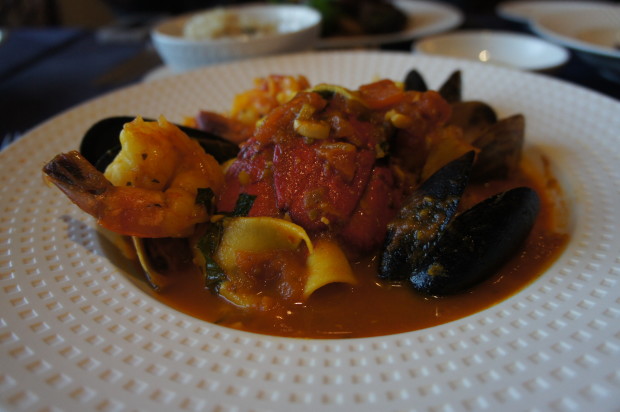 I ordered the hefty, succulent rack of marinated herb roasted Cala Bella New Zealand lamb chops with pickled garlic, shallots, and rosemary minted marsala, accompanied with a side of the daily risotto. Fantastic.
Prices are geared more towards the expense account carriers out there, but locals can have a good bargain by going on Restaurant.com and getting a discounted gift certificate to Cala Bella to make it more budget friendly.