I've dined at Izziban before, and loved their creative take on sushi rolls. Recently, they underwent quite a renovation, focusing this time more on Korean-style "yakiniku" barbecue in addition to their repertoire of Japanese sushi rolls. At least 10 new tables are fully equipped with Korean barbecue grills and vents, glowing neon red from the heat.
I've been to Korean all you can eat barbecues before in other areas of the US – Picnic Garden in Flushing, New York and Cho Won Buffet in Atlanta, Georgia are particular standouts. The key thing to note with all you can eat Korean establishments, as with most places that have an "all you can eat" concept, is that the quality is markedly different, some say lower in terms of the flavoring and seasoning. This is no different at Izziban from my recent visit.
For $24.99, diners can feast on an all you can eat Yakiniku (grilled beef) buffet at Izziban. This, surprisingly and pleasantly, includes a list of appetizers and sushi rolls. In a region where most Korean restaurants charge $16 and up just for a plate of kalbi short ribs or bulgogi beef, this is an extremely good deal, even if the meat is not seasoned very well.
To avoid "sharing", all diners at the table are required to choose the all you can eat meal if there is at least one person who wants it. Though it's not very pro-diner, especially for those of the party who are vegetarian or do not want the all you can eat option, I can understand where it's a very business minded decision to cut costs.
Diners can choose endless amounts of edamame, seaweed salad, ginger salad, fried spring rolls, crab rangoon, miso soup, and clear soup as appetizers. Traditionally, Korean barbecue would have a list of "banchan" side dishes like pickled kimchi (which they do have here but not on the menu), little anchovies, and all sorts of other pickled veggies, but this is not the case here with these side choices. I suppose it is called a yakiniku buffet after all and not a "korean" buffet, taking more towards its Japanese influences.
I guess it's not something I can complain about when they have a nice selection of sushi rolls to choose for, also unlimited with the all you can eat option, including California roll, Golden California Roll, Spicy Tuna Roll, Philly Roll, Veggie Roll, Crunchy Shrimp Roll, Spicy Crab roll, Spicy Salmon Roll, Las Vegas Roll, and Crab rolls.
On to the the meat of things, the main entree items include plates of short ribs, rib eye steak, marbleized beef brisket slices, beef tongue, marinated short ribs, marinated spicy chicken, and marinated sirloin. Once you get the plates of meat, you can start adding them in to the hot plates in the center of the tables and start grilling.
My favorites were the beef brisket slices and the crispy, tender slices of beef tongue. My main complaint about the meat would be that it is not seasoned at all. Luckily they give some barbecue, spicy pepper sauce and sesame oil when asked to spice up the meats, otherwise you are on your own. I think I might bring my own kalbi marinade next time for more flavor.
But for $24.99, endless grilled meat, sushi rolls, and apps, it's pretty much unbeatable in Orlando. There is also an option to add seafood, including lobster tail ($15), 5 pieces of shrimp for $5, and 6 pieces of scallop for $12 if you so desired. I will probably return again with friends to Izziban for special occasions or if I am in the mood for a lot of meat.
To view the full menu, visit: http://www.izzibansushi.com/wp-content/uploads/2013/12/Izziban-Sushi-Main-Menu.pdf
Sci-fi futuristic looking ventilation pipes and neon blues and reds in the new decor for Izziban.
They have huge beer towers for sale, too.
I would skip the crab rangoons as they were a bit underwhelming. Save that tummy space for the meats and sushi rolls!
Cooking brightly on the grills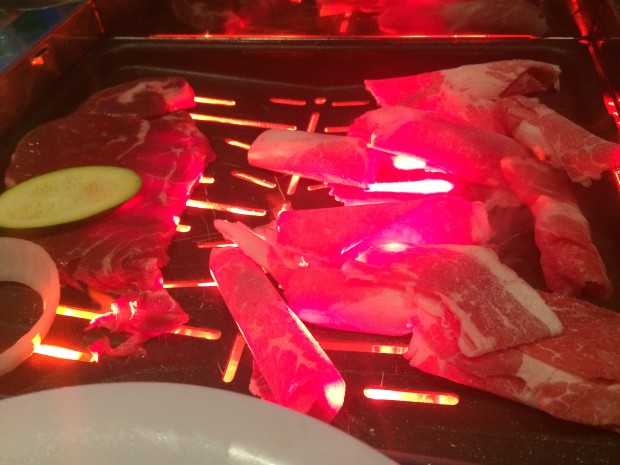 Notice the heated plate at the center for grilling the meats.
Slices of fatty beef brisket
Slices of beef tongue
My favorite cuts included the kalbi marinated beef short ribs and the spicy chicken bulgogi.