by Katherine Nguyen, Katherine Nguyen Photography
Lobster galore! The ships have docked and the lobsters have made it to land.
I was invited by the folks of Red Lobster to experience the 30th Annual of Red Lobster's Lobsterfest recently and to learn more about the company.
Red Lobster is serving high-quality seafood in over 400 locations in North America, not only serving guests in their locations, but Red Lobster restaurants also participate in the Darden Harvest program, which donates 67+ million pounds to local community food banks across the United States.
If you're allergic to any item on the menu like I am to shrimp, they were more than happy to accommodate and made sure I avoided everything with shrimp or had the enzymes from the shrimp mixed into the dish. What continued to amaze me was their care in alterations in dishes for me by making dishes without shrimp, etc.

Sweet Chili Shrimp – a dozen hand-battered shrimp tossed in a spicy chili sauce. Not too sassy or saucy to the taste…these babies hit your taste buds JUST RIGHT.

Lobster-Crab-and-Seafood-Stuffed Mushrooms – fresh mushrooms stuffed with seafood, smothered in Monterey Jack cheese and baked golden brown. Red Lobster has combined some of my favorite ingredients together: lobster, crab and mushrooms! What do I have to say about this appetizer? One word: delightful!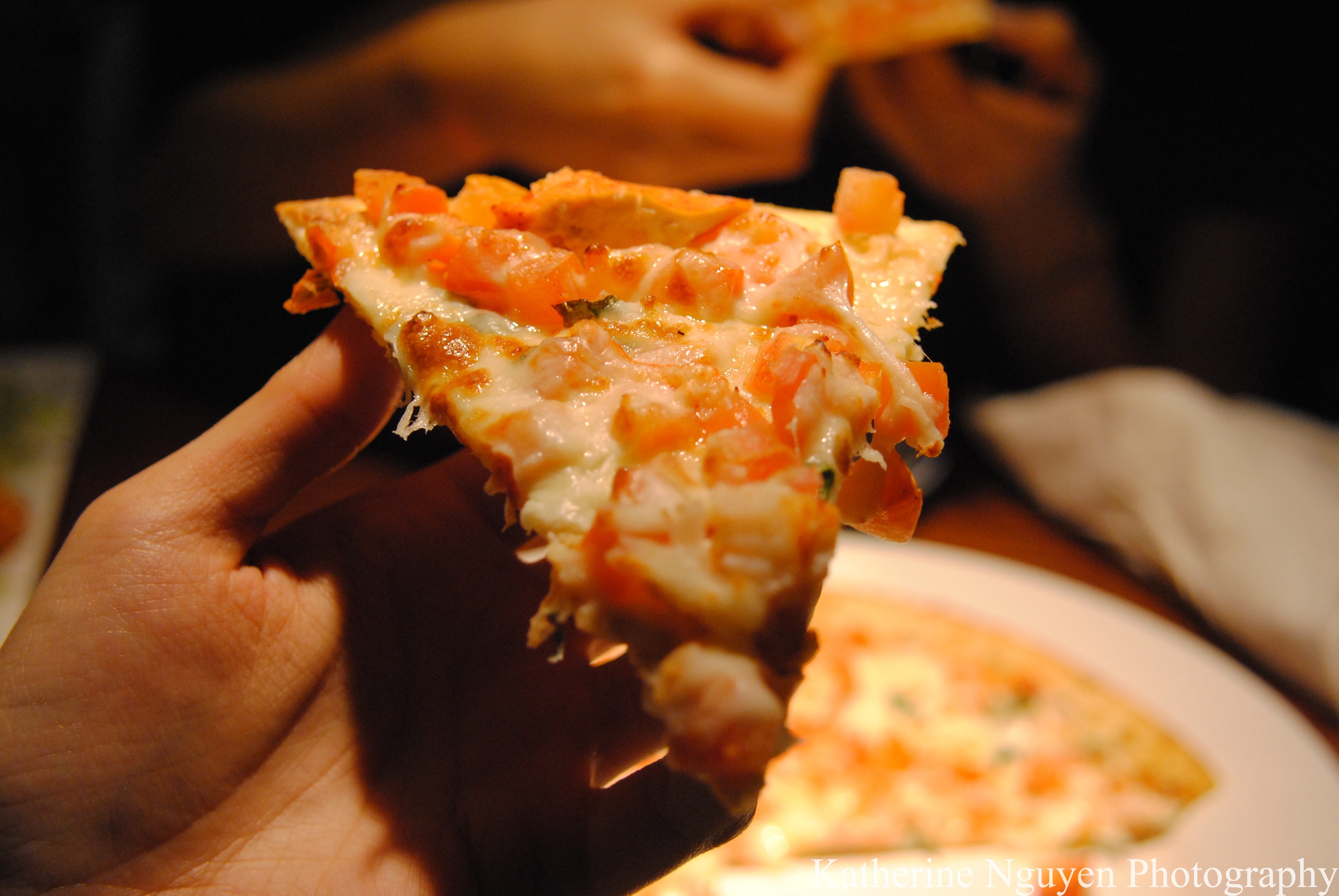 Lobster Pizza – a crisp thin crust pizza topped with langostino lobster meat, melted mozzarella cheese, fresh tomatoes and sweet basil. A simple yet enchanting dish that I can eat all day! You can taste every single ingredient and the fresh tomatoes were a great addition as a topping instead of the usual tomato sauce a pizza normally has. This is one of my favorite appetizers at Red Lobster! If you're going to Red Lobster soon, GET THIS APPETIZER! It's definitely worth trying at least once!

Cajun Chicken Linguini Alfredo with a side of Lobster Tails – spicy, tender chicken breast in garlic Parmesan cream sauce on a bed of linguini and a tender split Maine lobster tail. Remember when I said how accommodating and thoughtful the personnel of Red Lobster are? Well, this dish was just for usI to enjoy tonight because of my allergy to shrimp! The lobster tails were so buttery and sweet! It didn't even need a dip in the extra butter that came on the side! The linguini was delicious and spiced things up a bit – Cajun style, of course.

Dueling Lobster Tails – A roasted Maine lobster tail topped with tender shrimp in creamy garlic sauce, paired with a golden-baked Maine lobster tail with crab-and-seafood stuffing. Served over mashed potatoes, roasted tomatoes and green beans. This is one balanced meal of getting those delicious and healthy carbohydrates, greens and protein into your diet.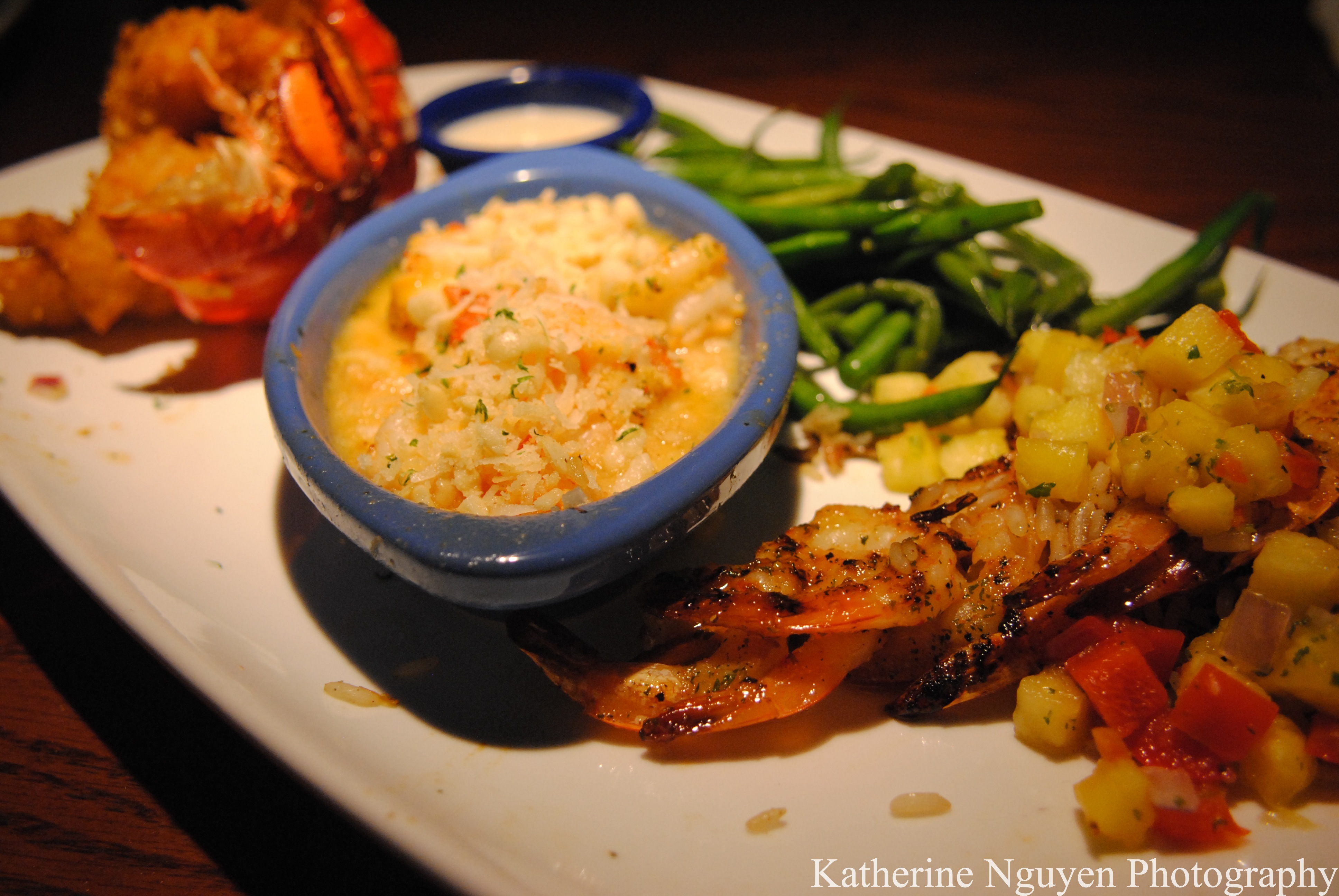 Lobster in Paradise – a split Maine lobster tail fried in a signature coconut batter, spicy grilled shrimp and a lobster-and-shrimp bake topped with toasted, crushed macadamia nuts. The name of the dish alone says it all about this dish…it's a paradise!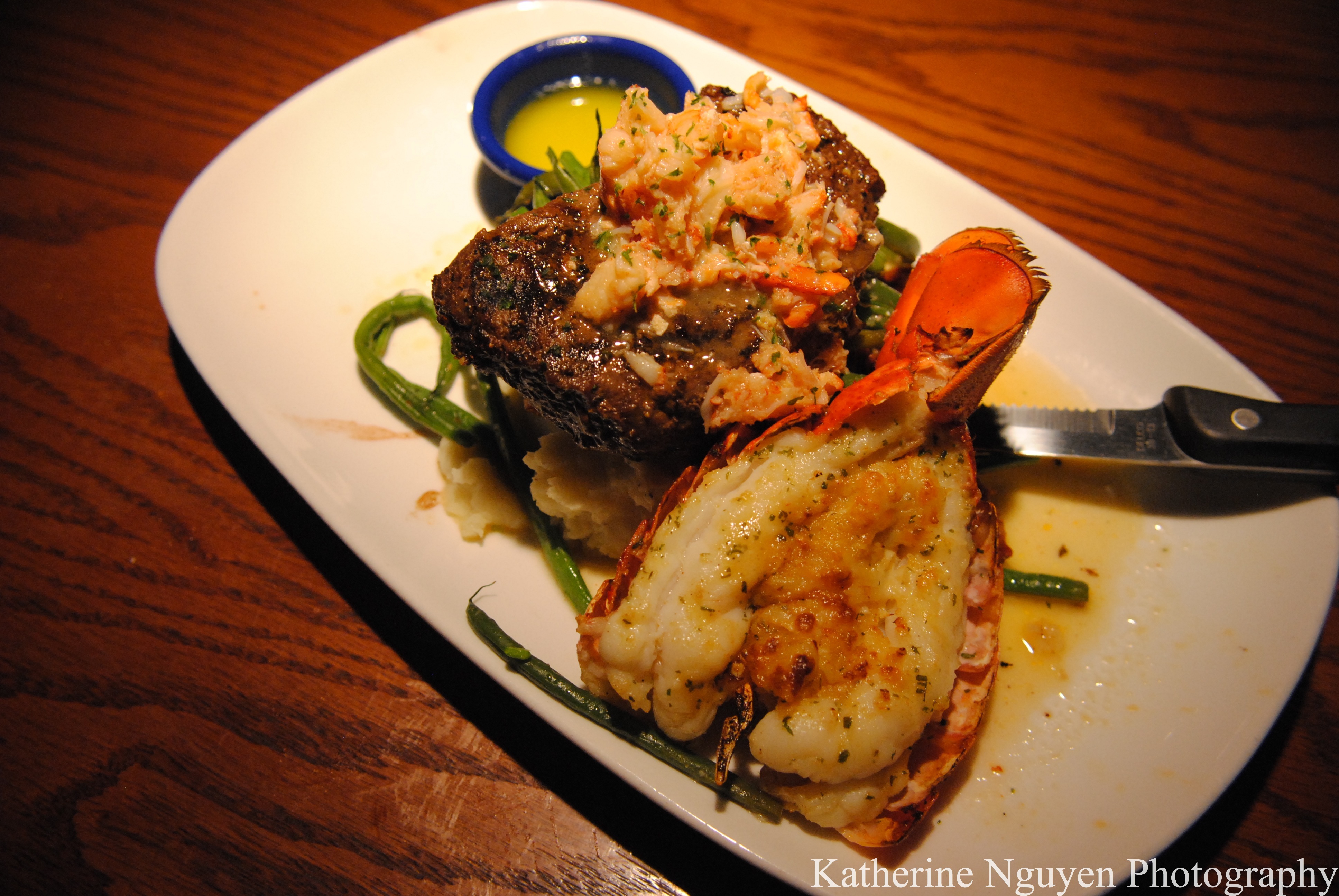 Ultimate Surf and Turf – a Maine lobster tail baked with crab-and-seafood stuffing, paired with a peppercorn-seasoned grilled sirloin topped with Maine lobster meat in a citrus-hollandaise sauce. Served over mashed potatoes, roasted tomatoes and green beans.
Now this is what I'm talking about: lobster, steak and vegetables. An ideal meal I fancy on my plate to enjoy every exquisite ingredient for our enjoyment.

Bar Harbor Lobster Bake – a roasted split Maine lobster tail, tender shrimp, sea scallops, mussels and linguini in a garlic and white wine broth. This was my "go to" entrée I would order whenever I could not decide what to order at Red Lobster. This has the accurate portion of every sort of seafood you could desire.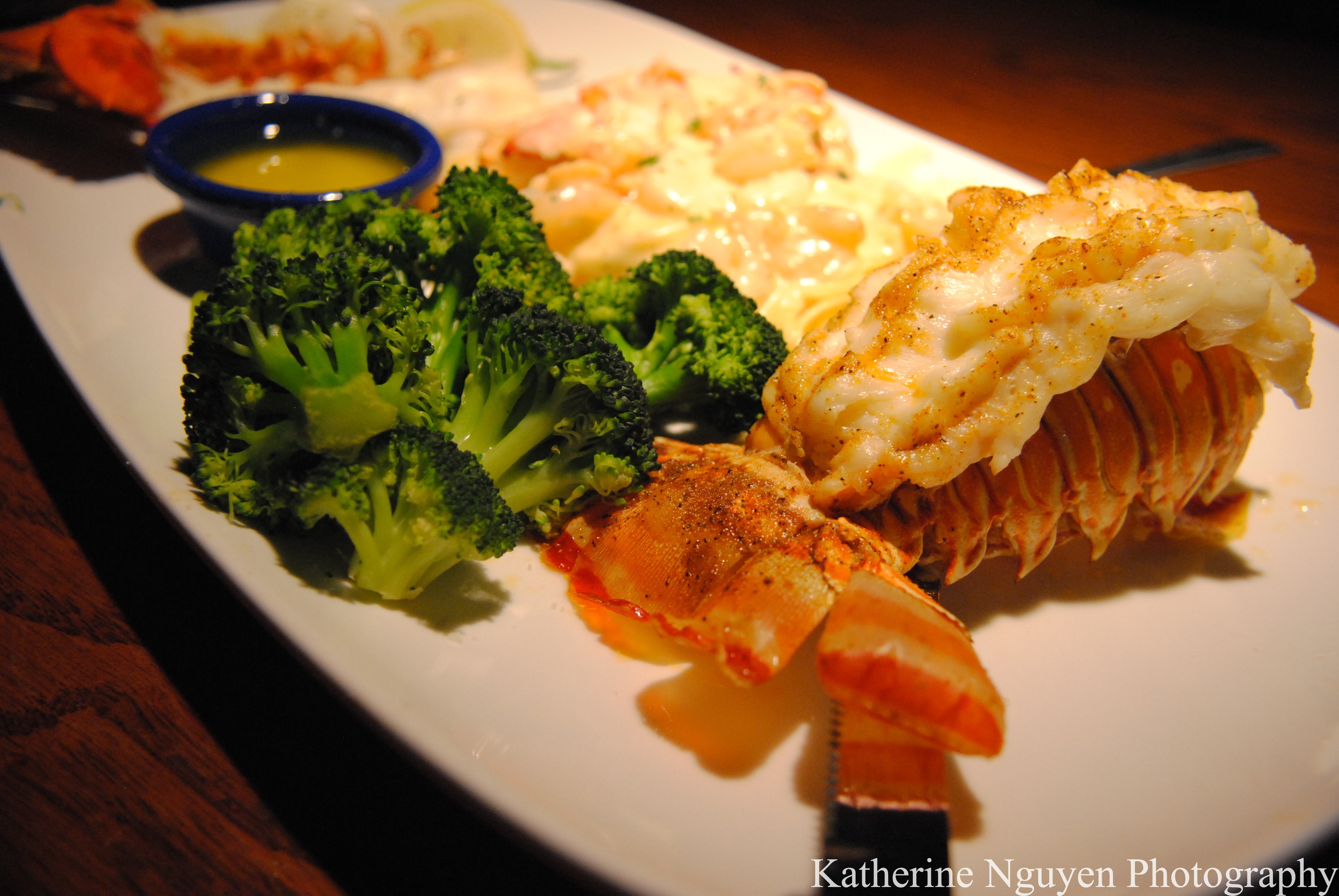 Lobster Lover's Dream – a succulent rock lobster tail and sweet split Maine lobster tail, roasted and served with lobster-and-shrimp linguini Alfredo. I don't know about you, but rock lobster is now my favorite type of lobster, thanks to Red Lobster. To each their own because my friend prefers the sweet split Maine lobster tail. Perfect! Why? Because we can share a delicious meal as this with one another! And don't forget the steamed broccoli!

Rock lobster tail

Chocolate Wave – warm, rich chocolate cake with vanilla ice cream and chocolate sauce. From this girl's opinion, I suggest you order your special someone a slice of this delicious chocolate cake. If this doesn't make that special someone swoon, then…I have no other suggestions for you. Or…maybe I do…
If that special someone doesn't like chocolate, try ordering some this marvelousness.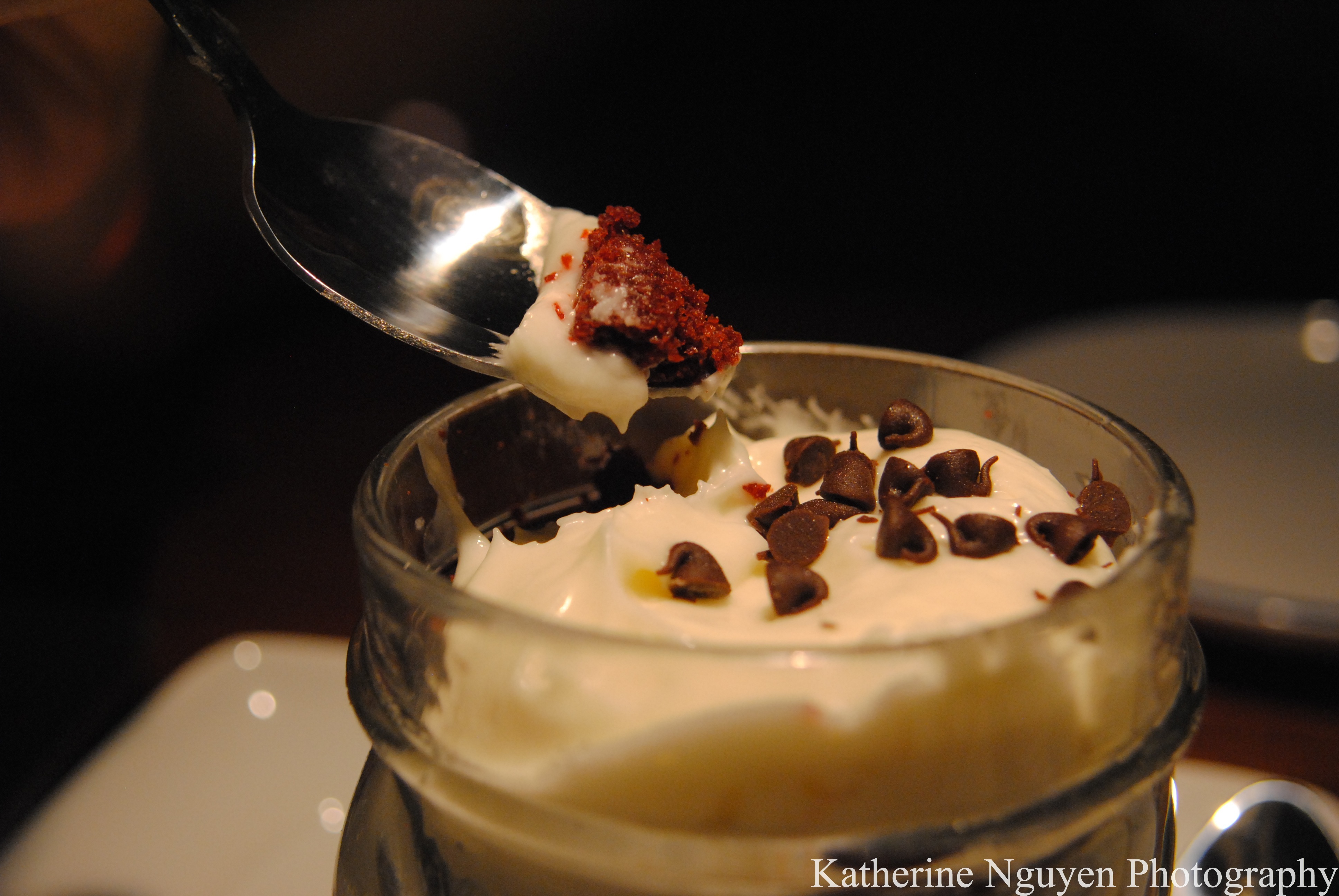 Red Velvet Cake in a Jar – layers of red velvet cake, rich cream cheese icing and mini chocolate morsels. Get it while supplies last!

Key Lime Pie – a slice of cool, tangy, creamy classic. This was the dessert for me. Not too sweet, not too tangy. Just purrrrrfect.
Maybe all these delicious dishes have overwhelmed you a tad bit. How about a drink or two to let your mind catch up to your mouth?

Grand Patrón Margarita – Patrón Silver tequila, Patrón Citrónge and a house margarita mix. Served with a sidecar of Grand Marnier.

Strawberry Mojito – Bacardi Superior rum muddled with fresh squeezed lime, mint, pure cane sugar, strawberries, and topped with club soda.
Katherine Nguyen is a student at the University of Central Florida majoring in Molecular Biology and Microbiology and minoring in Health Service Administration with a goal of going to dental school. She enjoys playing soccer and has been captain of an intramural team for 3 years now at UCF. Photography is her number one hobby in which she has dabbled in the field since 2008; she is very diverse in the field, but her favorite sub-fields include portraits on location, nature, food, and sports photography. In her free time, she also tutors any subject in high school and middle school as well as volunteers at Camp Boggy Creek in Eustis, FL. Link:https://www.facebook.com/KatherineNPhotography