The Food Network South Beach Wine & Food Festival presented by FOOD & WINE is a national, star-studded, four-day destination event showcasing the talents of the world's most renowned wine and spirits producers, chefs and culinary personalities. Hosted by Southern Wine & Spirits of Florida and Florida International University (FIU), the Festival benefits FIU's Chaplin School of Hospitality & Tourism Management and the Southern Wine & Spirits Beverage Management Center.
To date, the Festival has raised more than $18 million for the School.
Going into its 13th year, the Food Network South Beach Wine & Food Festival presented by FOOD & WINE began as a one-day festival known as the Florida Extravaganza held at FIU's Biscayne Bay Campus.
In 2002, Lee Brian Schrager, then director of Special Events and Media Relations at Southern Wine & Spirits of America, took the reigns of the one-day festival and brought his vision for the festival to life by relocating it to South Beach. The renamed South Beach Wine & Food Festival® attracted close to 7,000 guests to a series of dinners, seminars, a Grand Tasting Village and live Auction in its first year.
During the planning of the 2007 Festival, Food Network entered into a partnership with the South Beach Wine & Food Festival to become its title sponsor. The resulting Food Network South Beach Wine & Food Festival presented by FOOD & WINE combined the international appeal of top-quality libations from around the world, the national appeal of Food Network and its celebrity chefs and hosts, and the appeal of Latin and Caribbean-inspired regional cuisine.
In 2013 the Festival broke three of its own records, with attendance growing to over 65,000, bringing in more than $5.1 million in ticket sales and exceeding $4.1 million in sponsorship sales. An integrated marketing and public relations program garnered over three billion media impressions and proceeds totaled $2.1 million for FIU.
Looking forward, FIU's Chaplin School of Hospitality & Tourism Management is set to open the brand new-state-of-the art Teaching Restaurant Management Lab in 2013 as a result of the funds raised from the Festival.
Keep up to date all year long by signing up for Juicy Tidbits at www.sobefest.com or becoming a fan at www.Facebook.com/SOBEWFF and following Festival Founder and Director Lee Brian Schrager at www.twitter.com/Lee_Schrager.
Photos and Words by: Alexis Knapp, C. Major, Alea Zubkin 
The following is Rockaway PR's Recap of South Beach Wine & Food Festival through the events we participated in.
BEST OF THE BEST
• Friday night, Bulla Gastrobar's, Luis Quant, prepared the restaurant's signature Gazpacho Andalucia, amongst some of Miami's top chefs at Wine Spectator's Best of the Best at the famed Fontainebleau Hotel. To complement his dish, a special surprise awaited each guest – sliced Cinco Jotas pata negra.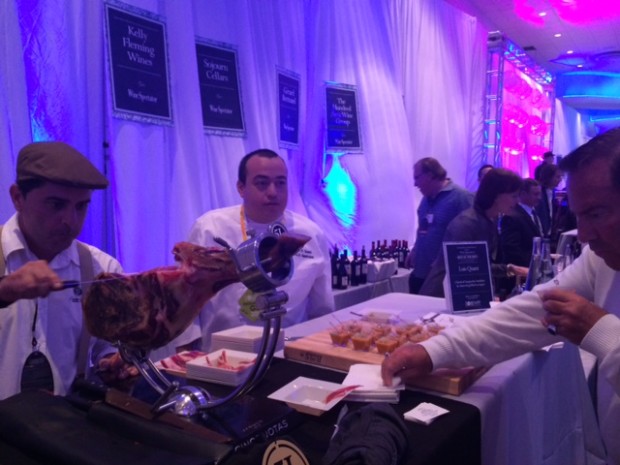 BURGER BASH
• Also on Friday night, Chef John Rivers of 4 Rivers Smokehouse and The COOP showcased his Brisket Burger, at the Amstel Light Burger Bash presented by Pat LaFrieda Meats, whose host, Rachael Ray, Tweeted that the burger "tastes like butta."
KITCHEN HEAT
• On Saturday, Dena Marino of MC Kitchen teamed up with Miami Heat's Shane Battier in an official cook-off against the Miami Heat's Chris Bosh and his personal chef, Terrence Williams. Both teams impressed guest judge, FOX's Louis Aguirre, leaving it a tie for best dish.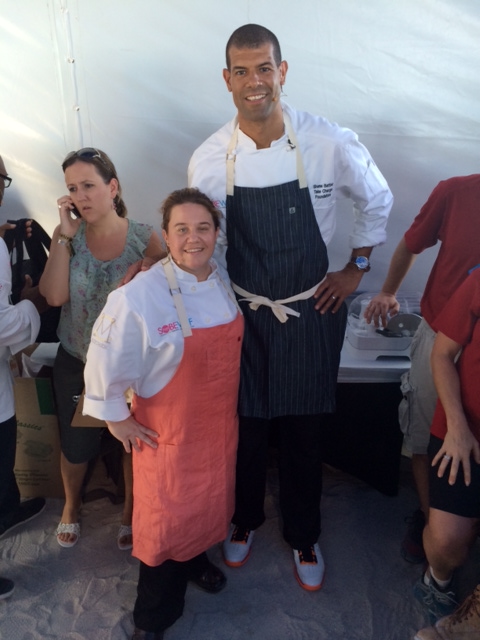 BIG GAY ICE CREAM SOCIAL
• Saturday also brought ice cream and sweet treats at Big Gay Ice Cream Social Big Gay Ice Cream Social hosted by Chef Art Smith and Big Gay Ice Cream Truck, benefiting marriage equality efforts in Florida. Michelle Berstein's restaurants, Michy's and Crumb on Parchment, served about sweet delights with a bright, floral display.
THRILLIST's BBQ & The Blues & THE BLUES
• The annual Thrillist's BBQ & the Blues hosted by Bobby Deen brought ribs galore to the Eden Roc hotel on Saturday night.
o SUSHISAMBA Coral Gables', David Sears took to the sea, serving a Bincho Tan Robata Grilled Octopus with smoked guajillo and aji panca sauce.
o SUGARCANE raw bar grill's, Timon Balloo prepared a Smoked & Grilled Beef Short Ribs over creamy polenta and whipped goat cheese, which received the stamp of approval from Paul Deen.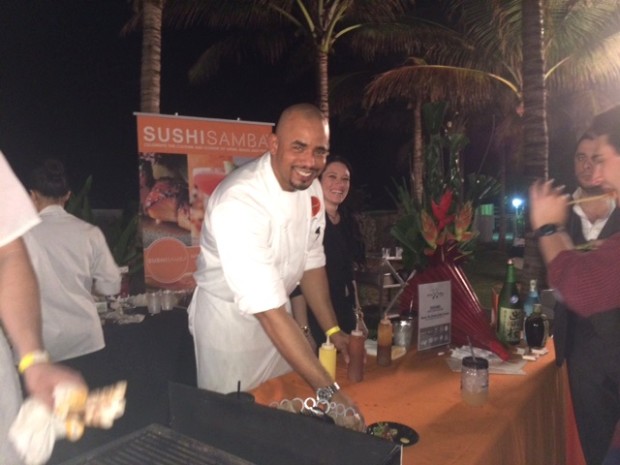 SAMBA Thrillist 1
SWINE & WINE
• Pork lovers rejoiced at Goya Foods' Swine & Wine at The Biltmore Hotel on Sunday evening.
o Timon Balloo from Bocce Bar prepared his pork Italian style, serving a Pancetta Spiced Pork with local vegetable giardiniera.
o Event host and Miami's sweetheart, Michelle Bernstein, delighted guests with Pork Shoulder served over Brussels sprout salad and confit grapes.
o Cindy Hutson from Ortanique On The Mile added a Caribbean twist to her dish and served a Pimento and Alderwood-Smoked Jerked Pork with mofongo roulade, arugula and pickled watermelon rind in a ginger rum glaze
BEST OF THE MUNCHIES
• For the second year in a row, Best of The Munchies: People's Choice Food Awards presented by PepsiCo hosted by Andrew Zimmern, closed out the weekend with a variety of bites from across America.
o Italio offered a trio sampling plate, of Bruschetta, Spaghetti with Gremolata Sauce and Cannoli Chips
o Cacao Arts dished luxury handmade chocolates, made with 100 percent Venezuelan cacao and all-natural ingredients, including Chili Caramel, Dulce de Leche and Tupelo Honey and Cardamom
o Villa Azur's Chef Erwin Mallet served Dorado and Shrimp Tartare, with lime confit and honey dressing