The Ritz-Carlton Orlando, Grande Lakes' Pastry Chef Yoshikazu Kizu was recently awarded the coveted title of Pastry Chef of the Year at the 25th annual U.S. Pastry Competition on March 2, 2014.
The U.S. Pastry Competition is America's most prestigious pastry competition, inviting only 13 leading pastry chefs to showcase their talents by creating advanced dessert and chocolate recipes with technical sugar and chocolate sculpted showpieces.
This year's showpiece theme was "Film Animation" and Chef Kizu created a highly technical film animation-themed showpiece depicting Beauty and the Beast consisting of a chocolate bon bon dessert and a plated dessert.

Bon Bon – Milk Chocolate with Praline Paste, Raspberry Ganache, Earl Grey Tea Ganache completed with Dark Chocolate.

Plated Dessert – Milk Chocolate Mousse with Mango Cream and Passion Sorbet, Yuzu Granate and Dehydrated Foam – "The Beauty" of the "Beauty and the Beast"
The U.S. Pastry Competition is hosted annually by Paris Gourmet, a specialty food importer and distributor, taking place at the International Restaurant & Foodservice Show of New York on March 2, 2014 in New York City. Board members of the Société Culinaire Philanthropique, one of the oldest chef associations in the world, presided over the judging.
On a recent visit to the resort, I caught up with Chef Kizu, in the back of the Ritz Carlton's kitchen, wearing the classic French toque blanche and putting the finishing touches on the evening's plated desserts with focus and purpose.
Chef Kizu started in Orlando four years ago after transferring to Grande Lakes from the Ritz-Carlton in his home city, Tokyo. There, he gained his sensibilities and subtleties as a pastry chef.
In Japanese cuisine, sweets are very subtle with lots of fruit flavors and notes.
In America, people love their classic "cheesecakes" and "chocolate cakes", all with a very heavy hand of sugar.
After creating his first chef's table dessert and being told that it needed some more sugar, he decided to adapt and began adding a little more sugar to appeal to Western tastes – a decision which probably led to his win at the US Pastry Competition this year.
Today at Ritz Carlton, Grande Lakes he creates desserts with a clean modern aesthetic, incorporating specialty Japanese products to share his culture with a wider American audience from special VIP chef's table events to every day catering for conferences.
Preparations for the competition was arduous – two months of practicing and preparing desserts, sometimes until 4 am in the morning.
Adjusting to the changes in temperature between warm and sunny Orlando and cold New York, where the competition was held, would prove to be one of the biggest challenges in the competition.
Luckily, he was able to prepare in a very esteemed New York City kitchen before the competition: the kitchen of a living pastry-genius – the ever gracious Christina Tosi, 2012 James Beard Rising Star Chef of the Year and pastry chef/owner of Momofuku Milk Bar. Milk Bar has been called "one of the most exciting bakeries in the country" by Bon Appetit magazine.

A fan of oranges and citrus, ingredients found locally here in Florida, Chef Kizu used blood oranges, orange, chocolate orange, topped with caramel to make his dessert cake for the competition.
Though he is more fond of cooking at home rather than going out to eat (probably because he can make the dishes better at home), one of his favorite places to go out when eating out is, surprisingly, Sweet Tomatoes, the salad buffet restaurant.
Chef Kizu recreated parts of his award winning showpiece for us to sample and after just one bite, I could immediately sense why he was awarded the title of Pastry Chef of the Year.
Delicate textures, subtle layers of sweet and bittersweet flavors, all melting together as one in his desserts. The complexity of the techniques also showed through his dessert pastries, adding multiple components and ingredients together in harmony.
Milk Chocolate Mousse with Mango Cream and Passion Sorbet, Yuzu Granate and Dehydrated Foam – "The Beauty" of the "Beauty and the Beast"
Some of the most popular desserts ordered at the resort include peanut butter chocolate cake, Key Lime Pie, and Strawberry shortcake, though the flavors and desserts change seasonally. One of the most memorable desserts for Michelle Valle, public relations director at Grande Lakes Resort, in recent memory was the "smoked" chocolate macaron at the 10th Anniversary dinner for Norman's restaurant. The chocolate was smoked outside and had a barbecue flavor, which American palates love according to Chef Kizu.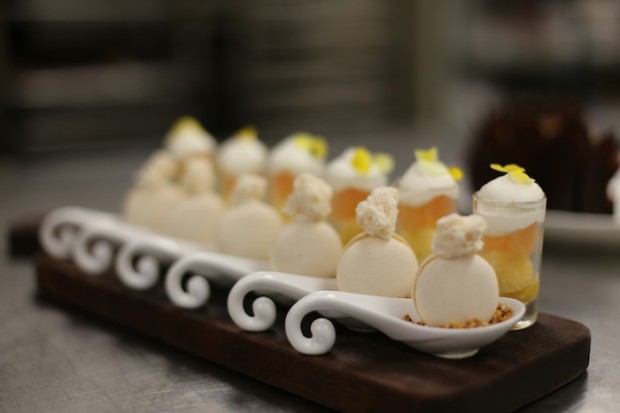 In addition to producing creative sweets through the in-house pastry team, the Grande Lakes resort has a commitment to sustainable cuisine, baking all of its bread in house and sourcing ingredients from the resort's on-site Whisper Creek Farm. The Ritz-Carlton Orlando, Grande Lakes will open a new three-meal-a-day restaurant, Highball & Harvest, in late summer 2014.

Pastry Chef Kizu hopes to one day compete in the International Pastry competition in France, representing Team USA, even if it potentially means facing off against the pastry team of his home country Japan.