Olive Garden consists of 800 restaurants inspired by the foods and wines of Italy. They're known for their warmth and caring family of hosts, waiters and waitresses. On April 9th, I was able to experience their warmth and was treated as family when I paid a visit after hearing rumors of a new menu for 2014.
Although the people of Olive Garden were great, I can't say the same about all of the new food menu – some were hits, and some were real misses. The lighting was also very dim, which provided a nice relaxing atmosphere to enjoy after a long day of work. However, I have a feeling that the dim lighting was also to conceal how the food was not presentable and didn't make me say: "YES! I'm excited to try this!"
THE BEST
The dinner menu features a number of things and started out well with the greatly known breadsticks that were moist, warm and full of flavor!
Polenta Shrimp alla Greca was nicely presented with a refreshing taste. The shrimp were made just right, but make sure you take the tail off before consuming.
The Spicy Calabrian Wings were my favorite dish of the evening! It was zesty and just to my liking! I could eat this all day. Note: if you are sensitive to hot and spicy food, you may want to take your time and test one before ordering a large number.
The Crispy Risotto Bites consisted of a dense and creamy risotto with bits of mozzarella fried to have a crunchy outer shell to provide a nice contrast to the texture.
As you enjoy your appetizers, you can get your hands on a Peach Bellini frozen cocktail consisting of a blend of Zonin Prosecco and fresh peaches. This cocktail is nice to have on a hot day and is one of my favorites.

If you're not in the mood for a frozen cocktail, maybe you can try a Strawberry-Limoncello Martini. This martini consists of Smirnoff Citrus Vodka, Caravella Limoncello and strawberries. This drink has a strong alcohol taste, but it is minimized a tad with the help of fresh strawberries.
THE REST
The Antipasti Italian Meats and Cheese had a mixture of vegetables, meats and cheese that is usually served in Italy. From a healthy standpoint, you may pass on this, as the vegetables present won't provide much nutrition and the deli meat toppers will probably raise your sodium levels and cholesterol. The dish came as seen in the photo and seem as though it was put together in a hurry and cut right out of their individual packaging.
The Roasted Tomato Caprese is a lighter salad. I like this better than the Antipasti Italian Meats and Cheese. The kale is crunchy, the salad is colorful and the mozzarella bites are a delight. Each vegetable provided a different texture and different taste to your palate. The roasted tomatoes were scarce and those that were found were bitter. The dressing they used for this salad was the same for the other salad; both had Italian dressing.
Smashed Chicken Meatball Sandwich
The Smashed Chicken Meatball Sandwich is nicely presented with a side of fries with a garlic seasoning sprinkled on top. The sandwich had fluffy buns that were rich in flavor. The chicken patty itself did not have a texture you'd imagine chicken to have as though it was over-processed and synthetic. The fries were limp and cold to eat.
The "Cucina Mia" section will allow you to create your own entrée out of six different pastas and five different sauces. Although they say the sauces are "made-from-scratch", they tasted like any other sauce you can buy in your local grocery store at any brand.
The Large Paccheri with Creamy Sun-Dried Tomato and Chicken Meatballs was bland, had only a hint of sauce and had what it said in the name: a single, small "sun-dried tomato".
When taken apart, the meatball doesn't look appealing; its taste wasn't pleasant either and reminded me of the texture of cat food. The large paccheri were rolled up tight or suctioned together to one another. The "creamy" sauce noted on the menu description didn't exist. It was more of a drop of sauce given that didn't even provide emollient between the paccheri.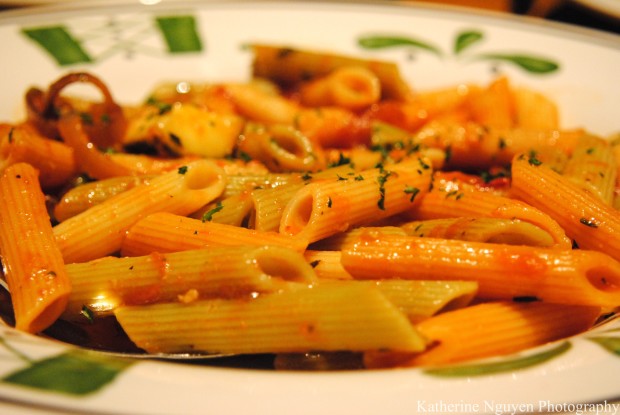 All I have to say about the Vegetable Penne Primavera is that it is very bland, maybe more than Chef Boyardee from the can.
The Chicken Abruzzi was nicely presented and can be greatly paired with a Pinot Grigio or any white wine. I like the Pinot Grigio because of how smooth it is and is easy on the taste.
The Pappardelle Pescatore consisted of fresh seafood and asparagus. Yet, that doesn't make up for how watery and flavorless the sauce and pappardelle was.
The Chicken Primavera with Giant Fusilli was overpowered by a heavy hand of basil. Other than that, it did not have much flavor. Although the lightness demonstrates "Leggeri," which means "lighter Italian fare," the moist chicken tasted very gelatinous.
The Wild Berry Layer Cake was very refreshing and moist. I believe the actual cake was soaked into sweet milk and reminded me of the Tres Leches cake that can be traced back to Central America and Mexico. If you have a major sweet tooth, you can try this cake!
The Caffè Mocha Latte (above) and Caramel Hazelnut Macchiato (not shown) were very watery and did not have very much coffee inside.
To have any hint of coffee/espresso/caffeine, Lavazza Espresso was added. Each specialty coffee was paired with sweet biscotti that I like with or without the coffee.
All in all, the new menu is a great effort from the Olive Garden, however it falls far short of its goal. The best dish to get would be the spicy calabrian wings.