An illuminating culinary experience bringing the senses to life. Lighthouse Central Florida and Second Harvest Food Bank help shine light upon the isolation that hunger or vision loss can cause.
Dining in the Dark is a unique event in which guests have dinner in total darkness and take an unforgettable peek into the lives of the visually impaired. Each guest is on their own to taste, smell, and even feel the food to figure out what you are eating and drinking. A concept designed to gain new understanding about the isolation that vision loss or hunger can create, the dinner helps support essential programs involving both hunger and vision rehabilitation in Central Florida.
Chef Jill Holland and the Darden Foundation Community Kitchen staff worked hard to prepare for the main event. Chefs from Disney's Epcot also graciously volunteered their time to help in the kitchen that evening. For the mystery menu, Chef Jill Holland focused on bold and recognizable flavors while using seasonal peaches from Long &  Scott Farm (Zellwood, FL) as a key ingredient.
The reactions to Dining in the Dark were powerful because vision is often taken for granted. It's amazing what you can learn by putting yourself in a physical state of blindness and experiencing the challenges that others face. The most important lesson from Dining in the Dark was having a greater appreciation for the gift of sight and turning this opportunity into a responsibility to assist those suffering from hunger or vision loss.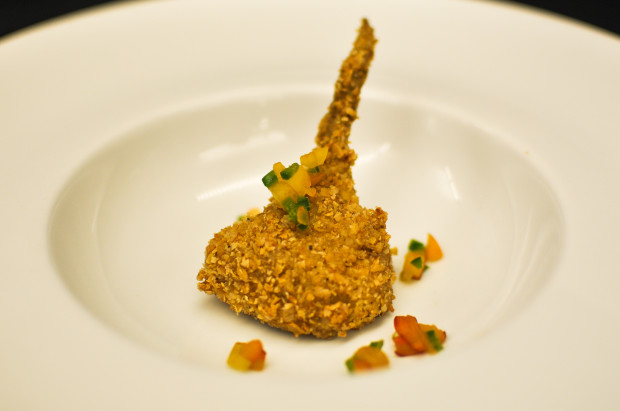 Lighthouse Central Florida is Central Florida's only private, non-profit organization offering a comprehensive range of services to people living with vision loss and blindness. Since 1976, Lighthouse Central Florida has provided education, independent life skills, and job training & placement to more than 100,000 people with sight impairment and their families.
www.LighthouseCentralFlorida.org
Second Harvest Food Bank of Central Florida is a private, nonprofit organization that collects and distributes donated food to more than 550 nonprofit partner agencies in six Central Florida counties with the goal to make Central Florida hunger free. On average, more than 55,000 people per week are assisted with food collected by Second Harvest Food Bank.
www.FeedHopeNow.org