There are a lot of things going on in Thornton Park lately, especially with the recent closing of Hue and the upcoming grand opening of Soco Thornton Park in its place – Soco stands for "Southern Contemporary" Cuisine, not Southern Comfort for those fans of the whiskey liqueur.
In March, the Thornton Park Restaurant Group announced that Chef Greg Richie would be taking over as Executive Chef at Cityfish and will also be the executive chef for the upcoming Soco, drawing from his Southern upbringing and experiences, particularly from the Charleston area.
Chef Richie, who graduated with honors from the acclaimed Johnson and Wales University in Charleston, honed his seafood skills while cooking with James Beard Award winning Chef Roy Yamaguchi at the original Roy's Restaurant in Hawaii, eventually serving as the first executive chef/partner for the opening of Roy's in Orlando on Sand Lake Road.
He was later chosen by celebrity chef Emeril Lagasse to take over the kitchen at Tchoup Chop at the Royal Pacific Resort at Universal Orlando, where he quickly earned praise from critics and local fine food fans.
We were invited recently to check out the new Cityfish menu and left thoroughly impressed with Chef Richie's new menu additions and changes.
A few interior renovations had occurred inside Cityfish, making it a little less industrial looking than before, with some painting and a nice checkered touch to the flooring, though mostly it looks the same. A gorgeous bar to the right, stairs that lead to…I'm not exactly sure where…to the back, and the kitchen can be seen towards the back as well.
We sit near the window to enjoy some street views and nice natural sunlighting.
First up, carefully sourced oysters of the day, fresh from around the United States, served with some house made sauces to accompany. They were refreshing and perfect for summer and as a charter member of SunshinePlate, a coalition of chefs and culinary industry professionals dedicated to food advocacy, Chef Richie is proud to point out their points of origin.
One of my favorites of the new menu is the crispy shrimp toast, a dish where Chef Richie's Asian influences shine with a sweet and sour house pepper jelly dipping sauce accompanying the shrimp toast. The dish is actually a Chinese dim sum dish, made from small triangles of bread, brushed with egg and coated with minced shrimp, then cooked by baking or deep frying. The dish, a product of Guangdong province near Hong Kong, may be one of the world's first forms of "fusion" between Asian style minced shrimp combined with British style "toast".
I also enjoyed Cityfish's seafood gumbo, nice with a dark brown roux with some crab, shrimp, and fried okra.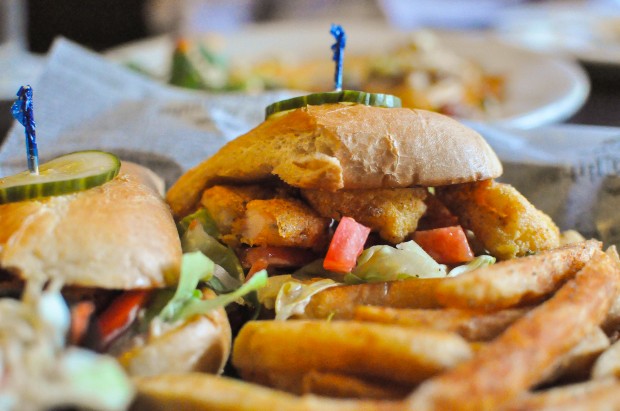 The lump crab cakes were fantastic as was the kimchi butter sauce, all went very well together. My only comment on this dish would be to mix the succotash in with the sauce some more to give it some more flavor and cook the potatoes just a little longer as it was a little underdone. Overall, I could have done without the succotash and potatoes and just enjoyed the crab cakes on their own with the kimchi butter sauce.
Chef Richie, who also cooked multiple times at the prestigious Beard House in Manhattan, is doing a great job so far with the Cityfish menu renovations and I look forward to hearing about the upcoming improvements and changes as they continue to update seasonally. It would be nice to see some lower priced menu items on the list for those looking for more affordable, casual options at Cityfish.
Cityfish also recently launched a new Brunch menu, Saturdays and Sundays 11am – 3pm with the regular Cityfish menu also served during Brunch hours. For more information, visit them online at: http://www.cityfishorlando.com/
Cityfish
617 E. Central Blvd. Orlando, FL 32801
407.849.9779
Follow them on Facebook at https://www.facebook.com/CityfishOrlando