This Saturday, June 21 at DOWNTOWN DISNEY from 5-10pm, the Cirque du Soleil courtyard on the West Side will be host to its first ever food truck rally in partnership with Mark Baratelli's Food Truck Bazaar – including 14 food trucks, five of which are Disney food trucks.
There will be a DJ, beer and wine (from the Disney trucks) and free parking.
Mark told us recently about his partnership with Disney and the coming debut food truck event.
"My passion is to share things I think are awesome with others, whether it's food from mobile vendors, lovely merchandise at my pop up shops, or news and events on my blog. It's all about sharing for me. My partnership with Disney will be fun. I'll be hosting their trucks in my events and they'll be hosting my trucks in their events. It's a win-win and an example of corporate and local food providers working together. Woot!"
"The food truck "movement" is a group of small businesses who prefer to be mobile rather than physically stagnant, and people seem to like what they're selling. That's not a movement. That's just business. And just because it's sold from a truck doesn't mean it's awesome. It takes an awesome product and owner, not just a truck. Believe me. After over three years of seeing the good, the bad and the ugly, it's not about the truck."
"Our scene is totally different than any city in the nation. If you can get on the Central Florida circuit, you have this huge opportunity to share with your brand with so many towns and people. Your distribution model is amazing. But it takes a level of quality that's hard to quantify to be a part of it."
The food trucks will include:
El Cactus Azul
Ellie Lou's BBQ
La Empanada
Magic 4 ur Plate
Mayan Grill
Philly's Best Cheesesteak
TJ's Seafood Shack
Yum Yum
Disney's World Showcase of Flavors
Disney's Superstar Catering
Disney's Namaste Cafe
Disney's Fantasy Fare
Disney's ESPN Wide World of Sports Truck
In 2009, TheDailyCity.com's Mark Baratelli created Taco Truck Taste Test, a monthly food truck meet-up and TheDailyCity.com Mobile Art Show, a monthly art show in a moving van. In 2010, he wrote about Hell's Kitchen Food Truck Bazaar and suggested someone bring the idea to Orlando. No one did. In January 2011, the owner of Red Eye BBQ food truck suggested we do an event like the ones in Miami: lots of people, lots of trucks. Mark did it March 29, 2011. Then later that year, he had the idea to take the event on the road.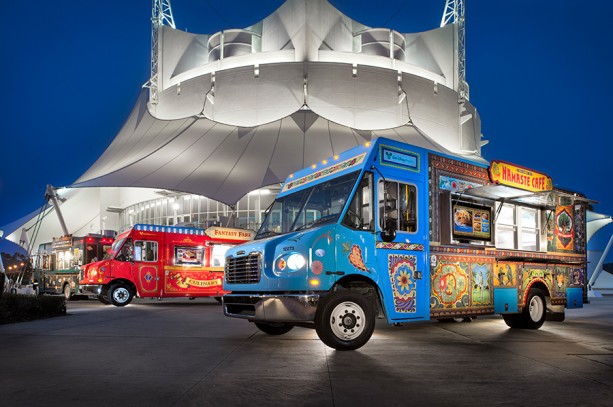 Disney is undergoing a huge transformation for its Downtown Disney property, with new additions including a food truck park and a re-branding as "Disney Springs."
"As a Disney fan, I like the new Co-Op shopping space, the new Starbucks (with the lovely hidden fireplace porch out back shhhhh!) and this upcoming truck lot idea. Based on the sketches I've seen on the theme park websites, the outdoor spaces being created for Disney Springs look to be sophisticated and thoughtful. I'm excited about that,"  Mark told us.
Some of the new Disney food trucks include:
Superstar Catering, "Favorite of the Stars of Disney's Hollywood Studios," features delectable variations on hearty meatballs: a spinach and feta beef meatball sandwich; turkey sausage and golden raisin meatballs on polenta; and a lamb meatball flatbread with tzatziki. And meatball sliders for kids. The truck's design is stainless steel with teal, tan and orange accents – think sleek, retro, 1930s Art Deco diner.
Namaste Café, "Tasty Explorations from Disney's Animal Kingdom," serves irresistible butter chicken, slow-cooked beef short ribs and tandoori spiced shrimp, all served with basmati rice, naan and pickled veggies. This is the most colorfully decorated truck of all, with art inspired by the colors and textures of Asia in Disney's Animal Kingdom.
The bright-red Fantasy Fare truck, "Delightful Dishes from Disney's Magic Kingdoms Around the World," brings the legendary hand-dipped corn dogs of Disneyland Resort to the East Coast. Also a Croque Monsieur with housemade chips from Magic Kingdom Park and glass noodle salad with chicken and pickled veggies representing Hong Kong Disneyland. The truck is designed with down-home appeal and a nod to the past.
World Showcase of Flavors truck, "The Best of the Epcot International Food & Wine Festival," offers fest favorites: lobster rolls, pierogies and kielbasa and grass-fed beef sliders. Vintage travel stickers decorate the big green truck.
Photos courtesy of DisneyParksBlog.com and TheDailyCity.com