School is starting up again this week at UCF! As proud University of Central Florida alumni, we love letting our fellow Knights know what's up in the restaurant and local foodie scene, especially in the UCF Orlando area.
One thing we loved about going to school at UCF was all the diverse food options there were from Indian to Latin, and all quite affordable (read: cheap) for the college student poverty line budget as well.
So pack away those ramen noodles, and get ready to explore some great gastronomic hot spots around the east side of town.
Lazy Moon – This long time UCF favorite has a hipster feel to it, and is definitely benefiting from the larger, upgraded digs after moving out of the UC-17 plaza. The pizzas at Lazy Moon are "Southern" style and are bigger than your head. You won't be chastised for wanting to eat your pizza with a fork and knife here.
Lazy Moon
11551 University Blvd, Orlando, FL 32817
(407) 658-2396
http://lazymoonpizza.com/

Kesh – Helmed by Chef Jerry Helminski, Kesh specializes in "street food off the streets." A visit to 'Kesh, right next to the Orange County DMV, is like playing a game of food roulette. You literally never know what to expect – the menu changes daily, dependent on the whim and creativity of Chef Jerry, ranging from special hot dogs, sandwiches, to gourmet mac and cheeses and pastas.
Kesh Restaurant
11768 E Colonial Dr, Orlando, FL 32817
(407) 203-0801
keshrestaurant.com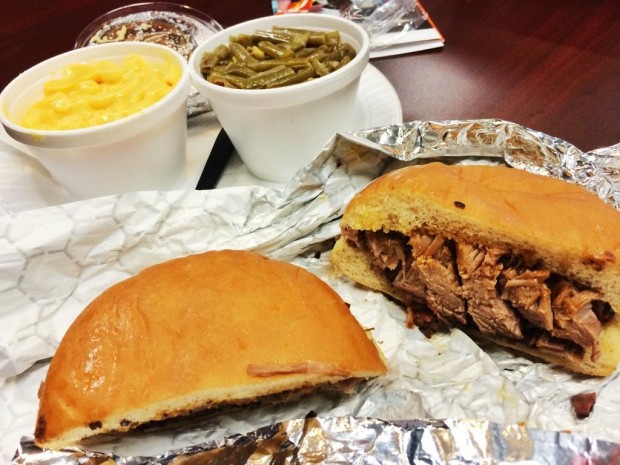 Four Rivers Smokehouse – John Rivers' barbecue empire continues to grow with the latest offshoot of the popular Winter Park restaurant recently opening its doors at the front gates of UCF. Popular for their smoked angus beef brisket, smoked St. Louis style ribs, pulled pork, smoked chicken, and fabulous sides and desserts.
4 Rivers Smokehouse
11764 University Blvd, Orlando, FL 32817
1-855-368-7748
https://4rsmokehouse.com/locations/east-orlando/

Tamarind Indian Cuisine – UCF students don't have to travel all the way to the International Drive's tourist corridor to enjoy some of the best Indian food in town. Grub on the wonderful creamy chicken tikka masala, oven roasted tandoori chicken with some fluffy naan and basmati rice or for vegetarians, try the huge dosas, sweet fermented rice crepes stuffed with spicy potatoes and veggies. For those looking for a good deal, definitely try their daily lunch buffet for $8.95 including over 12 different Indian dishes.
Tamarind Indian Cuisine
12309 E Colonial Dr, Orlando, FL 32826
(407) 237-0920
http://tamarindfl.com

Taipei 101 – We've all had our share of Chinese take out before in the past, but rarely anything like this. Taipei 101 features home style Taiwanese Chinese street food cuisine with great prices. Try the gua bao pork belly buns, simmered pork belly and sausage over rice, fried chicken, or any of their great lunch bento boxes with noodles and choice of meat.
Taipei 101 Taiwanese
3050 Alafaya Trl, Suite 1008, Oviedo, FL 32765
(407) 542-1528

Hawaiian Grindz – When you first hear the name, Hawaiian Grindz, you might think it's some sort of Hawaiian coffee shop (coffee grindz?), but in fact "grindz" is actually a Hawaiian slang term for "food" or "grub." In addition to their new Chefs Specials, they also serve up their popular panko crusted mochiko Chicken, Kalua pulled pig, and fried garlic sugoi Chicken. I usually get a lunch combination of the kalua pork and the garlic sugoi chicken with rice and pasta salad for $6.99 – a very filling and satisfying lunch.
Hawaiian Grindz
3050 Alafaya Trail, Oviedo, FL 32765
(407) 542-7850
hawaiiangrindz.com

Sushi Pop – One of the best sushi restaurants in all of Orlando and only about 10 minutes away from UCF. Chef Chau and his team masterfully crafts dishes that "pop" with flavor, from the Hokkaido scallop nigiri sushi to the black squid ink infused khao soi curry noodles with roasted leg of duck confit. The setting is intimate, modern, with vivid glowing pink lamps shaped like squids and servers dressed harajuku style in fanciful cosplay – great place to take a date, too.
Sushi Pop
310 W Mitchell Hammock Rd, Oviedo, FL 32765
(407) 542-5975
www.sushipoprestaurant.com

Lechonera Latina – With lunches starting at $3.99 for a huge heaping of roast pork and yellow rice with pigeon peas, it's no wonder this Dominican street food cafeteria is a hotspot among both locals and students trying to get a bite to eat. The pork is good, but try also the very Dominican breakfast special, mangu, made with mashed plantains with eggs and sausage.
Lechonera Latina 2
11229 E Colonial Dr, Orlando, FL 32817
(407) 207-6903
www.lechoneralatina.net/

Sus Hi Eat Station – This sushi spot is full of "ninja" servers dressed in black. Think of it as a sushi version of Chipotle, where you can pick and choose your fish, toppings, sides, roll or bowl style, etc. Endless customization for a good price.
Sus Hi Eatstation
4498 N Alafaya Trail #324, Orlando, FL 32826
(407) 826-1682
www.sushieatstation.com/
Cedar's Halal – Best spot for gyros in the East Orlando area, fresh cut from the gyrating skewer. This is inside a small mom and pop Middle eastern market as well with many Lebanese food products and goods.
Cedar's Halal Food and Deli
12100 E Colonial Dr, Orlando, FL 32826
Phone:(407) 381-8004
https://www.facebook.com/Cedarhalalorlando

Purple Orchid Thai – Though it may not look like much from the outside, don't judge this restaurant by its cover. Thai home style cooking for a cheap price. The pad thai and drunken noodle are favorites here. The lady who owns this place is actually the proud mother of a UCF student. Also a small grocery area in the back for picking up Thai kitchen and pantry essentials.
Purple Orchid Thai and Grocery
9318 E Colonial Dr, Orlando, FL 32817
Phone:(407) 203-3891
https://www.facebook.com/ThaiPurpleOrchid

SnoTea Desserts – One of the first places in Orlando to serve up Asian style shaved ice desserts, Sno Tea is actually founded by UCF alumni. You can also get macarons and boba tea here as well. Nice place to go after dinner and have some desserts.
SnoTea Desserts
3402 Technological Avenue, Suite 220, Orlando FL 32817
(407) 203-6963
https://www.facebook.com/snoteadesserts

Jeremiah's Italian Ice – You pretty much are required to go here if you go to UCF. Even though they moved down the street from their old location on University and Alafaya to Waterford Lakes, it's still a Knight's favorite. Soft served ice cream, flavored crushed Italian ice, and gelati – a crazy good hybrid of soft served ice cream and Italian Ice. The flavors are endless from black cherry to pina colada to mango and the popular scoop froggy frog gelati made with mint chocolate chip and vanilla soft serve ice cream.
Jeremiah's Italian Ice
877 N Alafaya Trail, Orlando, FL 32828
(407) 277-7769
www.jeremiahsice.com/
We are also looking forward to Popeye's Fried Chicken, BurgerFi, Mingos, and Bento Cafe opening in the next month or so near UCF.
For more on where to go and what to do in Orlando, check out the Orlando Weekly's new College Guide!
And if you want to explore more of what Orlando has to offer, check out this list:
So what are your favorite local UCF area restaurants? Comment below!