Founded in St. Petersburg, Florida, Bonefish Grill specializes in market-fresh fish from around the world and other savory wood-grilled specialties. Guests receive "chef's coat service" and are guided through an innovative, seasonal menu and specials featuring the highest-quality, fresh ingredients.
Recently, Scott Joseph Orlando Restaurant Guide reported that Clifford Pleau, who helped develop Darden's Seasons 52 concept in Orlando, left the company to join Bloomin' Brands to work on Bonefish Grill. It should be very interesting to see how Mr. Pleau will improve Bonefish Grill.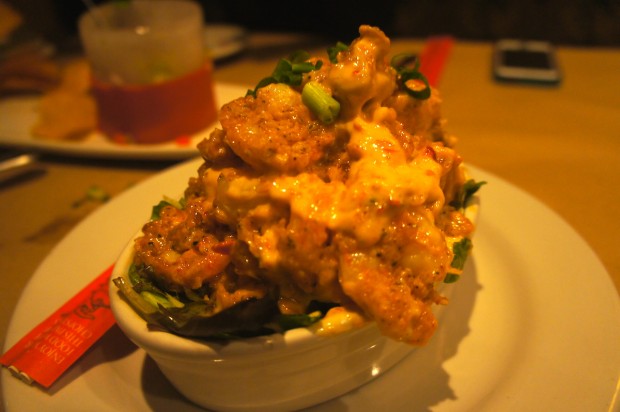 In the mean time, Bonefish Grill has introduced a NEW menu that includes a new bowl concept with Spicy Ahi Tuna and NY Strip Tataki as well as new ceviche and bang bang shrimp flatbread appetizers.
One thing that previously had disappointed me at Bonefish Grill was the lack of fresh and flavorful vegetables to complement their seafood dishes, and thankfully they have worked on and improved on that with a recent visit.
I was very impressed by the NY Steak tataki bowl which was very flavorful and seared perfectly and had great taste when eaten in the rice bowl.
The following are the new dishes added to the menu, from their press release:
New bowls deliver bold flavor, using fresh vegetables that combine Asian and Mediterranean inspired flavors.
Spicy Tuna Bowl – premium sushi grade, sesame-seared rare tuna served with avocado, sweet chile sauce, jasmine rice and passion fruit salsa
Seared NY Strip Bowl – USDA Choice NY Strip seared to your preference served with marinated cucumbers, roasted peanuts and passion fruit salsa, jasmine rice and a black pepper aioli
Shrimp Pad Thai Bowl – sautéed shrimp combined with rice noodles, green onions, peanuts, egg and a traditional Pad Thai sauce
Fire Roasted Vegetables Bowl – a seasonally fresh selection of vegetables combined with pearl couscous with herb and pesto dipping sauce available with choice of wood-grilled shrimp or herb-grilled chicken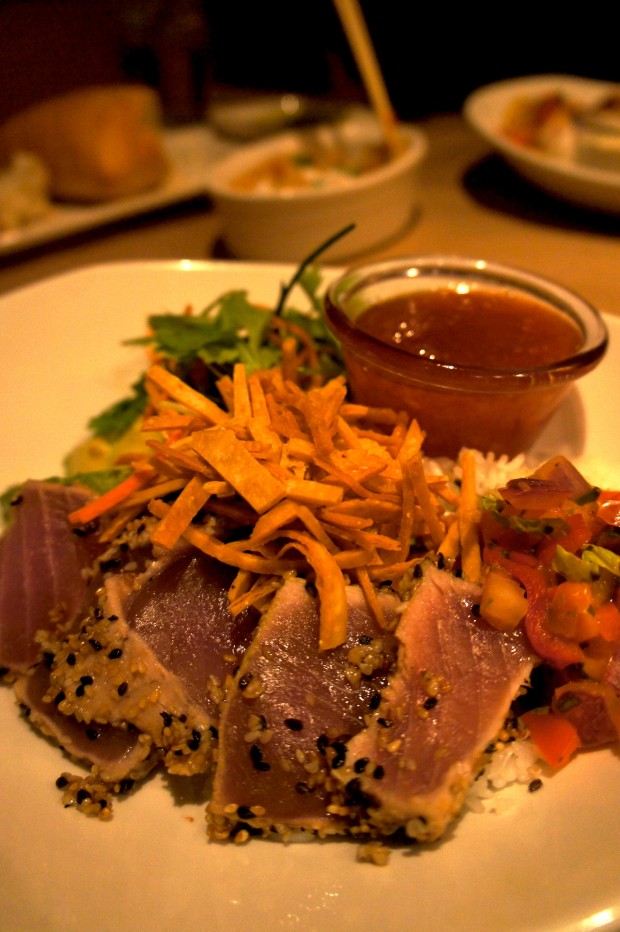 New Wood-Grilled steak specialties include a savory 13 oz. USDA Choice Rib-Eye, perfect with white truffle butter or choice of several new steak signature sauces including:
Béarnaise Sauce – classic hollandaise based sauce flavored with tarragon and red wine
Asian Peppercorn Demi-Glace – schezwan peppercorns blended with a reduced brown sauce
Porcini Sage Butter – blended butter sauce with porcini mushrooms and fresh sage
Creamy Mushroom and Bacon Sauce – Marsala wine reduction finished with sliced mushrooms and crisp bacon
White Truffle Butter – Italian white truffles blended with fresh creamy butter
Or try the Ahi Tuna Steak, fire-kissed and perfectly paired with a signature sauce including the new Lime Tomato Garlic sauce – creamy butter sauce with garden fresh tomatoes and a hint of lime.
Deluxe Sides are now available to complement Wood-Grilled selections and entrées including:
Crab Fried Rice – jumbo lump crab wok-fried with eggs, bell peppers, carrots and green onions with a hint of soy sauce
Porcini Mushroom Ravioli – classic Italian ravioli filled with porcini mushrooms and ricotta cheese sautéed in a sage brown butter and topped with crispy mushrooms
Wood-Grilled Broccolini – small florets tossed with garlic herb butter
Four new appetizers provide a unique approach to classic favorites:
NY Strip Tataki – perfectly seared USDA Choice NY Strip, Thai peppers and a mustard soy sauce
Twisted Edamame Hummus – edamame replaces traditional garbanzo beans, topped with a roasted tomato relish and crunchy pepitas served with flatbread chips
Bang Bang Shrimp® Flatbread – crispy shrimp, mozzarella cheese, cilantro and a creamy, spicy sauce
Cold Snap Ceviche – chilled bay scallops, shrimp, fresh fish, avocado, cucumber, jalapeno, citrus, cilantro served in a glass made entirely of ice and warm tortilla chips on the side
The perfect way to finish a meal is with a Dessert Flatbread such as S'mores with creamy chocolate, toasted marshmallow and graham cracker crumbs.
Bonefish Grill has also added new handcrafted concoctions to start or complement any occasion. The Fresh Pineapple Martini is made with Malibu Rum, St. Germain Elderflower liqueur, fresh pineapple and homemade vanilla bean simple syrup. The refreshing Cold Snap Cucumber Cosmo is made with Reyka vodka, Solerno Blood Orange liqueur and fresh English cucumbers served on the rocks in a glass made entirely of ice.