MoonFish on Sand Lake Road, Orlando's restaurant row near the International Drive and the Orange County Convention Center, features a blend of Pan-Asian, Cajun, Pacific Rim, and Floribean flair with Prime and Choice mid-western aged steaks cooked over a natural wood-burning pit and an intriguing sushi menu.
With USDA Prime and Choice steaks aged on the premises and ten species of the freshest, just-caught fish flown in daily from all over the world, the restaurant strives to ensure the best possible dining experience. Seafood and steaks are flame-grilled over a 1200-degree Florida citrus and oak wood fire.
7525 W. Sand Lake Road
Orlando, FL 32819
407.363.7262
Happy Hour: 4:30pm-6:30pm
Happy Hour Menu – http://www.moonfishrestaurant.com/assets/2/7/HHMF.pdf
Sushi Rolls

Double Spicy Tuna $8.48
Spicy tuna topped w/ sliced tuna & a spicy mayo
Volcano $7.98
Real king crab, avocado, cucumber topped w/ spicy seafood
California $4.48
Real king crab, avocado & cucumber
Super Crunch $5.98
Shrimp, avocado, tempura fried, w/ smoked salmon
Shrimp Tempura $4.25
Crispy shrimp w/ avocado & cream cheese
Yum Yum $5.95
Flash fried yellowtail tuna w/ cream cheese
Rising Sun $7.48
California roll topped w/ tuna, escolar & a spicy sweet sauce
Makimono
Veggie $3.50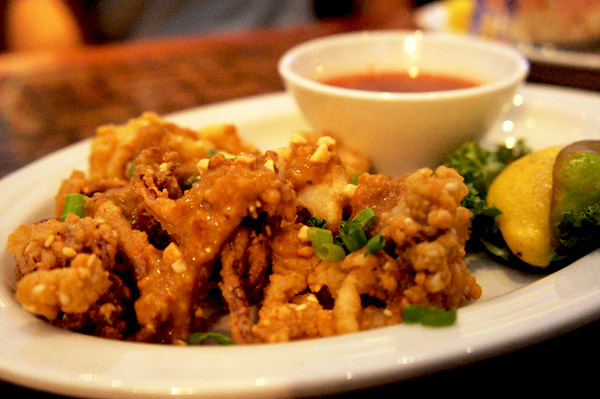 Fried Calamari $6.50

Tuna Taco $1.75ea
Shrimp Cocktail $2.00ea

Apalachicola Raw Oysters 65¢ ea
Wood Grilled Oysters 90¢ ea
PEI Mussels $5.50
Cioppino style with vodka tomato broth, Thai red curry cream, or simmered in "Barracuda Brown" signature
beer with fennel and orange zest.
Drink Specials
Draft Beer $3.50
Florida Lager and Barracuda Brown
Thomas Schmitt "Kabinett", Riesling $7.00
Laetitia "Firefly Ridge", Chardonnay $7.00
Laetitia "Wildfire Ridge", Pinot Noir $7.00
Red & White Wines $4.00
Select wines by the glass
Cocktails & Martinis $4.00
Featuring Svedka Vodka and Bacardi Rum
Grey Goose Cocktails $6.00
Grey Goose Martinis $9.00
Fresh Fruit Infusions $4.00
Fresh fruit infused spirits, creating anenticing blend of flavors & aromas