Barnie's CoffeeKitchen, led by CEO Jonathon Smiga and Executive Chef Camilo Velasco, has made a remarkable transition in the past few years from a mall staple with over 110 shops to 2 company owned neighborhood coffee shops in Winter Park and Downtown Orlando.
Barnie's CoffeeKitchen has joined coffee's "third wave" movement, allowing for greater care and attention to the brew, from the sourcing to the brew method, whether it's pour over or drip cones.
They've also expanded their reach into the online sales world greatly by offering not only their special branded coffees by the bag, but also have kept up with the times by having Keurig style single serve coffee cups and instant brewsticks, all with their signature flavors.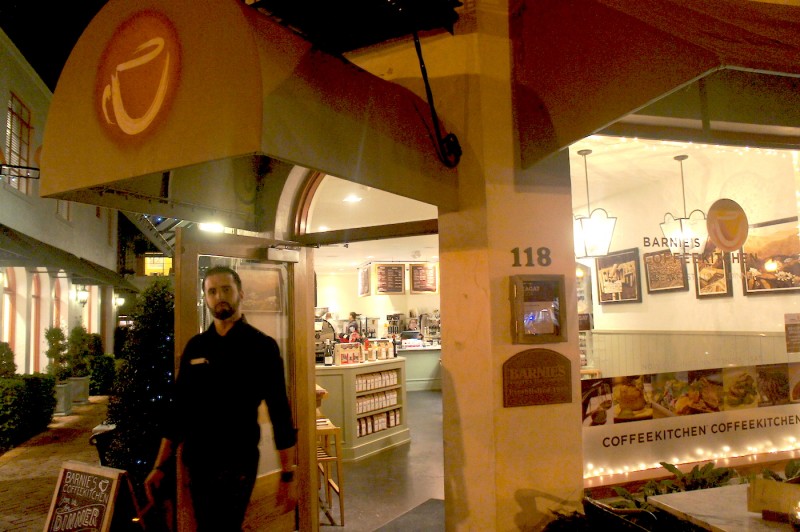 The Kitchen part of Barnie's CoffeeKitchen in Winter Park is often overlooked or as some would say, one of Winter Park's best kept secrets.
The food churned out by Chef Camilo Velasco in the tiny space behind the coffee brewing stations at Barnie's CoffeeKitchen is nothing short of awe inspiring.
Even though they have the typical to-go type sandwiches and salads you'd expect for a coffee shop, on Thursday, Friday, and Saturday evenings, the cafe turns into a sort of intimate chef's tasting room with all sorts of culinary delights that excite and intrigue the senses.
On a recent visit to Barnie's CoffeeKitchen, over some fanciful dinner conversation with the rather fascinating Mr. Smiga and accompanying marketing team, I was surprised and delighted on several occasions by what came out from the tiny kitchen in the back of the room that night.
Chef Velasco's dishes are some of the best on the competitive Park Avenue, where countless other restaurants vie for Winter Park customers. The Zellwood corn chowder, for example, is chockful of local Zellwood corn and crunchy, crispy chorizo bits, like bacon, in a rich, creamy broth, a nod to Chef Velasco's Latin roots.
Chef Velasco, a protege of the James Beard acclaimed award winning chef Norman Van Aken of Norman's, has honed his craft here and demonstrated great skill and technique in his new fall chef's menu dishes, from the potato gnocchi with duck confit to the local grilled pompano, delicate and shimmering on top of baby bok choy in a roasted red pepper, coconut broth.
Each dish on the menu is graciously paired with a thoughtful wine suggestion as well, each glass tempered to accentuate the flavors or complement the richness of a dish.
Save room for dessert, the olive oil cake and Sicilian pistachio gelato with macerated berries is a sweet delight, and almost too pretty to eat. Almost.
Give the chef's dinner menu a try this fall, you might be surprised by what you'll find tucked inside the coffee shop on a Park Avenue street corner.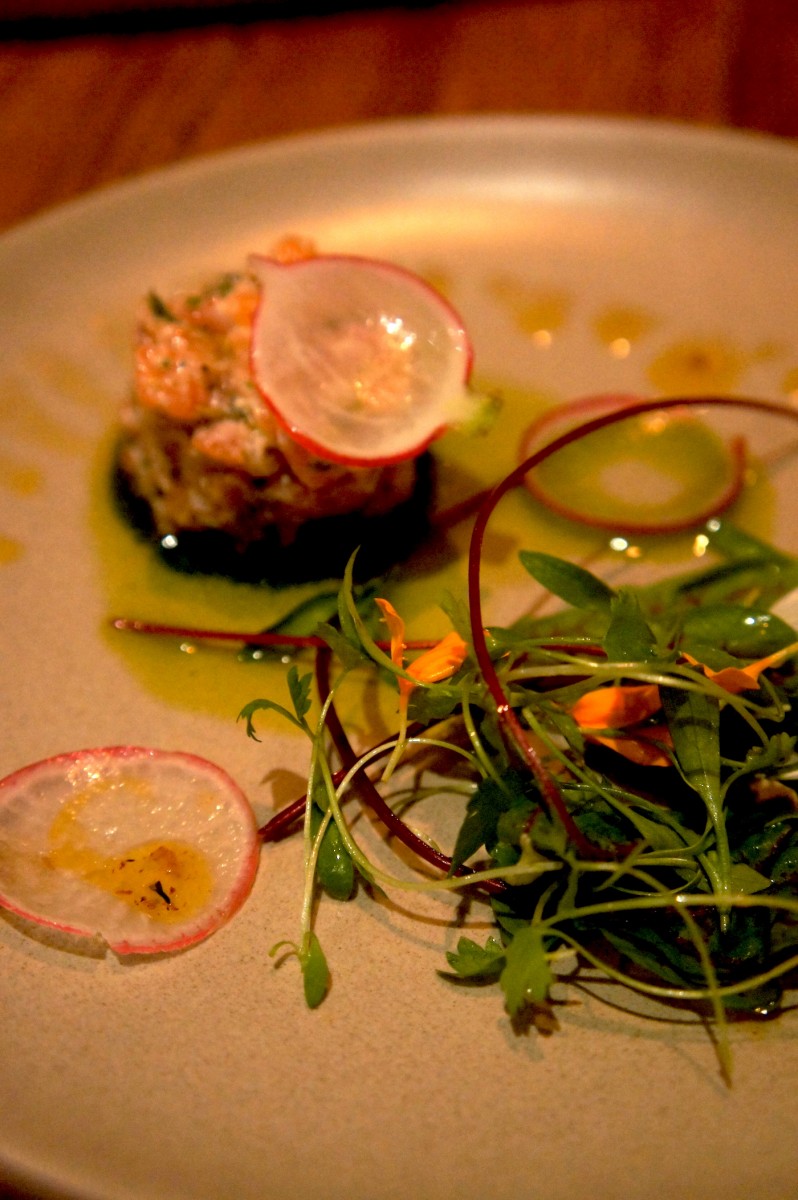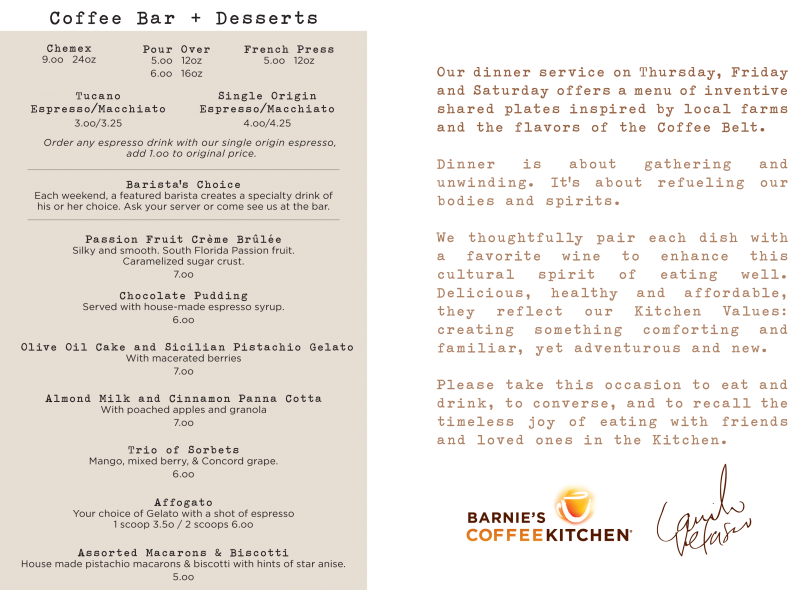 For more information about hours and menu, visit http://barniescoffeekitchen.com/pages/our-cafe
Barnie's CoffeeKitchen
118 S. Park Ave, Winter Park, FL 407.629.0042