In 2008, Gigi Butler founded Gigi's Cupcakes after her brother suggested she do so in Nashville with her delicious cupcakes. Although she struggled in the beginning, it is now a dream come true. We were invited, happily, to attend a tasting event at the Gigi's Cupcakes located in Orlando, FL.
Gigi's Cupcakes have their own bakers and decorators at least location every day to customize each cupcake however you wish. For instance, you could have a single layer of icing in a rose pattern, two layers or three. Gigi's Cupcakes is known for their three layers of icing as well as their gluten cupcakes that are as delicious as "regular cupcakes". The new Gluten Free cupcakes offered every day means there are at least 3 flavors offered each day rotating in and out. The cupcakes can come in sizes from mini to large. Not only do they sell cupcakes, but also cookies, cakes, cheesecakes, candles, lip balm, aprons, mugs, etc.
Gigi's Cupcakes switches up their cupcakes everyday, but do have some that are consistent throughout the week. If you read the pamphlet about the cupcakes, you'll see how the descriptions there are very similar to my descriptions. That is because their descriptions are on point to what I experienced and was cute to see how similar it is after I've written down my own descriptions!
The Lemon Dream Supreme is sweet, moist and soft with a hint of lemon. Neither sweetness nor the lemon flavor overpowers your taste buds. Prepare yourself before taking a bite because you'll feel like you're floating in mid air with lemon cupcakes dancing all around you. It's a dream come true when it comes to lemon and cupcakes.
In the description on the menu for Miss Princess, it says this is made with fresh strawberries. The menu does not lie to you, as you can taste how delectable it is. You also get a creamy frosting and a fondant crown on top. This is a favorite for the little kids to believe their little princes and princesses.
Even though I don't fancy this combination, the Chocolate Salted Caramel (not photographed individually) has a luscious taste in each chew. Once you're done, all of the flavors linger in your mouth and makes you want another bite because it messes the tastes of saltiness and sweetness really well.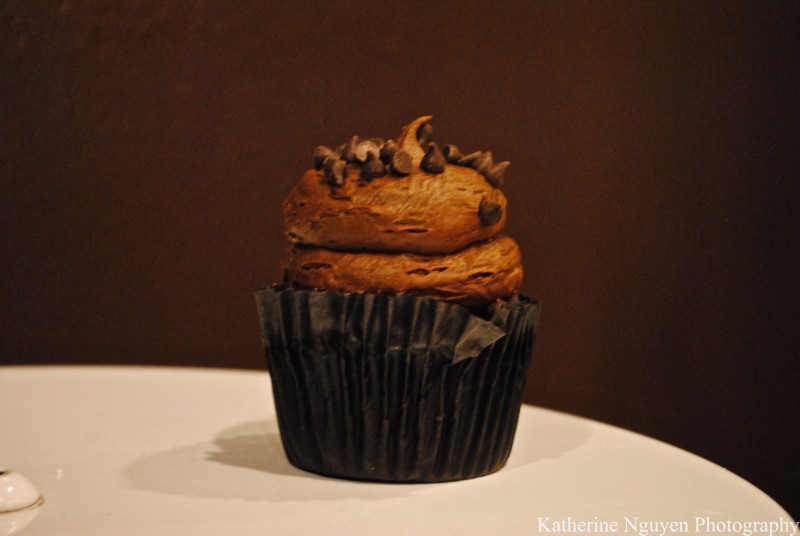 The Midnight Magic cupcake is crispy on the outside and moist as ever on the inside. Each taste of the frosting gives a hint of semi-sweet chocolate fresh to the mouth as if you took a sip of cold chocolate milk, which is a nice touch.
The Wedding Cake cupcake has a very light taste. I think the one I tried was drier than other cupcakes, but the core is still moist as promised. This is vanilla cupcake with nothing really exciting. It is great if you'd like a simple cupcake for the day.
The Triple Chocolate Torte (not photographed individually) is one of my favorites because it has rich, dark chocolate with a fudge brownie texture for each bite I took. It is also gluten free (flourless). Although you're eating a cupcake, you don't have to feel too guilty because it's made of dark chocolate, which is good for your health.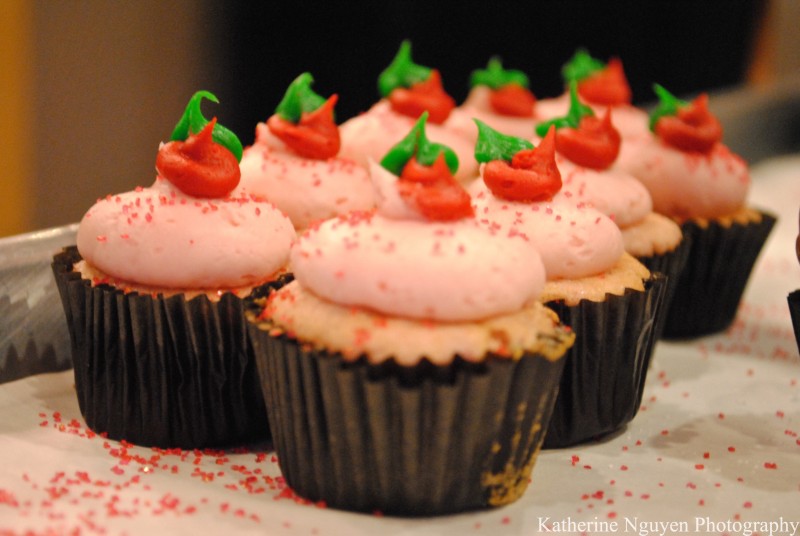 In the Strawberry Shortcake cupcake, I found bits and pieces of fresh strawberries inside the cupcakes. This is so precious and delicious! I recommend buying this for yourself and your kids.
The Chocolate Chocolate Chip Cheesecake is so creamy. There isn't an overpowering taste of cheesecake like what you may have experienced from other cheesecakes outside of Gigi's Cupcakes. These are small, cute and a nice portion size although they are a bit dense.
Have a preview of the other cheesecakes offered at Gigi's Cupcakes from Turtle and Classic Cherry to Chocolate Chocolate Chip.
Gigi's Cupcakes will be on Undercover Boss on CBS Friday, February 13th, 2015 at 8pm EST. This episode will showcase employee interviews, photos, promotions and special offers on Gigi's products.
For more inquiries of cupcake flavors, please visit the online site for Gigi's Cupcakes here: http://www.gigiscupcakesusa.com
For Valentine's Day, Gigi's Cupcakes offers a special menu for all to order gifts for that special someone. Please see the site for more details and all the options. Gigi's Valentines Special Menu will be available Friday, February 13 – Sunday, February 15, 2015; however, pre-orders are recommended.