Mardi Gras is Tuesday February 17 this year, and if you can't make it down to Universal Orlando Resort's Mardi Gras celebration – there's quite a few places to get your bayou bites on here in Orlando.
Mardi Gras, French for "Fat Tuesday", refers to "events of the Carnival celebrations, beginning on or after the Epiphany or King's Day and culminating on the day before Ash Wednesday, reflecting the practice of the last night of eating richer, fatty foods before the ritual fasting of the Lent season."
King Cake
One of the most popular foods of the season is the "king cake" -a sweet, sugary and iced Danish type cake that is braided with cinnamon inside and a plastic baby doll underneath (said to represent Jesus). The finder of the baby Jesus is said to be made King or Queen for the day and is also responsible for buying the King Cake for the next year. The three colors of the sugar are Purple (representing Justice), Green (representing Faith) and Gold (representing Power).
For King Cake in Orlando, contact:
 Olde Hearth Bread Company
at East End Market
3201 Corrine Dr
Orlando, FL 32803
(407) 834-8881
$12 each starting Friday!!! Call ahead to order
Here's what they look like:
@TastyChomps we do! We will have five in Friday, they are $12 pic.twitter.com/cdE9Q5n6Mv

— Olde Hearth Bread Co (@OldeHearthBread) February 10, 2015
Charlie's Gourmet Pastries
3213 Curry Ford Road, Orlando, FL 32806
(407) 898-9561
http://www.charliesgourmetpastries.com/
Cajun vs. Creole
Louisiana Creole cuisine is a style of cooking originating in Louisiana, United States which blends French, West African, Amerindian, Spanish, Portuguese, and Italian influences, as well as general Southern cuisine. Cajun cuisine is named for the French-speaking Acadian people deported by the British from Acadia in Canada to the Acadiana region of Louisiana, USA. Creole is more known as "city" food while cajun is more "rural" – and a big difference often is that Creole cuisine has tomatoes in it. Popular dishes in both cuisines include gumbo, jambalaya, boudin sausage, and crawfish boils.
Key Terms
Gumbo – typically consists primarily of a strongly flavored stock, okra, meat or shellfish, a thickener, and seasoning vegetables, which can include celery, bell peppers and onions. Gumbo is often categorized by the type of thickener used: the African vegetable okra, the Choctaw spice filé powder (dried and ground sassafras leaves), or roux, the French base made of flour and fat. The dish likely derived its name from either the Bantu word for okra (ki ngombo) or the Choctaw word for filé (kombo). Several different varieties exist. In New Orleans, what is known as Creole gumbo generally ranges from house to house though still retaining its African and Native origins. The Creoles of Cane River make a gumbo focused much more on filé. After the base is prepared, vegetables are cooked down, and then meat is added. The dish simmers, with shellfish and some spices added near the end. Gumbo is traditionally served over rice. The dish combines ingredients and culinary practices of several cultures, including West African, French, Spanish, German, and Choctaw. The dish is the official cuisine of the state of Louisiana.
Jambalaya – a Louisiana Creole dish of Spanish and French influence. Jambalaya may have been created in Louisiana and may have its origins in Spanish paella, even if there is a dish also called jambalaia in Provence, southern France, that is also a mash-up of rice, chicken and saffron. Jambalaya is traditionally made in three parts, with meat and vegetables, and is completed by adding stock and rice. Creole jambalaya originates from the French Quarter of New Orleans, in the original European sector. It was an attempt by the Spanish to make paella in the New World, where saffron was not readily available due to import costs. Tomatoes became the substitute for saffron. As time went on, French influence became strong in New Orleans, and spices from the Caribbean changed this New World paella into a unique dish.
Roux – a substance created by cooking wheat flour and fat (traditionally butter) as the thickening agent. A roux is used in three of the mother sauces of classical French cooking: béchamel sauce, velouté sauce, and espagnole sauce. Clarified butter, vegetable oils, bacon drippings or lard are commonly used fats. It is used as a thickener for gravy, other sauces, soups and stews. In Cajun cuisine, roux is made with bacon fat or oil instead of butter and dark brown in color, which lends much richness of flavor, albeit less thickening power.
Crawfish – Crayfish, also known as crawfish, crawdads, freshwater lobsters, or mudbugs, are freshwater crustaceans resembling small lobsters
Po-boy – A po' boy (also po-boy, po boy, or poor boy) is a traditional submarine sandwich from Louisiana. It almost always consists of meat, usually roast beef, or fried seafood. The meat is served on baguette-like New Orleans French bread, known for its crisp crust and fluffy center.
Beignet – synonymous with the English "fritter", is the French term for a pastry made from deep-fried choux pastry. Beignets are commonly known in New Orleans as a breakfast served with powdered sugar on top. They are traditionally prepared right before consumption to be eaten fresh and hot. The most famous place to get these are at Cafe Du Monde in New Orleans.
Upcoming Events
Celt Irish Pub Louisiana Fat Tuesday Party
February 17, 2015 @ Harp and Celt Irish Pub and Restaurant
11a – 7pm
Menu:
Crawfish Poorboys
Crawfish Ettouffee
Chicken Jambalaya
Red Beans and Rice
25 South Magnolia Avenue
Orlando FL 32801
407-481-2928

 Tibby's New Orleans Kitchen
http://tibbys.com/
Two Locations:
2203 Aloma Ave
Winter Park, FL 32792
407-672-5753
494 West SR 436
Altamonte Springs, FL 32714
407-951-6928
Favorite dishes: Fried oyster remoulade, seafood gumbo – shrimp, oysters, andouille sausage simmered with fresh vegetables, okra topped with rice, and the 12-napkin Fried Roast Beef Po-boy. Great beignets as well.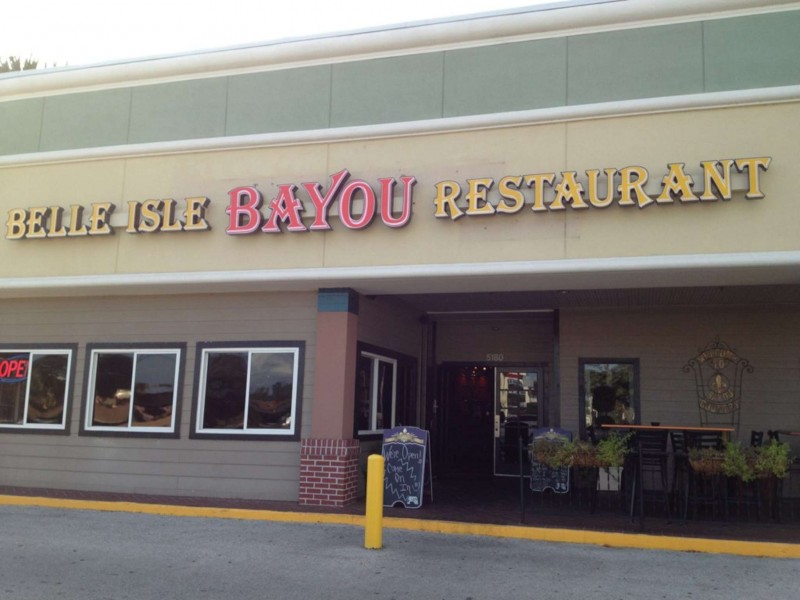 Belle Isle Bayou
5180 South Conway Road, Orlando, FL 32812
(407) 250-6763
http://belleisle-bayou.com/

The Big Easy
15502 Stoneybrook West Parkway, Winter Garden, FL 34787
(407) 654-3279
https://www.facebook.com/whodatbigeasy
http://www.thebigeasyfl.com/

Voodoo Kitchen Food Truck
http://www.voodookitchenfoodtruck.com/
For Crawfish, Shrimp, Crab, Seafood boils –
King Cajun Crawfish
914 North Mills Avenue
Orlando, FL 32803
(407) 704-8863
http://kingcajuncrawfish.com/
Great po-boys as well

New Orleans Cajun Seafood
5503 West Colonial Drive, Orlando, FL 32808
(407) 293-2719
7325 Aloma Avenue, Winter Park, FL 32792
(407) 678-5700
http://neworleanscajunseafood.com/
Hot N' Juice Crawfish
7572 West Sand Lake Road, Orlando, FL 32819
(407) 370-4655
http://hotnjuicycrawfish.com/

LA Boiling Seafood Crabs and Crawfish
1242 East Colonial Drive, Orlando, FL 32803
(407) 898-7770
http://www.laboilingseafood.com/