Chuy's, the Austin-based restaurant, officially opened its doors of their newest Central Florida location at 6688 South Semoran Boulevard near OIA, is Chuy's third location in Central Florida, joining Chuy's Kissimmee and Chuy's I-Shops, located on International Drive.
For more than 30 years, Chuy's has served made from scratch Tex-Mex favorites that include Stuffed Chile Rellenos, Chicka-Chicka-Boom Enchiladas and Chuy's famous Big As Yo' Face Burritos. Flour and corn tortillas are hand-rolled all day on the authentic comal located in the dining room allowing customers to experience the freshness first hand.
Steak fajitas
Fish and shrimp tacos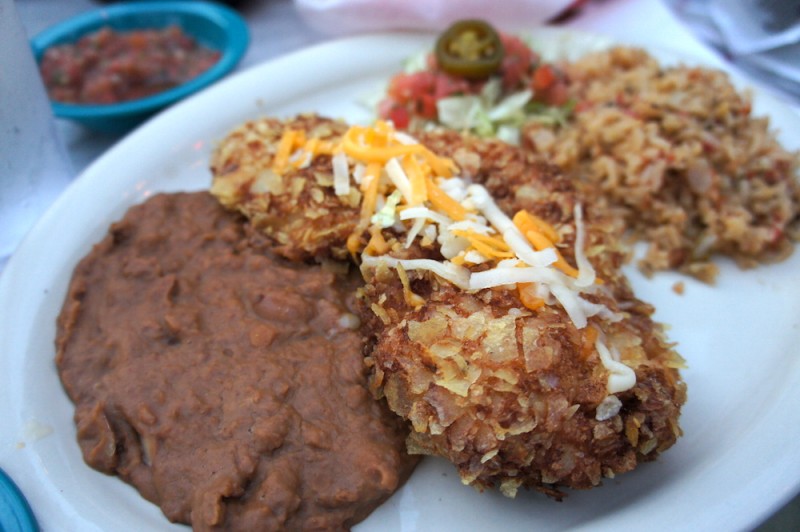 Elvis Green Chile Fried Chicken – chicken breast breaded with Lay's potato chips, deep fried and smothered in Green Chile sauce and cheddar cheese. Served with green chile rice and refried beans.
Taco Salad
My favorite dish though is the decadent tres leches dessert, made from scratch at Chuy's – fluffy, light, and so very satisfying.
In addition, distinctive décor surrounds diners – an Elvis shrine, hubcaps on the ceiling and soaring eight-foot tall palm trees, among other eclectic treasures – to make Chuy's the most fun and friendly restaurant in town. The Chuy's motto is "If you've seen one Chuy's, you've seen one Chuy's!" because each restaurant's eclectic décor is unique and no two restaurants are the same.
"We are thrilled to have the opportunity to grow our presence in Central Florida with the opening of our third location," said Jose Ortega, Owner/Operator of the new Chuy's. "This community has really responded to our fresh Tex-Mex and incredible service and we're looking forward to sharing it with more of the locals and tourists alike."
Chuy's Central Florida restaurants are open seven days a week for lunch and dinner with a weekday happy hour from 4-7 p.m. complete with drink specials and the famous Fully-Loaded Nacho Car, offering a trunk load of FREE chips, salsa, chile con queso, taco meat and more. For more information about Chuy's Orlando visit Facebook.com/ChuysOrlando.
As part of the grand opening celebrations for its newest Orlando location at 6688 South Semoran Boulevard, Chuy's Tex-Mex has donated more than $7,100 to its local charity partner, Give Kids The World Village (GKTWV), a nonprofit organization that provides week-long, cost-free Orlando dream vacations to children with life-threatening illnesses and their families. The presentation was held at the Give Kids The World Village on March 17.
Donations from customers and contributions from Chuy's were collected at special events during the restaurant's grand opening celebrations, which were held to introduce the Chuy's brand to the South Orlando area. In addition to the money raised at events, Chuy's donated over $2,400 to the charity as a result of a social media fundraiser promoted by the restaurant.
"We'd like to extend a heartfelt thank you to the employees and guests of Chuy's for their donation to Give Kids The World," said GKTWV President Pamela Landwirth. "Chuy's continued support helps us continue giving our precious children and their families the happiness that inspires hope."
Chuy's founders Mike Young and John Zapp were introduced to GKTWV while attending a management seminar at Disney in the late 1990s. Young and Zapp, inspired by the organization's mission to fulfill the wishes of all children with life-threatening illnesses, spent the next decade raising money for the charity, donating a duplex, balloon stand and pool for the 70-acre Village in Kissimmee, Florida, where more than 135,000 have come to visit Central Florida since GKTWV opened its doors in 1986. This relationship, which started more than 17 years ago, continues with the new Chuy's location. In 2013 and 2014, Chuy's locations in Kissimmee and on International Drive donated more than $7,700 to GKTWV, along with donating food for events at the village for events.