Exactly 40 years ago on April 30, 1975, the capital city of South Vietnam, Saigon fell to the forces of the communist North. There was panic in the streets as countless Vietnamese sought refuge at the American embassy, many who had worked along side the US – as soldiers, journalists, hairdressers, and more – during the decades long war. Fearing reprisals from the North, deservedly so, many fled that day airlifted out by helicopters and later, by boat – becoming refugees with nothing but the clothes on their backs.
Thus began the exodus of hundreds of thousands of Vietnamese – all in search of freedom and democracy, and a better future for their children, many of whom ended up in places like Australia, France, and right here in Central Florida.
My parents were both Vietnamese refugees. My mom, orphaned at age 12, escaped by a small rickety fishing boat headed out to the unknown wide ocean, leaving her brothers behind, with nothing but her unyielding dream of a new world beyond the Vietnam she had left behind. Eventually reaching Malaysia at a refugee camp, living there for a year before being sponsored to the United States by a kind family in Indiana. She met my father in South Florida where I was born and raised before moving to Orlando 13 years ago.
The Vietnamese American community in Orlando has grown through the decades along the Mills 50 District, starting from a small Asian grocery store to a restaurant to more and more. Now, Asian immigrants from other countries have settled in the area and opened up even more restaurants – from Malaysian to Sichuan Chinese and more.
I was honored these past few weeks to help lead a guided tour through the "Little Vietnam" area in our Mills 50 District for WMFE for their series on "What is Little Vietnam?", helping to share stories from the Vietnamese American community, how they came to Central Florida, and what lays ahead for the community after 40 years.
WMFE's What is Little Vietnam? Series
Orlando's Hon Viet DanGroup keeps Vietnamese Culture through Dance
Vietnamese vets still fighters forty years after fall of Saigon
Family business continues to thrive since first settling in Orlando's "Little Vietnam"
New development changes face of Orlando's Little Vietnam
Chasing traditional medicine in Little Vietnam
Central Floridians remember Vietnam War
For Vietnamese, heritage endures at places of worship
New cultural center reflects diverse Asian community, including Vietnamese
Orlando's Little Vietnam preserves its history to enrich its future
Two generations of Vietnamese-Americans, three decades apart
The young ones: Vietnamese youth redefine their community
Trays of small bites from Vietnamese grocery store Tien Hung Oriental Market – one of the very first markets in the district – many of the businesses along this strip come from the family of Tien Hung.
Cecilia Nguyen, also Miss Vietnam Florida 2004, is the owner of the Tien Hung Jewelry Store – she takes cares of customers and is in charge of the store, taking over for her parents. 
Wall art at Chewy Boba Company – Quang Vu, a UCF alumni, and his family started Lollicup many years ago and were the first in Orlando to sell boba or bubble tea, a popular drink with roots in Taiwan, where little tapioca pearls are slurped through large straws.

Steven Thach Luu mans the register at Chewy Boba Company, where they also sell macarons.
One of my favorite dishes, Banh Cuon, a rice crepe noodle dish stuffed with mushrooms and ground pork – velvety smooth – found at Vietnam Cuisine restaurant.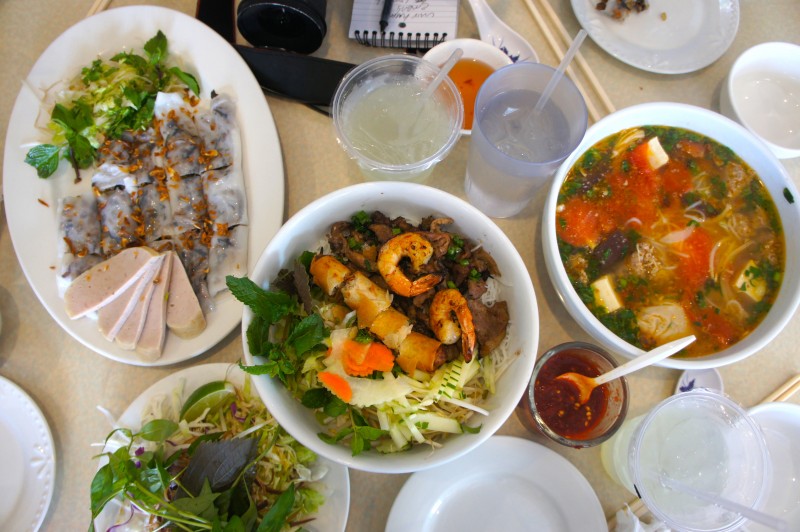 A look above from the meal – banh cuon, bun thit nuong, and bun rieu all at Vietnam Cuisine.
Bun Thit nuong cha gio – rice vermicelli noodles with veggies, egg roll, grilled pork and shrimp at Vietnam Cuisine.
Bun rieu, a special tomato, pork, and seafood noodle soup at Vietnam Cuisine.
In recent years, more restaurants and shops from other Asian countries have sprouted up in the Mills 50 District. Mamak Asian Street Food specializes in Malaysian and pan Asian cuisine.
Traditional Eastern medicine shops and acupuncturists dot the corridor in Mills 50 District.
Crawfish in garlic, butter shabang sauce, fried shrimp, jambalaya, po boy sandwiches, gumbo – all found at King Cajun Crawfish run by Ha Nguyen. Mrs. Nguyen worked in Louisiana and ran a cajun restaurant there for 15 years before moving to Orlando after Hurricane Katrina in 2005 to be closer to her family. Many Vietnamese who immigrated to the US were sent to the gulf coast region and became fishermen and shrimpers, some facing discrimination from the KKK at the time. There is still a large community of Vietnamese Americans in New Orleans today in the neighborhood of Versailles.
Brendan Byrne and Matthew Peddie of WMFE 90.7 FM News on location, digging into the crawfish.

Chelsea, enjoying her crawfish at King Cajun Crawfish
Mrs. Ha Nguyen, the Queen Cajun at King Cajun.
Beignets – fried dough with powdered sugar
Pho at Viet Garden, one of the oldest Vietnamese restaurants in Orlando
Dumplings as recommended by Crystal Chavez
The staff of WMFE with some of the personalities in the What is Little Vietnam series.