It's a Chinese family tradition – while some folks sip on mimosas and munch on French toast on the weekends, others hit up one of the few dim sum restaurants in town for some steamed shrimp dumplings and a cup of Jasmine tea.
Dim sum, which means a little bit of heart, is the term used for the collection of small plates made of dumplings, sweet buns, and other little delectable bites, all eaten of course with tea and shared around a table with family and friends.
One of the best dim sum restaurants in Orlando has been Ming Bistro. They recently went under new ownership changes and have even had some interior decoration changes. Gone are the chandeliers, replaced with lowered, black painted ceilings and dim lighting, giving the restaurant a slightly more sophisticated feel. Quality remains about the same, though some friends have noted a slight decrease.
Same are the long lines at the door of customers waiting for a table to clear (you can avoid this by going on the off hours – outside the 12pm-2pm peak hours on the weekends). They serve dim sum all day here, but you can only get the push cart service on the weekends. I prefer ordering my dim sum dishes by the menu a la carte – where you are guaranteed hot and fresh plates coming out from the kitchen, rather than something that may have been sitting out for a while.
Service at Chinese restaurants have historically been quite lacking. It is a little better here, where a manager made the rounds asking how things were and the waitresses made sure the tables stayed clear.
How to Order Dim Sum
Make sure to order some tea, like Jasmine or Heung Pin, as well as a glass of water as it can get salty
As the carts make their way around the room, wave one of the ladies down to showcase her wares from the carts – one is steaming, the other not.
Each dish has a certain price range, from $3 to $5 depending on the size.
Drizzle a dab of soy sauce and some chili sauce on your dumplings to taste.
The shrimp rice paste can be ordered separately as can any of the dishes on the regular menu, such as beef chow fun.
Typically, we order shrimp ha gow dumplings, siu mai pork dumplings, fried taro shrimp balls, chicken feet, steamed spare ribs, a plate of beef chow fun, salt and pepper calamari, and some egg custart tart pastries for dessert. Typically the bill comes out to be about $12 a person, great value.
My favorite dim sum dish here is the fried turnip pudding cubes, crunchy and salty, perfect with some hot chili.
Fried Turnip Cake Cubes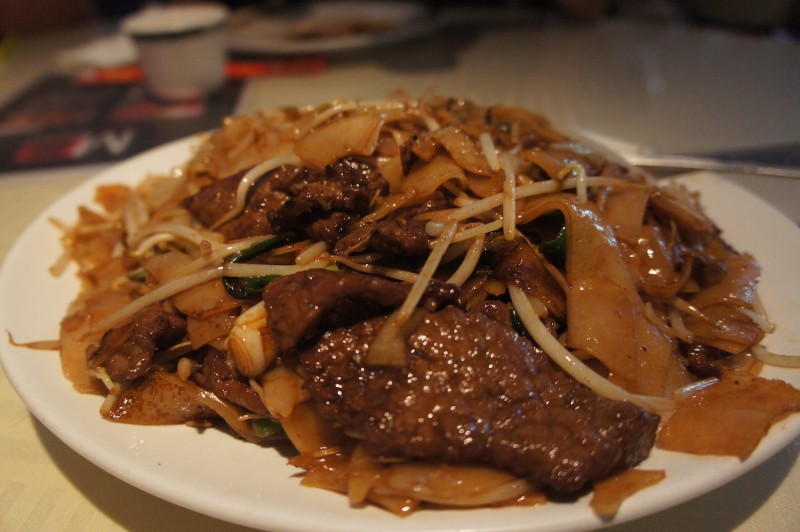 Beef Chow fun noodles
Here are photos of the menu: