This week, Tasty Chomps was invited to BRAVO! Cucina Italiana to try meals from their Summer Fixe Menu, which offers a salad, an entrée and a dessert for each meal. To say the least, our visit was delightful.
The staff was welcoming, accommodating and genuine from having small talk to offering recommendations for their favorite dishes. Also, when he was available, Chef Matt Grimes came to our table to present our dishes to us. I managed to convince Chef Grimes into taking some portraits.
While we waited for our dishes, bread was served fresh from the oven with a herb oil dip. The bread was so warm, moist, fluffy, and a little chewy to my liking. How did Bravo! know my preferences? I'm not sure. Needless to say, we had a few baskets of this delicious bread.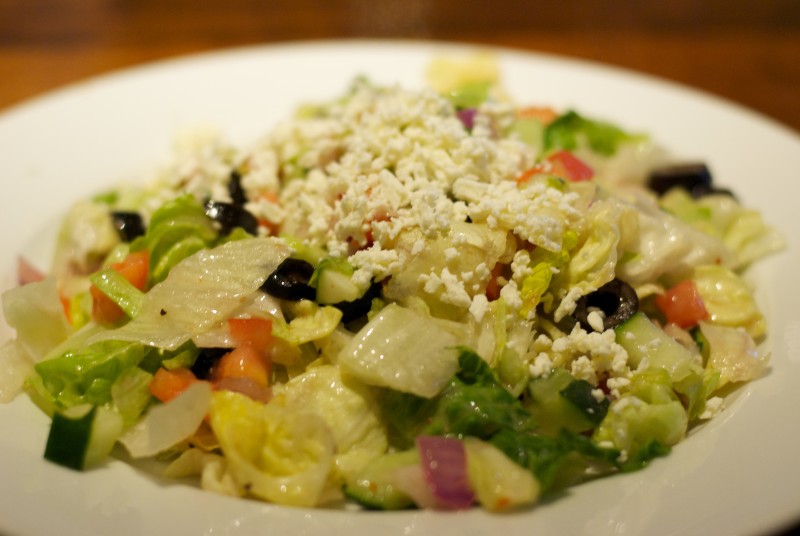 The Chopped Salad included chopped greens, cucumber, red onion, tomatoes, olives, Feta, and red wine vinaigrette. It is the essential and basic salad for a simple choice with very fresh ingredients.
The Insalata Della Casa consisted of chopped greens, cucumbers, tomatoes, bacon, crispy pasta, and Parmesan dressing. I prefer this salad as the smokey bacon adds more texture, while the Parmesan dressing was tossed with the right amount.
The Pasta Fra Diabolo was made up of a spicy tomato cream sauce, campanile pasta and shrimp. The cream sauce is made by mixing Marinara and Alfredo sauce to obtain its silky smooth texture. The pasta was cooked to perfection and there was a generous number of shrimp. Finding out that I am allergic to shrimp, Chef Grimes offered to make me a portion to try without shrimp and went back into the kitchen to make me some right away – now that is service. I am so glad I was able to try this entrée as it made my day and was my favorite main course item.
The Chicken Milanese is a Romano-crusted chicken breast with Mozzarella served on a Pomodoro sauce and herb linguini. The Comodoro sauce is mild and does not overpower the flavors of the linguini. The linguini was also prepared correctly and seasoned by herbs for a nice fresh flavor. I believe the chicken was moist, but a bit salty; I suggest eating it with the Pomodoro sauce as a balance.
Chef Brittany's Cannoli Crumble is a deconstructed Bravo!'s twist on the traditional cannoli. There's lightly  sweetened ricotta filling with chocolate chips and cannoli pastry crumble. The filling was smooth, dense, cooling, and delicious. In contrast, the crust crumble provided the opposite texture similar to that of the semisweet chocolate chips. This take is creative, easier to share and less messy than the traditional cannoli.
The Vanilla Bean Créme Brûlée is a decadent vanilla bean custard with a caramelized sugar crust. I love this dessert because of how creamy, milky and sweet it is and how cooling it is to my palate. It is easy to eat, but dangerous for the same reason after a long day of work where you may devour more than a serving size.
Along with our meals, we decided to try the Sangria Rose and Cucumber Basil Gimlet to go along with our summer theme. The Sangria Rosa consisted of Sobieski Raspberry Vodka, fresh muddled pineapple and strawberry, Fizz 56 Brachetto d'Acqui, and is served on the rocks. It isn't overpoweringly sweet and leaves notes of pineapple dancing on your tongue.
The Cucumber Basil Gimlet is made up of Grey Goose Vodka or Hendricks Gin, fresh basil, crushed cucumber, bitters and fresh lemon and lime juices, served on the rocks. We had it with Grey Goose Vodka and it is a strong drink, but refreshing for the summer at the same time. You know it is truly fresh when you can taste all the ingredients of the basil, cucumber, etc.
Sad to say, but this concludes our visit to BRAVO! Cucina Italiana. Please feel free to browse their website and make a reservation! You will not be disappointed.