by Kim Daorerk
Located in the historic Himmarshee Village in Ft Lauderdale, Himmarshee Public House has also launched a new indoor/outdoor bar as well as a new menu including 16 new dishes that reveal the old American comfort food tradition and new American Classic Cocktails. The new menu will be offered at both the new bar (Thursday through Saturday) and the restaurant's main dining area daily.
Catering to the foodie, the 16 new dishes on Himmarshee Public House's updated menu includes additions to Snacks & Bites section such as Sweet & Sour Pork Belly, Salads including the Kale Salad with mandarin oranges, toasted almonds, golden raisins and honey-almond vinaigrette; Quality Burgers & Sandwiches such as a Fried Chicken Caesar Sandwich with smoked bacon, creamy Caesar dressing and parmesan on toasted ciabatta; and American Classics like Maple Bourbon Salmon served with mashed potatoes and market greens. Guests can nosh on All-American fare such as Slow Cooked Meatballs with whipped ricotta and local basil, or the American comfort food classic, Bacon Wrapped Meatloaf with Nueske bacon, mashed potatoes and mushroom gravy.
"The new menu truly represents the identity of Himmarshee Public House, bringing out the heart of comfort food" added Falsetto. "We've added something for everyone with a variety of dishes that speaks to even the most discerning palate."
We were recently invited to a media preview to check out the new bar area and menu, leaving quite impressed.

The new indoor/outdoor bar at Himmarshee Public House.
Himmarshee Public House debuts a new menu of old American comfort food and new American classic cocktails to celebrate the completion of its new indoor/outdoor bar.
Located in Fort Lauderdale, Himmarshee Public House has elevated the downtown area from a pub crawl street to a foodie paradise. It caters to visitors from day to night: featuring outdoor seating, indoor high top seating, a center bar with beautiful brick pillars, and an intimate indoor full-service dining area.

There are multiple large screen televisions around the inside, so you'll never miss a sports game or special event while enjoying a night out at the bar.

Public House offers 40 beers on tap, ranging from South Florida locals Funky Buddha Brewery, to other in-state brewery, Cigar City. On weekdays, you can relax after work and enjoy their half-off happy hour from 4-7 pm.

The view of the indoor dining area, which is also available for private events and parties.

Motto of JEY Hospitality Group: Just Enjoy Yourself.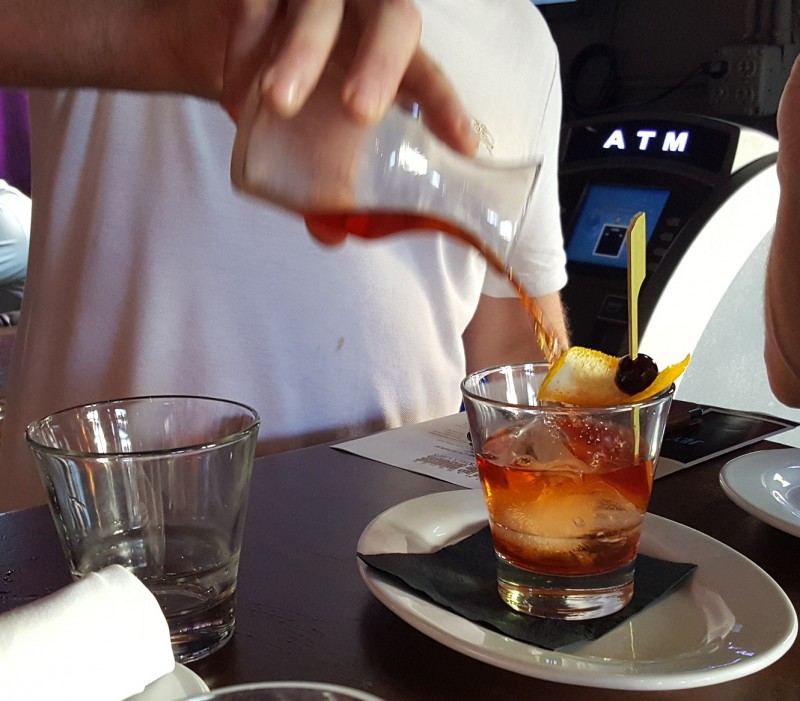 I started off my meal with a Smoking Old Fashioned. The craft cocktail is presented in a tumbler filled with hickory smoke, which a single ice sphere and Makers 46 is poured into. Garnished with an Amarena cherry and an orange peel, the hickory smoke adds new dimensions of smell and taste to this American classic.
Sixteen new dishes are featured on Himmarshee's menu, including an appetizer menu available at the new bar during Happy Hour. These new Bar Bites include Warm Pretzels, Crispy Calamari, and Smoked Fish Dip. One absolute must-try is the Sweet and Sour Pork Belly. A refreshing watermelon salad is paired with a braised Duroc pork belly that is as equally tender and juicy to bite into. My favorite is the Slow Cooked Meatball, which is dressed with San Marzano tomato sauce, whipped ricotta cheese, and local basil. The meatball is hearty and flavorful. I soaked up the every drop of the ricotta cheese; you can taste the care made into that bar bite. The Bacon Wrapped Shrimp combines two popular meats from land and sea. The local caught shrimp is glazed in honey-sriracha sauce, which packs a spicy punch. It is served on a cooling cole slaw, but the bold taste is not for the faint of taste buds.

Left to right: Sweet and Sour Pork Belly, Slow Cooked Meatball, and Bacon Wrapped Shrimp.
Public House also offers four refreshing salads. I sampled the shaved Kale salad, which is topped with Mandarin oranges, toasted almonds, golden raisins, and a honey-almond vinegaratte. The kale is not bitter at all, which is what I was most afraid of, and the sweetness doesn't over power the greens. It's like Florida sunshine on a plate!

Kale Salad.
Entrée meals at Himmarshee Public House give you big flavors and generous helpings. My favorite is the Maple Bourbon Salmon. The fish is grilled and moist, while the sauce is light and flavorful. I also tried the Bell & Evans Chicken, which includes a pan roasted chicken thigh. The skin is crispy, but the chicken meat is juicy. Another must-try entrée is the Porter Braised Short Rib. The short rib is incredibly tender and bursting with flavor, thanks to its marinade in the "Pops" Wynwood Porter craft beer. The Wynwood Brewing Company is located in North Miami, in the Wynwood Art District, and it's great to see Himmarshee use local artisan ingredients in their foods.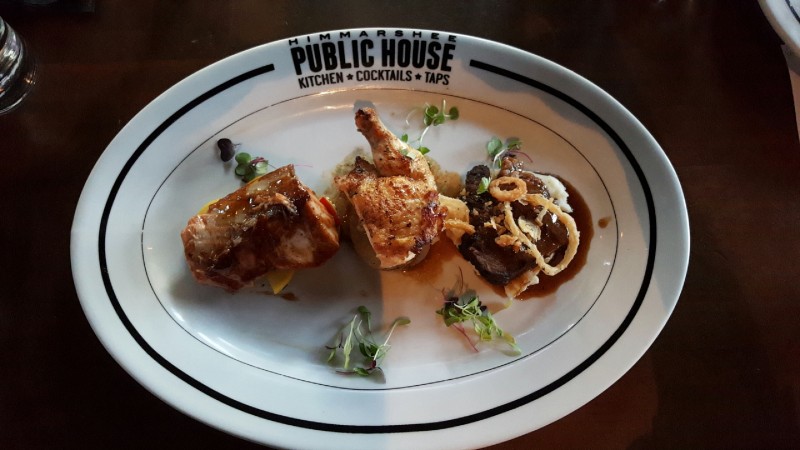 Left to right: Maple Burbon Salmon, Bell & Evans Chicken, Wynwood "Pops" Porter Braised Short Rib
The meal ended with the chef's choice of dessert. I received a gorgeous chocolate tart with chocolate gnash filling, topped with powdered sugar. In line with the rest of the meal, the dessert had big flavor and a wonderful ending to a bold meal.

Chocolate cake dessert.
Whether you'd like a sit down meal or you're looking for drinks at a fun spot, Himmarshee Public House caters to you. It's energized by the liveliness of downtown Fort Lauderdale, or you can find an intimate table in the back of the restaurant.
For a special insider's discount, ask the manager at any of the JEY Hospitality Group restaurants (Himmarshee Public House, ROK:BRGR, or Tacocraft) for the "Locals Only Card". You will get a special card that gets you 25% off your entire bill at their Fort Lauderdale restaurants all summer long!?
For updates on menu changes, parties and special events, follow Himmarshee Public House on social media: facebook.com/publichouseFTL, twitter.com/publichouseFTL, Instagram/publichouseFTL.
Kim Daorerk