McDonald's is in the midst of a great reinvention and change. It recently reported its worst same-store sales decline in more than a decade. For the first time since the 1970s, McDonald's may be closing some of its stores.
Changing tastes, greater emphasis on local, natural, foods, and the encroachment of new competitors such as Shake Shack and Chipotle have all slowly chipped away McDonald's marketshare. The fast casual segment has slowly become more prominent as customers shy away from "fast food."
Folks want to eat healthier, delicious tasting food – pretty much the opposite of the traditional thought of greasy, so called mystery meat fast food.
Nonetheless, McDonald's is still the worldwide leader in sales and will continue to dominate despite slowing sales.
Locally in Central Florida, the restaurant recently unveiled their new "Create Your Taste" program – a build your own burger concept within existing McDonald's that allow customers to customize their own burgers with custom toppings, artisan bread buns, and meat from a giant electronic touchscreen kiosk. A giant touch screen? all the options I'd want to get? custom to me? It's a millenial's dream.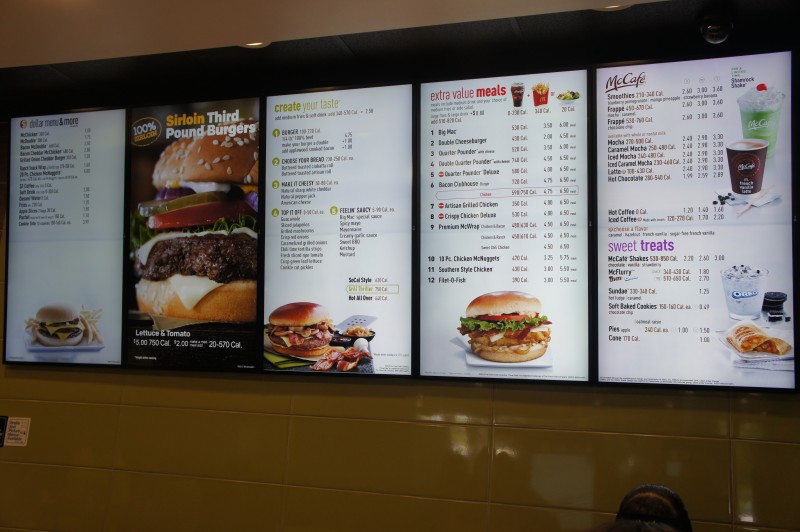 It's available now at the UCF location as well as another store in Lake Mary with more on the way. We were recently invited to test out the new system – here is a run down of how things went.
You walk up and put in your order at the giant ipad-like kiosk screen. So many choices – death by choices? It can get confusing at times with all the different options if you don't have someone to help guide you through the first time.
After choosing your ingredients, toppings, meat type, and bun style (butter toasted ciabatta or artisanal bun), the order is sent back to a special area of the restaurant where the burgers are made to order.
After it's ready, the order is sent to your table by an employee in quite a nice presentation – burger wrapped in special paper, fries in a fancy, little mini fryer basket. Note, you can only order it inside the restaurant and not in the drive thru, where many McDonald's do 70% of their business.
The burger is actually quite good – the bun is soft, but not too spongy, and quite tasty – as are the meats and ingredients. It may be the best burger I've had at McDonald's in a long time. But it does come at a price, around $2.50 more than your regular burgers, more or less depending on what your toppings and ingredients are. My sirloin burger with bacon meal with medium fries and dasani water came out to $8.50 – comparable to pricing to some of the craft burger places out there, but actually on par to taste as well. For comparison, a Big Mac meal comes out to $6.00.
Customization is a new and possibly daunting task for such a large corporation accustomed to value meals and preset menu items. Though the price is much higher than their value menu items, it may help draw in that coveted youth demographic that have slowly begun to explore new restaurants using their new apps like yelp and posting photos of their meal on instagram and other social media. Will they be posting custom McDonald's Create Your Taste burgers soon?
There are so many burger places in the area now by UCF, each with pricing about the same as McDonald's – some do it better, some do it worse. If McDonald's can keep up the quality, keep prices in check, I'd definitely come by again for a custom burger.
The future of McDonald's is here.