Chicken Salad Chick Orlando Opening Today -Fast-Casual restaurant concept to open 40th location
Chicken Salad Chick, the nation's only southern inspired, fast-casual chicken salad restaurant concept, is scheduled to open today in Orlando.
The restaurant is located in the Plaza at University at 12101 University Blvd, Suite 201, Orlando, FL 32817, next to Spoleto's and Bar Louie.
They specialize in chicken salads – available in scoop or sandwich form and have over 15 different flavors as well as soups and other deli sandwiches. Check out their menu here.
Guests are welcomed to celebrate the Grand Opening with special offers this week.
Today, starting at 11am, the first 100 guests will receive a "Meet the Chicks" tasting and will receive a free scoop of chicken salad per week for 16 weeks. Thursday, the first 100 guests to order a Chick Special will receive a free coozie.
Friday, guests who purchase 2 pounds of chicken salad will receive a free small cooler while supplies last.
Owners Carol Lynn Upshaw and Adam Reeves of the City Chick, LLC look forward to welcoming guests to the first of three locations in the Orlando market. "To be able to provide the best chicken salad in the south to a new community is a very exciting venture for our team" said Adam Reeves. "We hope that the Orlando community will enjoy their experience with this brand just as much as we enjoy providing it!"
"When you combine a delicious meal, a welcoming environment and a friendly staff, you create an experience that is unforgettable," said CEO Scott Deviney. "I know the City Chick Group will serve the brand well as they offer this superb experience to the Orlando market."
The Chicken Salad Chick concept, born in Auburn, Alabama, was established in 2008 in the kitchen of founder, Stacy Brown. Stacy quickly learned that selling a homemade recipe from her kitchen is against the law, and after being shut down by the health department, she decided to solicit the business expertise of her future husband and fellow founder, Kevin Brown. Together, they opened a small takeout restaurant which quickly grew to enormous demand and additional locations.
Chicken Salad Chick puts an edgy twist on a Southern classic, offering guests a "custom fit" chicken salad experience, with 15 original flavors to choose from, as well as gourmet soups, flavorful side salads and freshly-baked desserts. Today, the brand has 40 locations across the Southeast, and has currently sold 141 franchises to be developed across the states of Alabama, Florida, Georgia, North & South Carolina, Tennessee and Texas. The brand was recently named as the top chicken salad in the country to try in the March/April issue of Cooking with Paula Deen, as well as one of FastCasual.com's top Movers and Shakers. Corporate offices are located at 724 North Dean Road in Auburn, Alabama. See www.chickensaladchick.com for additional information.
How did Mrs. Stacy Brown come up with the concept?
Chicken Salad Chick was actually started out of necessity in 2008, when Stacy, a recently divorced stay-at-home mom, needed to provide for her three children. Knowing she was a good cook and had an obsession with chicken salad, she began to make and sell chicken salad to her neighbors & friends. She quickly learned that selling a homemade recipe from her kitchen is against the law, and after being shut down by the health department, she solicited the business expertise of friend & future husband, Kevin, to open a small takeout restaurant in Auburn, Alabama.
Having sold out continuously for the first few days, it became clear that Chicken Salad Chick was something people were quickly falling in love with. Within a few short years, Chicken Salad Chick began franchising and has continued to grow rapidly across the Southeast. Today, the brand has 39 locations open, with a total of 131 locations to be developed across the states of Alabama, Florida, Georgia, North & South Carolina, Louisiana, Tennessee and Texas.
What does the name Chicken Salad Chick come from?
The name was created when Stacy was delivering food to her neighbors and friends. Knowing she needed a name that was easily recognizable on a car magnet, she wanted the words chicken salad in it. Since she's a "Chick" that would deliver "chicken salad", Chicken Salad Chick was born.
What is the chicken salad experience like – like what is it like to order there at the restaurant?
Each person's view of the perfect chicken salad is different, which led to the idea to create one for every palate. Most places that offer a chicken salad only offer one, but with us, you have 15 varieties to choose from. Whether you like it sweet and salty or hot and spicy – we have something for everyone.
When a guest walks in the door, they'll be greeted with the bright and refreshing colors of green and red, contrasting with striking, black and white photos of local landmarks. They'll walk to the front register, where a team member will cheerfully walk them through the menu of 15 varieties of chicken salad, flavorful side items, gourmet soups, and freshly baked desserts…and for those who are dragged there by a chicken salad lover and are refusing to try something new, we also offer deli sandwiches and pimento cheese!
Our restaurants are full of warm designer fabrics that beg the guests to sit a while and enjoy the chicken salad as well as their dining experience. This is a place you will want to meet someone you really like, because you won't be in a hurry to leave. We like to think we provide guests with a full service experience, at a fast casual price.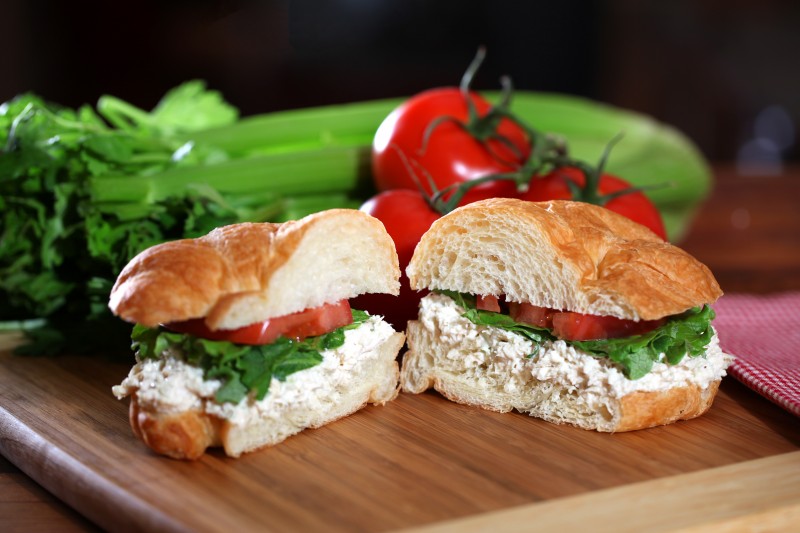 What are the top dishes to order at Chicken Salad Chick? Is it only chicken salad available?
In regards to best sellers, our #1 spot remains to be the Classic Carol, our "plain" chicken salad, however other favorites include the Fancy Nancy with apples, grapes and pecans, and the Sassy Scotty with bacon, ranch and cheddar cheese. Our Kickin' Kay Lynne is a powerhouse of flavor, combining buffalo sauce, ranch, bacon, cheddar cheese and jalapenos all in one, and is quickly growing in popularity. The fans of more traditional chicken salad opt for Olivia's Old South, which has sweet pickles and egg.
Outside of chicken salad, our fans rave about our flavorful side items, particularly the grape salad and broccoli salad. We also offer homemade pimento cheese, pasta salad, fresh fruit, a seasonal lettuce salad, gourmet soups and deli sandwiches.
As an additional note, all of our chicken salads and side salads are made in-house daily, offering guests a healthy and fresh dining option in an environment where they feel at home. And they are all gluten free as well! Feel free to check out our nutritional information on the website if you're interested in that as well.
Our recipe is a secret that only our founders know! As far as how our unique recipes are prepared, our chicken salad is made in-house each day to ensure freshness and quality. We use all white-meat shredded chicken, finely minced celery, barely enough mayonnaise to mention and our secret seasoning. Some guests are convinced that we put something else in it to keep them coming back for more, because it's certainly addicting!