World of Beer in Downtown Orlando on Lake Eola has had their tavern food menu debut months ago.
Since opening its first tavern in Tampa, Florida, in 2007, WOB has grown to more than 70 locations in 20 states.
Now, it's time for UCF's own World of Beer, one of the first World of Beer locations outside of Tampa to begin food service as well.
Currently, World of Beer offers over 500 craft beers and 40 rotating taps daily, but soon the "tavern" menu will roll out to all their locations.
Priced between $5 and $15, it's not your typical pub bar food as you may surmise, but rather, a form of elevated bar food.
"The 'Tavern Fare' menu is part of an extensive renovation to the WOB-UCF Area tavern," said Jeff Schilling general manager. "We now boast a 400-square foot kitchen and are looking forward to serving flavorsome food and beer pairings to all our guests."
Here are some of the menu highlights, which changes seasonally:
o Black and Blue Flatbread— Blackened steak comes topped with caramelized onions, mushrooms, mozzarella and blue cheeses, fresh arugula and a sweet balsamic glaze.
o Chimay Burger — This half-pound, all-beef patty is made with Chimay classic cheese imported from Belgium. The cheese is made by the Trappist Monks of the Chimay Creamery, where Chimay Beer is also brewed. The burger is topped with sauce that is infused with Chimay White Triple Beer, sautéed onions and mushrooms.
o Guinness Brat Sliders — Guinness-infused bratwursts served on a warm pretzel rolls with caramelized onions and peppers with tangy Dijon.
o Chicken Pesto Sandwich — Beer-brined grilled chicken breasts topped with mozzarella cheese, basil and pine nut pesto and arugula, come served on a lightly toasted basil focaccia.
Here is our list of the top 5 items to try at World of Beer UCF:
o German Pretzel— The pretzel's original Bavarian recipe was created by Germany's most sought-after artisan pretzel baker, Ossi Piller, and dates back more than 100 years. A giant Bavarian pretzel baked soft on the inside, crispy on the outside & salted. Served with house-made stone ground mustard and local beer cheese.
o SPRING GREENS & KALE SALAD – Fresh spring greens & kale with goat cheese, apples, sweet pickled red onions & candied pecans tossed in a house-made Framboise vinaigrette

o Sriracha Lime Shrimp Tacos — Beer battered shrimp tossed in WOB's homemade Sriracha lime aioli, served on tortillas with roasted corn, tomato salsa, shredded lettuce, and fresh cilantro.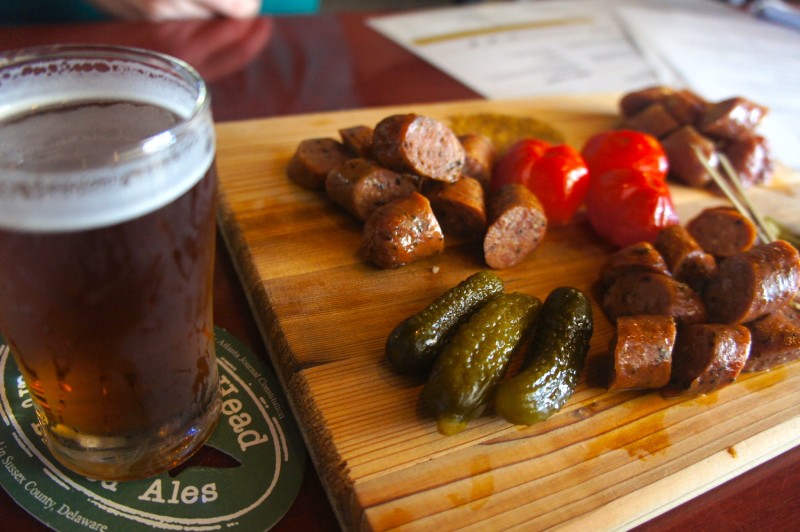 o ARTISAN SAUSAGE BOARD – Trio of jalapeño cheddar, cracked black pepper & hickory smoked
sausages. Served with spicy pickled green beans, peppadew peppers & our house-made stone ground mustard.
o Belgian Waffle S'Mores— Fresh-baked, beer-infused Belgian waffles served with toasted marshmallows, Kahlúa fudge sauce, graham cracker crumbles and powdered sugar.
WOB- UCF will be open from 11:30 a.m. to 2:00 a.m. daily. Major credit cards are accepted. For more information, visit http://worldofbeer.com/Locations/UCFArea .