We were recently invited to a media tasting for a homey meal at Liam Fitzpatrick's in Lake Mary.
This Irish pub and restaurant is large enough to accommodate large gatherings; yet, everyone feels as though they walked into a family gathering without the annoying relative asking if you are planning on getting married any time soon.
As a result, we felt right at home and had many laughs with the family of Liam Fitzpatrick's as we enjoyed many dishes on their new menu.
For Starters:
Ahi Poke
Marinated sushi grade ahi tuna served on cucumber rounds, finished with wasabi aioli, honey Sriracha, fried wontons, and sesame seeds. This appetizer is delicious and refreshing with a nice kick from the wasabi and Sriracha.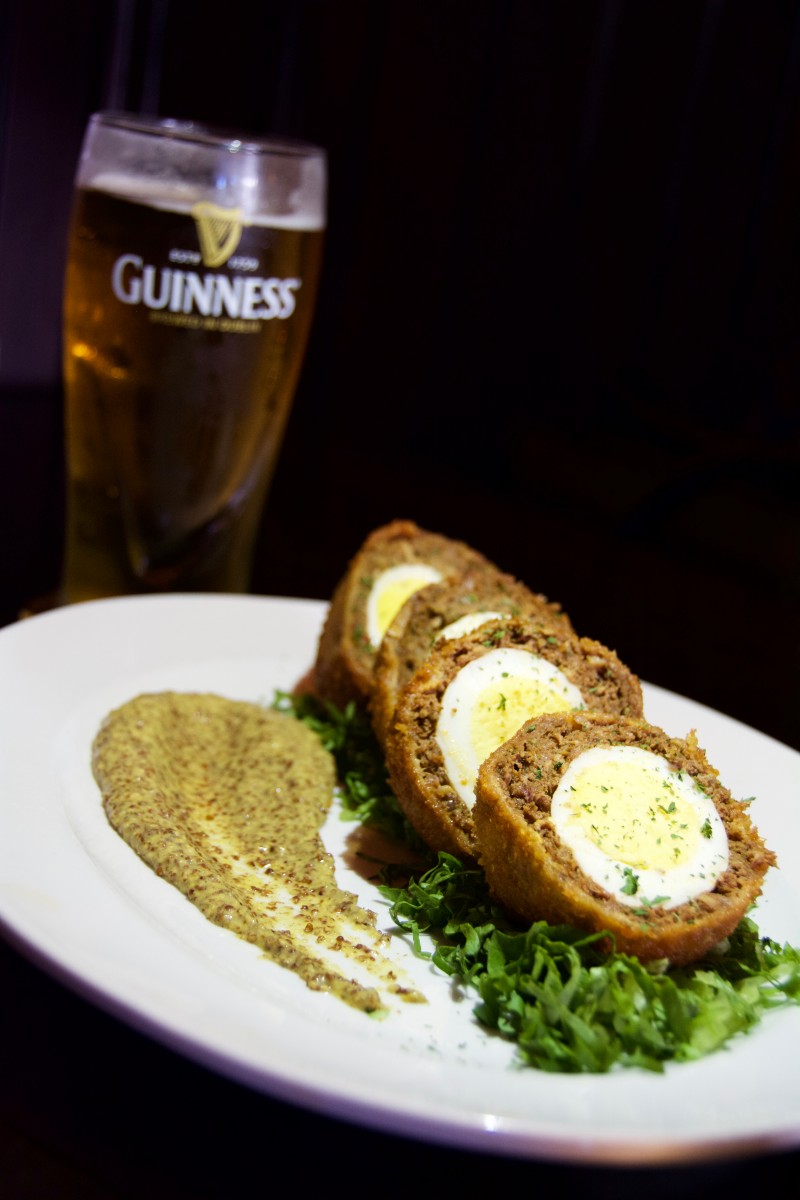 Scotch Eggs
With origins dating back to 1738, these Scotch Eggs are boiled eggs encased in seasoned ground pork, chorizo-coated in bread crumbs, and deep-fried.
Margarita Flatbread
Basil pesto, mozzarella cheese and grape tomatoes, drizzled with a balsamic glaze. There is nothing negative to say about this dish. The ingredients are fresh and the flatbread itself has a nice texture, but I am biased to liking chewy flatbreads. The balsamic glaze adds a little sweetness that pulls this appetizer together.
Porter's Famous Fish and Chips
Haddock filets dipped in Liam Fitzpatrick's special beer-batter recipe. Served with mushy peas and tartar sauce. Liam Fitzpatrick's restaurant and Irish pub was put in the hot seat with our visit when they placed this dish on our table.
I hold very high standards for Fish and Chips as my favorite is at a mom and pop restaurant on Malua Beach in Australia.
However, Liam Fitzpatrick's did not disappoint with their dish!
Porter's Famous Fish and Chips is now my number two favorite for Fish and Chips…this time, I won't have to fly around the world for delicious Fish and Chips.
The Haddock filets in Porter's Famous Fish and Chips were very fresh and moist with a crispy batter.
The chips were made in-house and holds addicting flavors – you will not want to put a single one down.
Chicken Salad Sandwich
Homemade chicken salad with green apples, dried cranberries, red onions, lettuce, tomato, carrots, and celery. Served on toasted multi-grain bread. If you are looking for a simple, yet tasteful sandwich, this one is for you. Ideally, when you pack a lunch, you hope to pack something like this sandwich, but it sometimes ends up being off with one ingredient or two. Next time, skip the stress and try this sandwich…then ask them how to make it.
Liam's Drunken Pasta
Penne pasta with prosciutto, garlic, and basil topped with Parmesan cheese before tossed in a pink vodka sauce. Served with a size of garlic toast. The pasta is made well and the garlic bread went great with or without the pink vodka sauce. The seasoning was not overpowering and each ingredient can be tasted whether trying the pasta or the garlic bread.
Bread & Butter Pudding – a traditional Irish bread pudding made with raisins, served with whiskey creme anglaise. This dessert is not too sweet and is enough to share. Like all bread puddings, this dessert is very dense and filling. Unlike other bread puddings, the whiskey creme anglaise and chocolate drizzle brings together this dessert. You may want to ask for extra creme if your sweet tooth needs loving.
For more information on Liam Fitzpatrick's, please visit Liam Fitzpatrick's.
Be sure to keep an eye out on special events, as mentioned below.