Tommy Bahama, known for it's beach chic apparel, also serves guests at several successful restaurants. The brand's Island Time Happy Hour welcomes guests to a tropical theme that matches the new wave of culinary restaurants that are appearing on the recently renovated International Drive. We were recently invited to attend a media tasting to showcase their new menu!
Executive Chef Matthew Oakley showcases Tommy Bahama's new spring influenced happy hour menu items. Fried Green Tomatoes is the outstanding dish among the appetizers. The refreshing Grapefruit and Jicama Salad is a great choice for lighter spring time fare.
Of the entrees, the Pan Seared Whole Branzino is the favorite. The boldness to serve whole fish at a more mainstream establishment is to be applauded. It is prepared with the right combination of herbs and grilled citrus.
Chef Matthew prepares a personal dessert creation, which is now on the menu of all Tommy Bahama's Restaurants. The Brown Butter Blondie sets itself apart by not following other chocolate based desserts. The incorporation of Hawaiian Sea Salt adds a special element of enhancement for the classic Blondie flavor.
The Pineapple Paradiso is the favorite of the two newly minted cocktails. General Manager Nancy Lingo recommends some of the more classic cocktails including the Cloudy Coconut, a dessert unto itself, as well as Tommy Bahama's classic Mai Tai, which paired well with all the dishes sampled.
Ever in need of a happy hour that not only serves good food, but also provides great cocktails and outstanding service? Tommy Bahama's is hard to beat.
Special Thanks to: Executive Chef Matthew Oakley, General Manager Auruto Coronel, General Manager: Nancy Lingo, and our Server Jessica.
Appetizers
Fried Green Tomatoes with a Plantain Crust, Jalapeno Cilantro Aioli, and Charred Corn Salsa
Filet Mignon Flatbread with Bacon, Garlic Aioli, Honey Roasted Onions, Gruyere, and Crispy Shitakes Mushrooms
Salad Grapefruit & Jicama Salad with Baby Greens, Red Cabbage, Macadamia Nuts, and Mojito Vinaigrette
Entrees

Pan Seared Whole Branzino with Jiacama Hash and Jalapeno Brown Butter
Roasted Prawn Papperdelle Pasta with Lemon Parmesan Broth, Citrus Gremolata, and Fresh Herbs
Dessert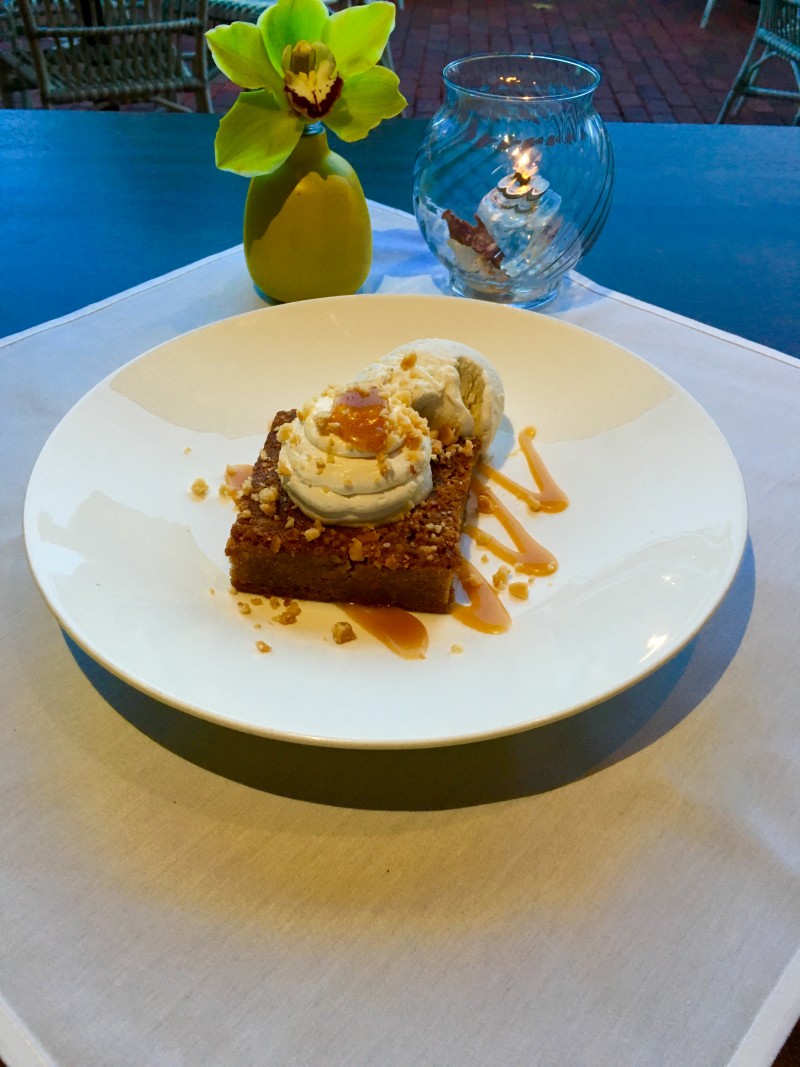 Brown Butter Blondie with Toasted Macadamia Nuts, White Chocolate Mousse, Hawaiian Sea Salt Caramel, and Vanilla Bean Ice Cream
Fresh Cocktails (L to R:  Mai Thai, Hibiscus Lime Cooler, Pineapple Paradiso; Cococut Cloud in second row.)

Pineapple Paradisio: Bacardi Pineapple, St-Germain Elderflower, Creme de Banana, Scratch Sour, and Fresh Pineapple
Hibiscus Lime Cooler: Ketel One, Cointreau, Pineapple, Hibiscus Syrup, and Lime