Located in Adventureland at Magic Kingdom Park, the newly opened Jungle Skipper Canteen features a menu full of Asian, South American and African cuisine inspired by the flavors of the rivers found on the nearby Jungle Cruise attraction.
This new 222-seat table-service restaurant is staffed by the wise-cracking crew of the Jungle Cruise and is open for lunch and dinner. The staff is full of "colorful" jokes and puns that they bring to the experience – it definitely makes dinner a bit more interesting.
The theme is based on the story of Jungle Navigation Company Ltd. owner Alberta Falls (granddaughter of the company's founder Dr. Albert Falls – who fans will recognize from the quips about the waterfall on their Jungle Cruise journey), who opened the doors to their home base of operations to hungry explorers.
There are three different themed dining rooms: The Mess Hall, a large multipurpose space used by the skippers for decades; The Jungle Room, a parlor featuring treasures from the Falls family's personal collection; and The S.E.A. Room, a secret space once hidden by a false bookshelf that served as the meeting place of the Society of Explorers and Adventurers (S.E.A.).
Begin your culinary cruise with the delicious house-made arepas, an Amazon-inspired appetizer made with ground maiz, slow-cooked beef, black beans, fried plantain slices and queso fresco.
Entrees include a rice noodle bowl of pho broth served with choice of chicken, duck breast or tofu and served with jalapenos and mix of fresh herbs; Trader Sam's Head-on Shrimp with sustainable, local farm-raised shrimp tossed in a chili-garlic sauce and served with Chinese broccoli and five-grain or white rice; and house-made arepas with slow-cooked beef, black beans, tostones and queso fresco.
There's also Dr. Falls' Signature Grilled Steak, with strip loin marinated in sofrito and served with house-made chimichurri, avocado and yuca planks.
Menu items for children include delectable dishes such as Junior Skip's Special Mac and Cheese, which is inspired by an Egyptian dish with ground beef, pasta, Bechamel Sauce and house-made cheese gratin, served with broccoli; and Amazon Annie's House-made Arepas with beef, black beans and queso fresco served with yuca planks.
For dessert, there's a special kids volcano with gooey chocolate cake overflowing with caramel lava and exploding chocolate rocks.
Guests can choose from two non-alcoholic specialties, the Punch Line Punch with tropical fruit juice and mango puree (also available with a savory spiced-rim); and the Schweitzer Slush, with frozen apple juice and passion fruit topped with bursting green apple boba balls.
Both of the special 'mocktails' also can be ordered in a souvenir mug.
Appetizers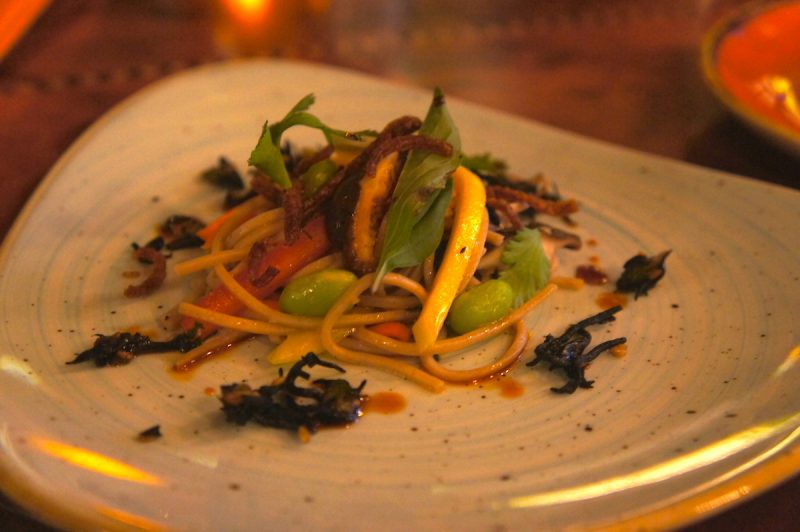 Shiriki Noodle Salad
Rice Noodles, Edamame Beans, Mushrooms, Green Mango, and Cucumber tossed with a Sweet Chili Sauce. Famously served at Hotel Hightower on December 31, 1899
S.E.A. Shu Mai
A Legendary blend of Pork, Shrimp, Edamame Beans, and Spices wrapped in Gyoza Skin then steamed
Falls Family Falafel
A secret recipe of of Chickpeas, Garlic, Onions, Lemon Juice, and Herbs served with White Bean Dip and Tomato-Cucumber Salad
House-made Arepas
A trip down the Amazon with Slow-cooked Beef, Black Beans, Tostones, and Queso Fresco
Entrées
Dr. Falls' Signature Grilled Steak
Strip Loin Asado marinated in Sofrito and served with Yuca Planks, Avocado Salsa, and House-made Chimichurri
Trader Sam's Head-on Shrimp
Sustainable Local Farm-raised Shrimp tossed in a Chili-Garlic Sauce and served with Chinese Broccoli and choice of Five-grain on White Rice
Grilled Lamb Chops
Seasoned with a North African Berber Spice Blend served with Green Lentil Stew
Sustainable Fish
"Not Piranha," served over Chinese Broccoli, Carrots, Shiitake Mushrooms, and Red Bell Peppers in a fragrant Lemon Grass Broth
Skip's Beefy Baked Pasta
Egyptian-inspired dish of Spiced Braised Beef, Pasta, and Béchamel Sauce served with Seasonal Vegetables
Dessert
Coconut Bar with Pineapple-Basil Compote and Vanilla Cream
Vanilla Chiffon Cake with Coconut and Lime-White Chocolate Ganache
Kungaloosh!
An African-inspired Chocolate Cake with Caramelized Bananas served with Cashew-Caramel Ice Cream topped with Coffee Dust