PRESS RELEASE
ORLANDO, Fla. (September 13, 2016) – Tavistock Restaurant Collection announces today that Chroma Modern Bar + Kitchen, the anticipated Modern-American concept located in Lake Nona Town Center, will open to the neighborhood on Wednesday, September 21. The restaurant will offer eclectic small plates and is overseen by Executive Chef Jason Bergeron, who competed earlier this year on Food Network's "Chopped Grill Masters."
"We couldn't be more excited to introduce Chroma to the neighborhood," said Maurice O'Donaghue, General Manager, Chroma Modern Bar + Kitchen. "We want locals to feel that this is their home away from home, to sip on a cocktail, enjoy a bite and share in conversation."
At the heart of Chroma's 256-seat restaurant is an oversized bar, where locals can belly up, unwind and enjoy wines-on-tap, local draft beers and seven Tavistock private-label wines.
A selection of nine housemade cocktails created by Assistant General Manager Megan Harris include a signature Chroma Paloma ($10) with Stoli Ohranj, grapefruit juice, mint, and Coppertail Brewing Co. Wheat Stroke, to exciting twists on the classics like a Seasonal Sangria ($9), a Pineapple Ginger Caipirinha, ($11), Adam's Got Mojo ($10) and an Ancho Daiquiri ($11).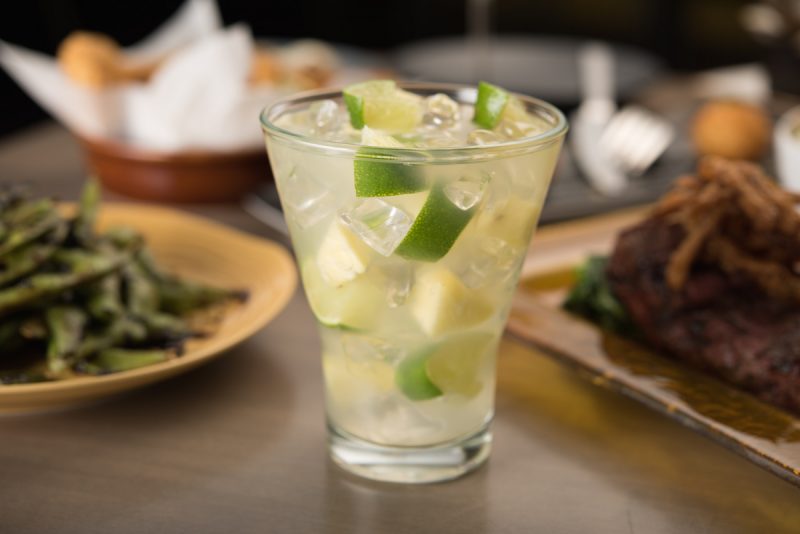 Boasting a contemporary and communal dining atmosphere, Chroma's extensive small plates menu takes a "something for everyone" approach with dishes inspired by a global spice palate.
Scratch dishes are designed to savor and satisfy ranging from Quail Egg Croquettes ($9), Roasted Edamame ($7), Wagyu Skirt Steak ($14), and Skillet-Roasted Clams ($11) to Guava and Goat Cheese Flatbread ($12).
Three, "For The Table" offerings are larger in size, served family-style and include a Crispy Pork Loin ($35), Flame Grilled Ribeye ($53) and Jambalaya ($35). Chroma's menu is intentional in every sense; with an extensive vegetable selection to seafood and meat dishes.
A fresh focus fuels moderate menu changes to reflect what is local and in abundance.
Chroma's open layout includes a main dining area with cozy banquette seating, an outdoor lounge and covered patio and a solarium complete with inspiring views of Lake Nona Town Center's community artwork.
All dining options are available for private or semi-private group dining.
To make reservations or check out the full menu, visit ChromaLakeNona.com.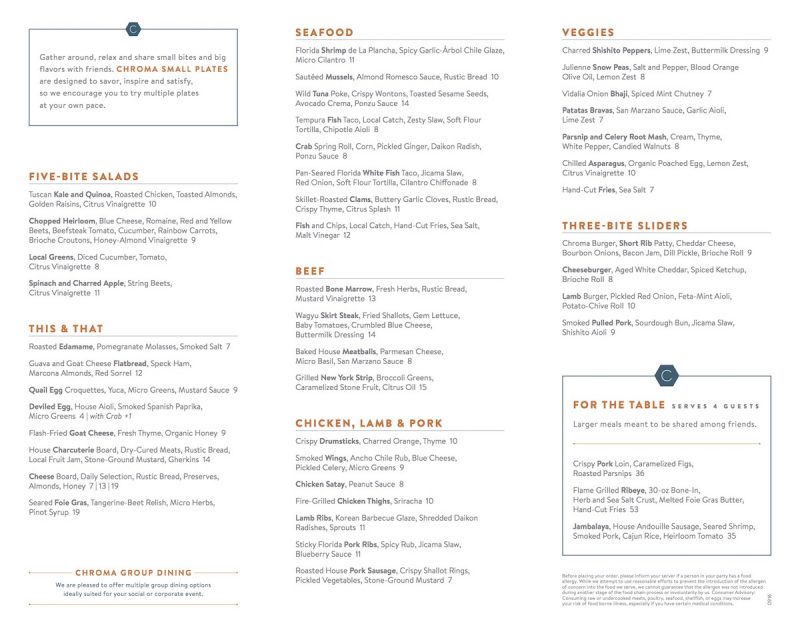 ###
ABOUT CHROMA MODERN BAR + KITCHEN
Chroma Modern Bar + Kitchen is an original concept restaurant from Tavistock Restaurant Collection located in the Lake Nona Town Center. In design and cuisine, Chroma Modern Bar + Kitchen reflects the innovative Lake Nona community by incorporating a contemporary dining atmosphere with scratch-made small plates created by Executive Chef, Jason Bergeron. The restaurant is open daily for dinner and for lunch Monday-Friday. For more information or to make reservations, call 407-455-3435 or visit www.chromalakenona.com
ABOUT TAVISTOCK RESTAURANT COLLECTION
Tavistock Restaurant Collection is part of Tavistock Group, an international private investment organization founded by Joe Lewis. The collection operates award-winning restaurant concepts including Abe & Louie's, Atlantic Fish, Atlas, AquaKnox, Blackhawk Grille, Cafe del Rey, Canvas Restaurant & Market, Canonita, Chroma Modern Bar + Kitchen, Coach Grill, Joe's American Bar & Grill, Napa Valley Grille, Sapporo, Timpano, Top Catch, and ZED451. For more information, visit www.tavistockrestaurantcollection.com.