Celebrating 24 years when it kicks off March 1, 2017, the Epcot International Flower & Garden Festival will jump-start spring with blooms aplenty and gardens of edibles including toothsome morsels from the new Northern Bloom and The Berry Basket Outdoor Kitchens.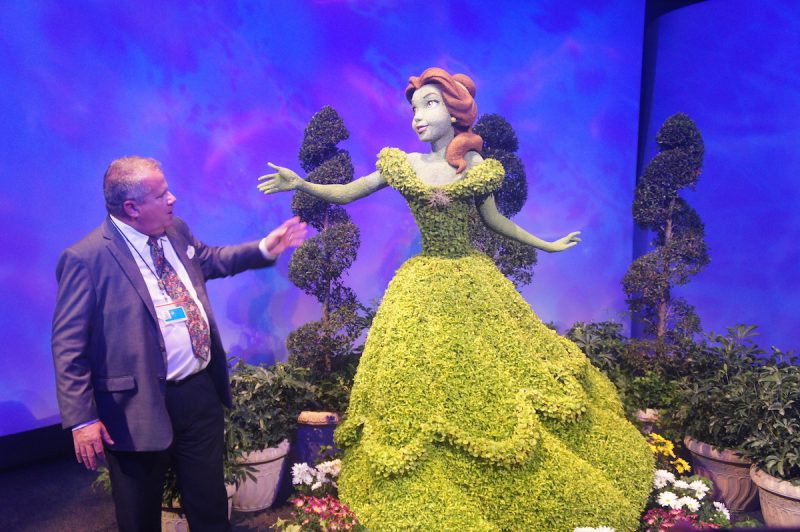 A new, next-generation Belle topiary from "Beauty and the Beast" will debut in France, and a redesigned "Cars" play garden will introduce a colorful new character topiary sure to capture children's imaginations.
The 90-day festival, open March 1-May 29, will feature an irresistible array of new gardens and character topiaries, popular entertainers and tasty food and drink offerings:
Fresh, farm-market food and beverage flavors will debut at the new Northern Bloom and The Berry Basket Outdoor Kitchens that will join 13 returning Outdoor Kitchens. Delectable chef-inspired bites from Northern Bloom include Seared Scallops with French Green Beans and Butter Potatoes with brown-butter vinaigrette and Applewood smoked bacon. A Maple Popcorn Shake for sipping can become an adult libation with the addition of some Crown Royal Maple Whiskey. At The Berry Basket, the Lamb Chop with Quinoa Salad and Blackberry Gastrique can pair with the new Founders Raubeaus Pure Raspberry Ale.
One of the popular Outdoor Kitchen gardens, Urban Farm Eats, will return with savory bites, sweet treats and ideas for planting produce that can inspire growing numbers of guests who want to learn to grow their own edibles.
"A lot of people, including young children, are serious foodies now, and they have lots of questions about gardening," says Eric Darden, festival horticulture manager. "We're getting more and more people in their 20s and 30s asking, 'How can I grow this?' I think we'll be creating more gardeners because people can see what's possible."
The festival, including all gardening programs, exhibits, concerts, complimentary English Tea Garden tours and special appearances, is included in regular Epcot admission.
For more information about the 24th Epcot International Flower & Garden Festival, call 407/W-DISNEY (934-7639) or visit www.epcotinspring.com.