The Taste of Yucatan is a new Mexican taco restaurant specializing in food from the Yucatan – with a heavy emphasis on Mayan influences. We owe much to the ancient Mayan culture which has given us gems such as guacamole, tamales, and chocolate.

Taste of Yucatan sells empanadas and also a limited daily supply of vaporsito, a banana leaf wrapped ground beef tamale.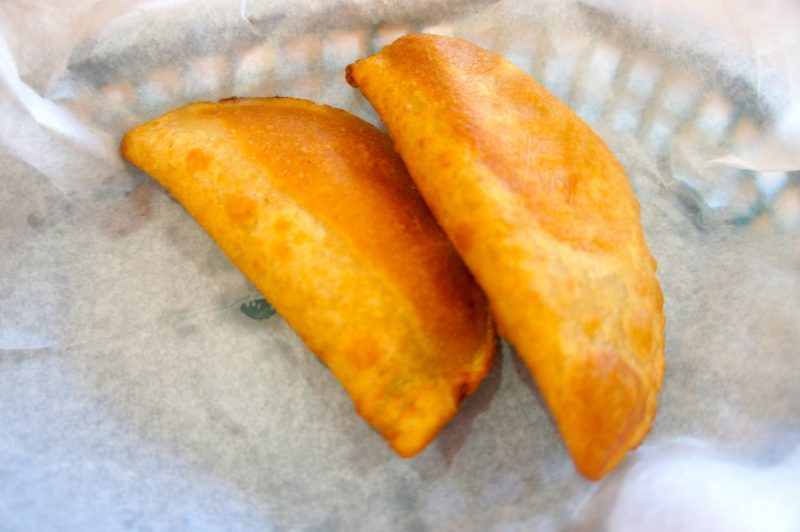 Cochinita pibil (also known as puerco pibil or cochinita con achiote) is another traditional Mexican slow-roasted pork dish originating from the Yucatán Península. Cochinita stands for pork and a pibil is the Mayan oven that it is roasted in.
Preparation of traditional cochinita involves marinating the meat in strongly acidic citrus juice, seasoning it with annatto seed which imparts a vivid burnt orange color, and roasting the meat while it is wrapped in banana leaf. At Taste of Yucatan, the pork is marinated in sour orange and slow roasted for 8 hours wrapped in banana leaf.
When ordering, guests can first choose preparation – whether with hand made corn tortilla tacos, or salbute – deep fried handmade Mayan corn tortilla, panucho – similar to the salbute but with fried beans inside of the tortilla, quesadilla style, or burrito style.
Then, choose your meat – from cochinita pibil, to al pastor (layered pork steak marinated in a combination of dried chilies, spices and pineapple), carnitas (seasoned pork braised until tender with lard and herbs), barbacoa (spicy shredded beef slowly braised for hours in a blend of chipotle adobo and herbs), rajas Poblanas (sliced poblano pepper with onion, mushrooms, corn and cream), carne asada (marinated Grilled Beef), Pollo Adobado (Chicken marinated with mixture of dried red chiles, garlic, spices, and vinegar), Carne Molida (Ground Beef Mexican Style), Papa con Chorizo (Smash potatoes + Mexican Chorizo), Champiñon (Sauteed mushrooms), or Queso (Mozzarella Cheese).
It's a small place, but the tacos pack a lot of flavor. It did bring me memories of my trip to the Yucatan a few years ago, especially the influence of the Mayan dishes.
My favorites included the barbacoa and the cochinita pibil. I really enjoyed the salbute style of fried corn tortilla in the tacos – unique and delicious.
Taste of Yucatan
1375 S. Semoran Blvd.
Orlando, FL, 32807
(407) 704-2248
thetasteofyucatan.com