The restaurant that started as a craving
Hunger Street Tacos was borne of a husband's desire to make his wife happy. Luckily for all of us, what made her happy was a taco.
Joseph Creech was a "missionary kid" born in Guadalajara and raised in Acapulco where his parents, Joseph Sr. and Rita, started a Presbyterian church. He loved the weather and people of the area, and especially the food. But the family moved back to Central Florida when Joseph was six and he fell right into being the All-American kid. He went to school at Auburn, but by his sophomore year, he was restless.
"I was majoring in International business and marketing, but I didn't know what I wanted to do with my life," Creech said. "I figured a year off would help me figure it out."
So this time, he became the missionary and went back to his beloved Mexico. During his childhood there, his parents had discouraged him from eating street food because of health concerns. But as a young man, he discovered what turned out to be the fresh, scratch-made food of the ubiquitous taco and quesadilla hawkers. He trolled the street vendors and markets in every city he visited.
"It became an obsession with me," he said. "I couldn't get enough of it."
Creech quotes his favorite chef Enrique Olvera from Mexico City about what attracted him to the food.
"Olvera says there is a 'wealth in poverty,'" Creech said. "Meaning that out of need comes amazing creativity. People were using ingredients they may not have tried if they could afford other things, but out of that comes incredible food."
He points to some of the unique but affordable ingredients used in Mexican cuisine such as insects, cactus and flowers to make his point. He also appreciates the history of the food.
"People have been making this food for generations," he said. "Much of it in the exact same way they are now."
Nine months into his time in Mexico, he met a young woman named Seydi Plata. A Mexico City native, she had as much appreciation for street food as Joseph did. She also had a favorite taco – the taco de suadero.
Suadero is a term used to describe the type of beef used on the tacos. The cut of meat is found in between the belly and leg of the cow. In the U.S. Suadero is usually ground for burgers. Closest in taste and texture is brisket, which is also frequently used in Mexico for the tacos de suadero. The meat is slow cooked to tenderness and then seared on a hot griddle or pan before going on corn tortillas with the traditional toppings of cilantro, onion, salsa and lime. The only taco originating in Mexico City, it is also one of the most loved. Joseph and Seydi ate a lot of them; especially at a place right outside of Mexico City called La Calle Del Hambre or Hunger Street.
"Street food is everywhere in Mexico," Seydi said. "Everybody eats and loves it, especially if you don't have a lot of money."
Seydi jokes that she had to "school" Joseph to get him to appreciate some of the traditional Mexican ingredients.
"He didn't like chorizo or salsa verde," she said. "But he does now."
Joseph moved back to the Florida but he and Seydi maintained a long-distance relationship for four years. She moved to the States in 2005 and the two were married. Joseph dabbled in the restaurant business, at one point even dreaming of becoming a chef, but ultimately took a more "pragmatic" career path, working in finance. Two daughters were born, Bella and Mia.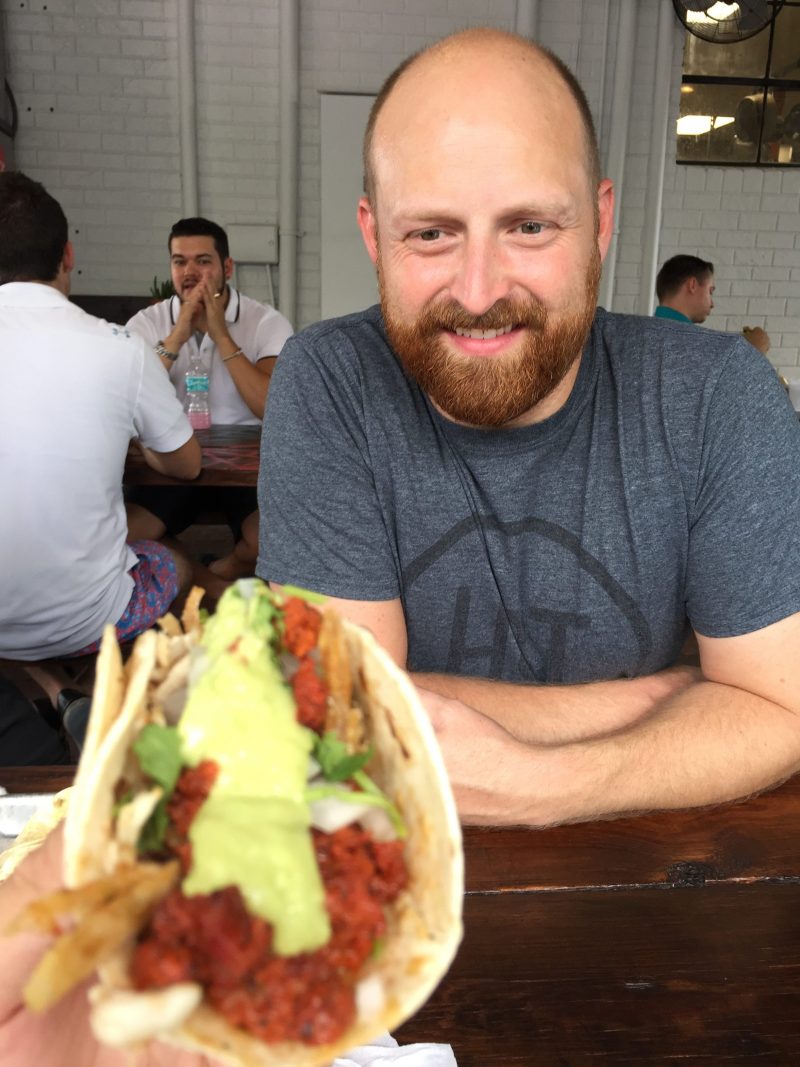 And that's when Seydi's craving started. She missed her beloved taco de suadero.
"We would go to 4 Rivers and get the brisket, but I don't like bread," she said. "I would dream about eating that brisket on a tortilla."
She kept telling Joseph they should try to make suadero.
"My wife had a craving," Joseph said, "And I finally started paying attention to it."
The couple had always entertained, so Joseph started using his friends and family as Guinea pigs, trying out different suadero recipes. They watched YouTube videos, they bought and learned how to use a pressure cooker because that's how Seydi's mother cooked "everything."
"My mother used a pressure cooker every day," Seydi said. "Many times, dinner ended up on the ceiling when one blew."
They started researching and experimenting with different cuts of beef, finally settling on the brisket that Seydi loved so much.
"It has the right mixture of tender meat and fat," Joseph said. "When you sear it on the flat top, the meat browns and the fat melts perfectly."
The response was positive, to say the least.
"People were overwhelmingly blown away," Joseph said. "It was great."
They started making some other favorite dishes like Esquites, fresh corn simmered in a rich bone-marrow broth, and a refreshing cucumber and radish salad. Many of the recipes had been in Seydi's family for generations, others, like mushroom quesadillas and squash blossom quesadillas, came straight off the street.
"We realized we had something special," Joseph said, "And it wasn't anything you could get here in Central Florida."
In the meantime, Joseph's little brother, David was working for Chick-Fil-A, in its employee training division. Joseph approached him about starting their own food business using the recipes he and Seydi had been developing.
"My time was coming to an end at Chick-fil-A," David said. "So, I said yes, let's go with our passion."
Those summers the family spent in Mexico affected David much as they did Joseph. He fell in love with the people, the culture, the food. In college, he did a semester abroad in Mexico and found a calling to learn the language and the food.
"At that point I was thinking about going to culinary school," he said, "but I decided to learn from Mexican grandmothers instead."
As part of his missionary work, he lived in a house with 27 Mexican high school students. He went to the market every day and helped with the cooking.
"It was an amazing experience," he said. I learned to really appreciate fresh, local ingredients."
The brothers didn't want to jump right into a restaurant, and food trucks seemed problematic, so they went with a catering company. The worked private and public events from under a 10'X10' tent, lugging two cast iron flat top grills with them. They got rave reviews. The most interesting and valuable experience during that time, David said, was acting as the concessionaire for Maitland Little League.
"We learned a lot about organization and having procedures in place," David said. "Catering was the perfect way to work on menu development and building a customer base."
But a bricks and mortar restaurant was always in their sights.
"We always had that vision; that was always the goal," David said. "We wanted to be able to deliver a modern Mexican ambience in the restaurant and share Mexico through not just our food, but the art and music too.
The brothers set a goal to have a restaurant open in five years.
"We had a five-year plan that turned out to only last a little more than two years," Joseph said.
Joseph calls Seydi (and her taco cravings) the "driving force" behind Hunger Street Tacos, so it's logical that future plans include a string of restaurants, but not franchised. All under the "corporate family" umbrella. And the catering operation that got them started will continue.
For now, Joseph and David plan on honing recipes and policies in their first location. The two have gotten help from a local restaurant legend, John Rivers of 4 Rivers Barbecue. While not an official part of HST, John is "like family" and is giving the brothers advice on everything from customer service to sourcing ingredients.
"We have so many people who support us and want to see us succeed," Joseph said. "We're very fortunate."
All tacos are made on gluten-free, soft corn tortillas
Brisket 3.5
Seared brisket, onion, cilantro, avocado-tomatillo salsa, lime
Campechano 3.5
Seared brisket, chorizo, onion, cilantro, avocado-tomatillo salsa, lime
Chori-Pollo 3
Chorizo, shredded chicken, onion, cilantro, avocado-tomatillo salsa, lime
El Mañanero 4
Seared brisket, chorizo, refried beans, scrambled egg, Chihuahua cheese, avocado-tomatillo salsa, lime
Hibiscus & Guac 3
Sautéed hibiscus, guacamole
TOSTADAS
Chicken Tinga 4.7 (Dine-in only)
Shredded chicken, chorizo, refried beans, red cabbage, sautéed onion, tomato, garlic, chipotle, crema fresca and sliced avocado on a crisp corn tortilla
QUESADILLAS
Brisket 6
Seared brisket, Chihuahua cheese, avocado-tomatillo salsa
Chicharron de Queso 5 (Dine-in only)
Seared cheese wheel, served with guac and salsa

Esquites 3.3
Corn off the cob, bone marrow broth reduction, epazote, queso cotija, lime
Hunger Street Tacos
hungerstreettacos.com
2103 W Fairbanks Ave, Winter Park, FL 32789