Chef Emeterio "Tello" Luna adds authenticity and creativity to each dish at Harry's Poolside Bar & Grill while he also concurrently oversees 98Forty Tapas and Tequila's menu.
As head chef of Harry's Poolside Bar & Grill, his blend of old-world techniques learned in his mami's kitchen in Mexico, travels to the Caribbean, and his skills honed in New York City's finest restaurants creates a unique and upscale offering of authentic Caribbean dishes.
Harry's Poolside Bar & Grill items such as the "Mojito Salmon," tropical chicken, and grilled rib eye steak marinated in Jamaican coffee is basted with his years of culinary experience and research.
Chef Tello and his staff prepares items daily from scratch using fresh aromatic herbs and spices and authentic Caribbean techniques such as steaming banana leaves to unlock distinct flavor for the "Island Mahi Mahi." In every bite, you'll taste the fresh creativity and the delicate attention to detail.
Tell us about your background and how you came to become chef at Rosen Centre
I came to NYC at the age of 16 from Mexico looking for culinary opportunities as there weren't many in Mexico at the time. I worked in many kitchens as a dishwasher, prep and assistant until I decided to attend culinary school. I continued to work in NYC for a couple of years until I moved to Florida where I worked at other hotels until I finally arrived at Rosen Centre. In NYC, I worked at Metrazur by Chef Charles Palmer, Demi restaurant by chef Herb Wilson, café grazie (Italian restaurant ) and Rosen Deli.
What were some of your first and favorite memories around food growing up?
My first memories are those of my mother cooking. She always chose fresh ingredients and did everything by hand. She made fresh tortillas daily. I remember she would grind the soaked corn by hand in a metate or grind stone. She would grind it by hand until perfect. Then she would take the masa and flatten it in a tortilla maker. It was hard work especially having 13 kids but mom always made it happen. Another great memory I have is of Mole. It was only made on special occasions usually for Christmas. It took an entire day to make Mole. My mother would grind over half a dozen spices by hand in her metate to be able to create the rich Mole sauce. You could smell the fresh spices being grinded and creating a fusion of delectable aromatics.
What are some of your favorite dishes on the menu at Harry's?
Some of my favorite dishes at Harry's are coffee and soy marinated rib eye. The meat is juicy and tender and then you get an explosion of flavors in your mouth from the marinade that has fused into the meat. Another favorite of mine is the Mahi Mahi wrapped in banana leaf. It is served with Jasmine rice, tostones (fried plantains) and coconut curry sauce. The flavors fuse together wonderfully and make you feel like you're eating in the Caribbean.
Where do you draw your inspiration from in your cooking?
I draw inspiration from my mother who always chose fresh ingredients and other great chef's in NYC that I have worked with in the past.
What were some favorite dishes to cook for your family or yourself at home?
There is really not one particular food that I enjoy preparing, I enjoy them all but my wife does most of the cooking when I'm off from work. I have to admit she cooks really good food. My favorites include Arroz con gandules (rice & pigeon peas ), Pernil (slow roasted pork), Pollo guisado (chicken stew), and Chicken mole.
What are some of your favorite local Orlando eats?
My favorite local eats are usually small mom and pop restaurants. These restaurants where the food tends to be made fresh with great ingredients and you can taste the freshness in every bite. Some include Gubambilias (Mexican restaurant ), Andy's House (Chinese restaurant ), Tu Casa (Caribbean restaurant), and
Chuck Wagon home cooking (breakfast coffee shop).
——–
Inside Harry's Poolside Brunch Menu
Influenced by the flavors of the Caribbean,  this may be the most unique brunch in Orlando!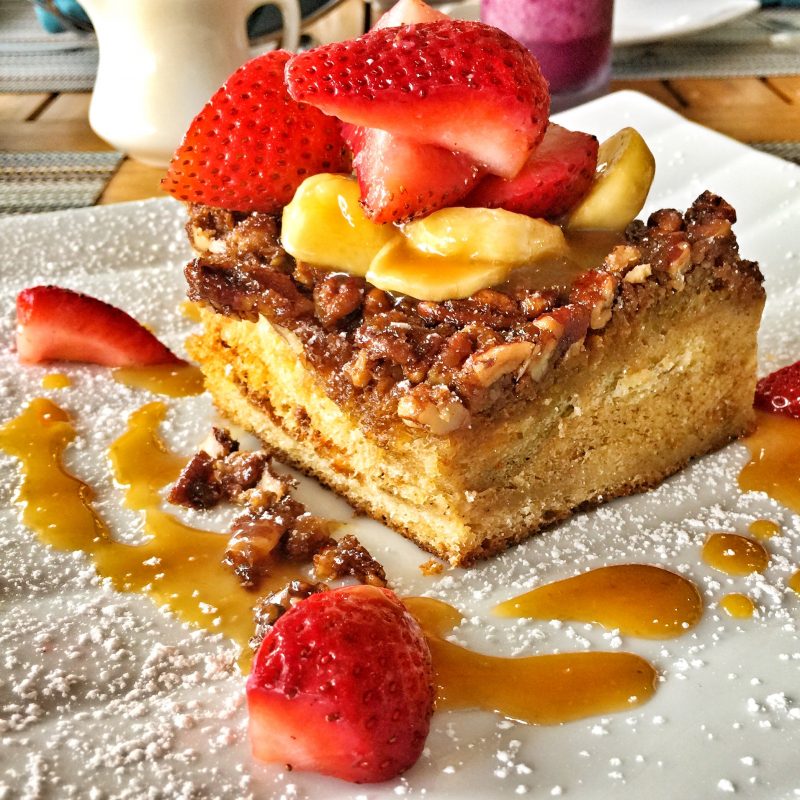 Harry's Poolside Bar & Grill is conveniently located next to the pool within the Rosen Centre Hotel on world-famous International Drive.
Harry's Poolside Bar & Grill
9840 International Drive
Orlando, Florida 32819
http://www.harryspoolside.com/