Local entrepreneurs and mother/daughter team, Jane
Livelsberger & Cate O'Brien (pictured above) have opened the doors to their steampunk 1920's inspired Celebration Tea Room near Disney.
We were invited to their soft opening this past Saturday and it was a truly beautiful and breathtaking establishment with great food, amazing teas, and a delightful staff.  Celebration Tea Room has become one of my new favorite family businesses and I cannot wait to go back there with more friends.   I live near the University of Central Florida, almost an hour away from Celebration Tea Room, but since I am a frequent Disney Springs junkie, I am excited to add more Celebration Tea Room experiences to my upcoming trips.  This spectacular Victorian tea room is located in The Shoppes at Celebration Place located next to Holler and Dash and in the same building as the new Buca Di Beppo.
Celebration's locals and visitors will enjoy a tea bar area that is decorated in reclaimed wood, brick, and very cool copper steam punk elements.  Jeremy, Cate's husband leads the bar crafting, serving specialty tea smoothies along with hand-shaken iced teas and their trademark tea snow.
Any tea can be turned into a tea snow, so I choose a  tea that was more on the sweeter side.
Bingo Blueberry Tea Snow
A full-flavored tea with superb and well-defined blueberry highlights
Luxury ingredients: Elderberry, raisin, & apple pieces, hibiscus & cornflower petals, natural flavors
Guest will enjoy a beautiful décor in the main fine dining room where they can certainly order the traditional English tea service with a pot of their favorite type and flavor of tea, traditional tea sandwiches, scones, and of course a sweet dessert.
I got to try a few dishes and they were all delicious!  I love that it is a scratch kitchen so everything is made when you order.  My favorite was the "The Mad Hatter" special which consists of:
• A pot of tea
• Cup of soup
• Assortment of shaved imported and domestic cheeses with fresh fruit and honey
• Four assorted tea sandwiches
• Scone and pastry with whipped butter, honey, jam
• Premium dessert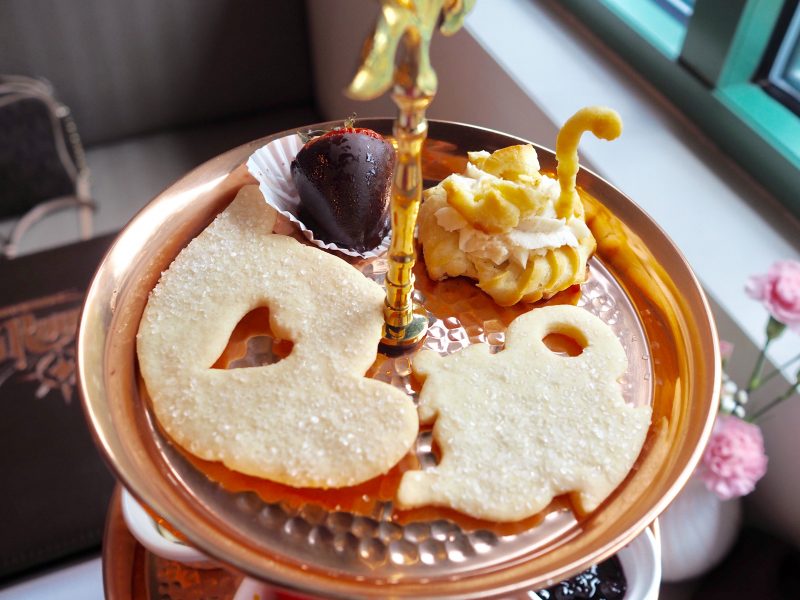 Goji Berry oolong tea
Assortment of shaved imported and domestic cheeses with fresh strawberry and honey + broccoli cheddar soup (vegetarian)
I also got to try the following soups below:
Potato leek soup (vegan) + Butternut squash soup (vegetarian)
For dessert, I got this:
Mini acorn cake

The menu is diversified and will have daily house specialty soups along with special offerings with an emphasis on wholesome seasonal ingredients. Great salads with entrees include cottage pie, quiche, and strawberry stuffed French toast, Cuban sliders, cheeseburger wraps with a special house sauce and salmon Wellington among others.  The diverse and wholesome menu was developed with Jane's traditional family recipes and Chef Yamira Lee "Mira" Johnson's whole-hearted take on traditional staples.

As part of Cate's vision, Celebration Tea Room's over the top décor includes a special private room that transports you into the woods with the Cheshire cat for a special Whimsical Wonderland tea party. The banquet/party room will be available for birthday parties, bridal showers, baby showers, and any other special occasion when a small group might like a special venue to meet in.
The family owned Celebration Tea Room, invites the community to visit and enjoy the laid-back vibe and tea room offerings, doors opened on Monday, August 28, 2017.  A scrumptious Brunch Menu is available Monday to Saturday from 11:00 am to 5:00 pm.
(Source credit: Celebration Tea Room)
Celebration Tea Room
6266 W Irlo Bronson Memorial Highway
Kissimmee, FL 34747
407-507-8304