James and Julie Petrakis are really committed to bourbon & barbecue.   They own the popular gastropub Ravenous Pig and James Petrakis was voted Best Chef in Orlando '17.   On April 10,  James & Julie Petrakis along with James' brother Brian opened the doors to their newest project The Polite Pig, a fast-casual barbecue & bar joint located at Disney Springs.
James & Julie Petrakis cook book sold at The Polite Pig
James & Julie Petrakis believe that the best thing to go with barbecue is beer and bourbon so they built a bourbon bar.
Hop Salt Pretzel – with Beer Cheese Fondue and IPA Mustard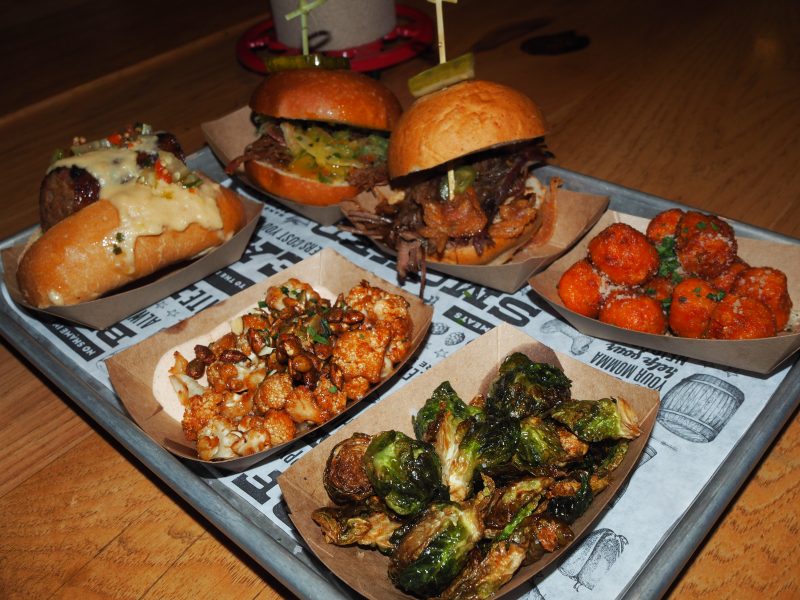 Clockwise:
– The Southern Pig Sandwich – with Fennel-apple Slaw, Tangy Mustard BBQ, Duke's Mayo, and Smoked Pork. Served with a Pickle Spear
– Brisket Sandwich– with Pimento Cheese, Lil' John's BBQ, Picked Jalapeños and Crispy Onions. Served with a Pickle Spear
– Sweet Potato Tots – with Parmesan Cheese
– Crispy Brussel Sprouts– with Whiskey-Caramel
– BBQ Cauliflower – Paprika Sour Cream
– BBQ Sausage Hoagie – with IPA Mustard, Peppers and Onions, Cheddar Sauce, and Pickle Relish. Served with a Pickle Spear
This was the best meal that I have ever had at Disney Springs and I cannot wait to go back to The Polite Pig for more.  The barbecue had the perfect balance of flavors, the brussel sprouts were the best brussel sprouts I've ever had in my entire life, the bbq cauliflower was surprisingly good, and the sweet potato tots were crisp and seasoned just right.
Double Layer Chocolate Cake
We got to chat it up with Dick & Marti Waters, owners of Palm Ridge Reserve.  They are the suppliers of the whiskey for The Polite Pig and their distillery is an hour away north from the Polite Pig, near the Ocala National Forrest.  What makes their business so special is that they have no employees, it basically just a husband and wife team giving it their all every single day since 2009.  They produce a premium, handmade, micro-batch whiskey.  From fermentation to distillation and barreling to bottling, it's all done by them, by hand, on their farm.
Farm to table whiskey.  They use small barrels because the sloshing in smaller barrel breaks down the whiskey faster.  Dick Marti told us that the best place in the world to make whiskey is in Florida because the humidity helps the barrel sweat from condensation.
The four grains they use to make bourbon: Florida corn, barley malt, flake dry, & rye malt
Be sure to check out The Polite Pig for some delicious bourbon & bbq soon!
The Polite Pig
1536 Buena Vista Dr, Orlando, FL 32830
(407) 938-7444
politepig.com