We were invited to the recent Chef's Night event on Oct 18, 2017 at Second Harvest Food Bank. It was a mashup of 4 chefs, with Jim Colbert of PrimeTime Kitchen taking the lead.
Friends that accompanied Jim included Chef Tello Luna from Harry's Poolside Bar & Grill, Chef Bryan Thoman from Canvas Restaurant & Market, and Chef Bruno Fonseca from Millenia 106 Restaurant. Here, they all join in the photo with the Second Harvest Food Bank culinary team.
Hors d'oeuvres were the focus of Chef Tello Luna and paired with
Mexican Shrimp Cocktail – poached shrimp, spiced tomato juice, cilantro, onion, and jalapeño.
Smoked Salmon Cucumber Cup – Atlantic salmon, cream cheese, and lemon juice. A cup a bite; very smooth and fresh.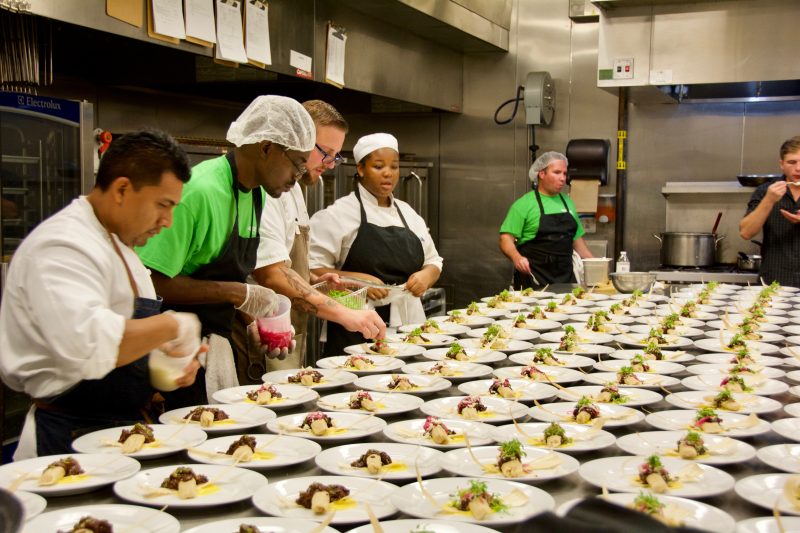 The appetizer was made by Chef Bryan Thoman's team.
Chef Bryan's Wagyu Beef Cheek Tamale with Kombuca Squash Puree and Mole Negro had great flavors that blended well on your palate. The tamale is very soft and the beef is very tender. The garnish added a fresh feel to bring the dish together.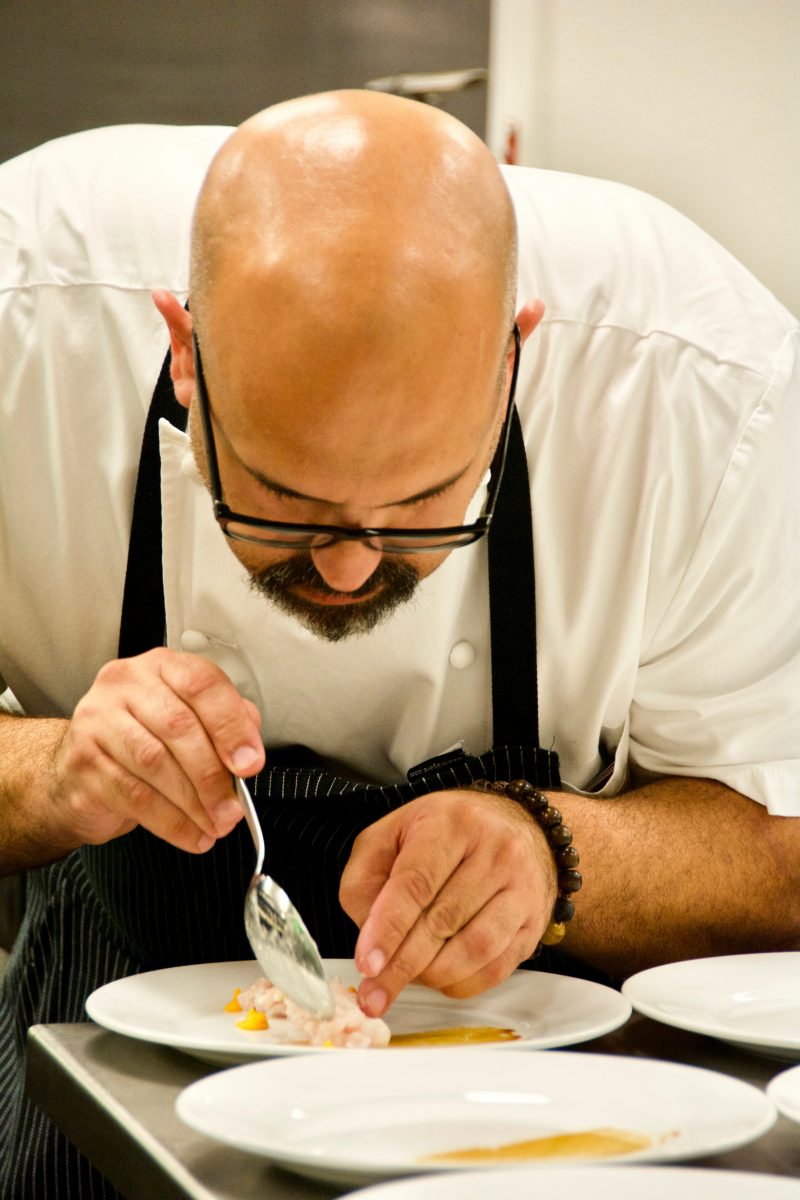 Chef Bruno Fonseca created the Mahi Crudo with carrot ginger sauce, cashews, carrot, and a pickled mushroom salad.. The Mahi itself was cured in coconut milk. This dish was paired with Snowbirds, Gruner Veltliner, Lake Chelan, Washington, 2016. This white wine is very smooth and fitting for the dish. Good choice.
The Mahi was fresh, but some bites were a little fishy from a sauce. The coconut milk was very subtle. The pickled salad blends well with the fish. My favorite was the delicious carrot ginger sauce.
Jim Colbert created a Braised Short Rib, Smoked Gouda Risotto with garden peas, asparagus tips, and honey crisp carrots. It was paired with Quantum Leap, Pinot Noir, Willamette Valley, Oregon.
The tender braised short rib was full of flavor. The risotto was creamy and smooth, while the carrots were soft with a pop of sweetness from the honey.
Back at it again, Chef Tello Luna closes the show with a Chocolate Torte with Pecan ice Cream and Orange Vanilla Sauce. I can tell you now, the man knows his desserts!
In the kitchen, the chefs work side by side with the Second Harvest Food Bank team to bring a delicious menu alive from beginning to end.
The chocolate torte was very thick and coats the palate well – my kind of dessert. The strawberries and orange vanilla sauce adds a twist to the chocolate cake. I can't stress enough how this was the best dessert I have had in a long time.
The dessert was paired with a Quantum Leap, Kaley's Rescue Red, Red Blend, Columbia Valley, Washington, 2014.
As the chefs and Second Harvest Food Bank culinary team work together. They enjoy some nice tunes by KitchenKillaz.
Sous Chef John Dizon of Second Harvest Food Bank even stopped by and spoke on Facebook Live posted by KitchenKillaz.
Here are more shots of the event behind the scenes for your enjoyment.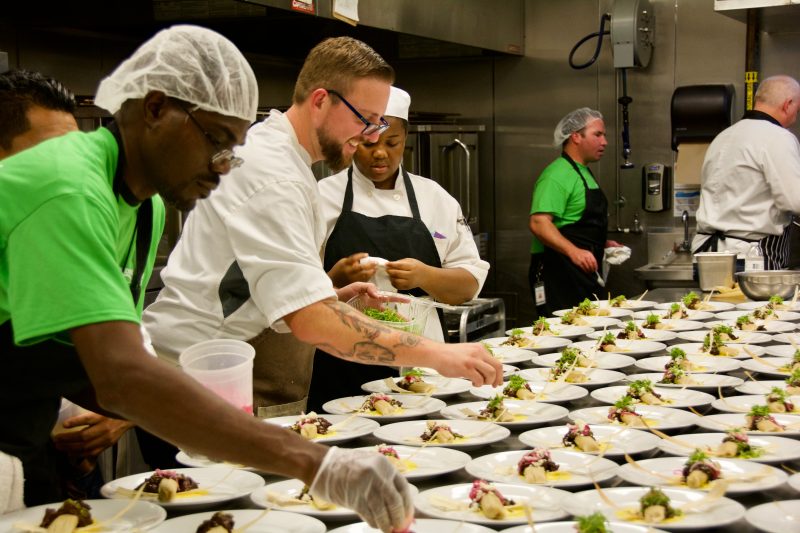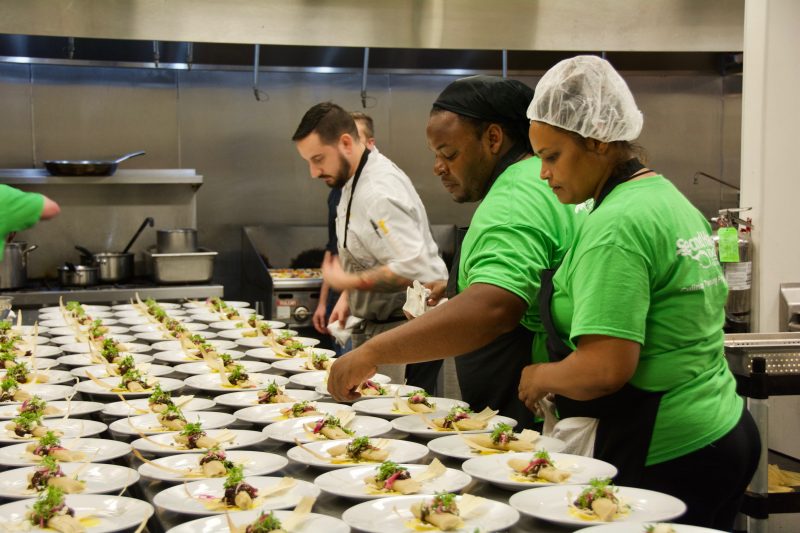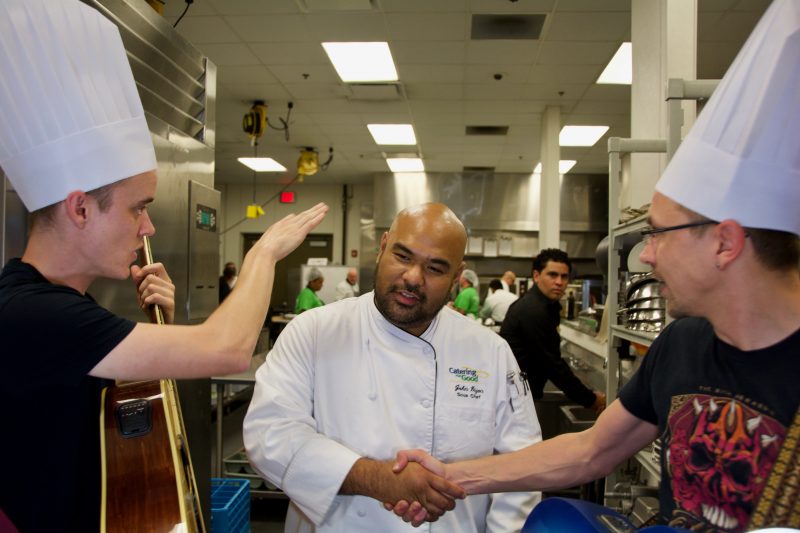 While you wait for the next Chef's Night, take part with us in Scouting for Food. On Saturday, November 11, 2017, Central Florida Boy Scouts of America will once again be collecting food for our hungry neighbors. Last year, our community helped provide over 96,000 pounds of food for our neighbors in need. For more information, check out Second Harvest Food Bank's Scouting for Food.
Scout for food Nov 11