Duffy's Sports Grill invited us to check out some items from their menu, new and old. Duffy's Sports Grill consists of 35 locations throughout Florida (including Orlando!) and more than 80 TVs in each location. It is the perfect place to catch your favorite team game or sit back and enjoy a great meal.
Of course, it was after work and the weekend began so we decided to check out some drinks. We discovered with delight that ordering the S'mores Girl Scout Cookies specialty Martini comes with cookies. Who doesn't like an adult version of milk and cookies? The martini is very tasteful and nice for a night with the girls.
If you are not too fond of a milky liquor, how about Pear…fect Martini? Or two because Duffy's Sports Grill offers 2 for 1 drinks all day every day. Music to your ears, right?
Loaded Potato Skins include bacon, scallions, jack & cheddar cheese, and sour cream. Textures ranging from smooth/creamy to crispy creates a nice touch to the savory flavors.
Crispy Calamari is dusted in seasoned flour and garnished with crispy cherry peppers, served with marinara and spicy kickin' bayou sauce. They weren't kidding when they said the spicy kicking' bayou sauce had a kick to it, but is nice with the appropriately seasoned calamari.
Seasame-Crusted Ahi Tuna is seasoned, seared in sesame oil and served with cucumber salad and Soba noodles in Asian dressing. Each item on this plate is chilled and has its own flavor unique to one another. I'm not mad we ordered this dish and would order it again!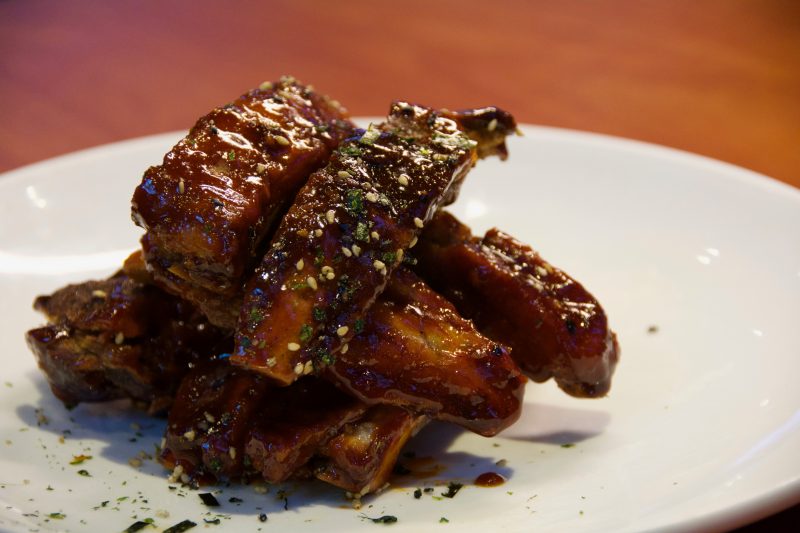 These ribs are dressed with Duffy's Sports Grill's new Korean BBQ Sauce. The ribs have tender parts and crispy sections depending on where you take your bites. The delicious sauce has a balance between sweet and spicy. Also, I hear it is great on wings when it comes to watching a game or in general.
Of course, I can't go to a sports grill without ordering wings. This is a plate of hot boneless wings served with blue cheese and celery. The hot sauce here is on the vinegar side of the hot sauce spectrum.
Blackened Beef Tenderloin Tips served with Horseradish cream sauce and the options of two sides. Here, we decided on grilled zucchini and sweet potato fries as our sides. The tips were room temperature, but delicious; it would be a greater delight if they were hot. The grilled zucchini were fresh and had a crunch to them, which was to my liking. The sweet potato fries were made well and sapid.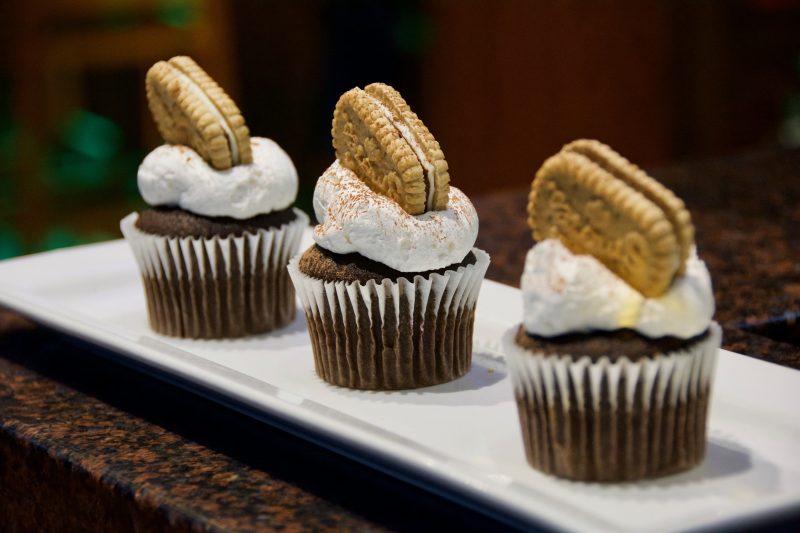 As there is the S'mores Girl Scout Cookies specialty martini mentioned above, there's a S'mores Girl Scout Cookies specialty involving cupcakes that you could order for dessert. $1 from each order of the cupcakes and/or martinis will go towards Girl Scouts of Southeast Florida!
For more information  check out the Duffy's Sports Grill website.