Black Bee Honey is a non-profit business founded by the youth in the Parramore Kidz Zone program. The business started with the dream of providing youth an opportunity to learn firsthand entrepreneurship skills while simultaneously enriching the lives of their community members by providing raw honey.
This start-up business, run by PKZ youth, will offer high quality honey for sale at the Parramore Farmers Market while providing work related educational and entrepreneurial experiences, further developing the youth of the Parramore Community into future workforce leaders.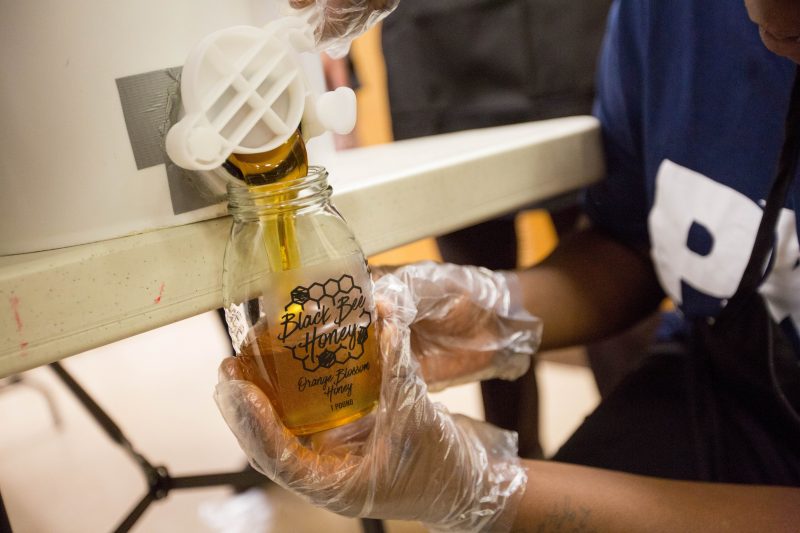 Black Bee Honey comes from Dadant & Sons in High Springs, FL, one of the top businesses in the beekeeping field. PKZ are selling six different kinds of honey, including:
Wildflower
Saw Palmetto
Gallberry
Sourwood
Orange Blosom
Tupelo
Once the raw honey is purchased from Dadant and Sons, PKZ Inc. employees jar and label the honey at the Dr. J.B. Callahan Neighborhood Center in Parramore. The honey will be sold at a booth during the Parramore Farmers Market for $12.
BLACK BEE HONEY MISSION
The mission of Black Bee Honey is to provide Parramore youth an opportunity to operate and manage their own business while simultaneously providing the residents of the greater Orlando area high quality, nutritional, honey. These simultaneous provisions introduces an intangible wealth into the community by investing in underserved youth who will later invest in the community.
The mission stands on four pillars: Ethics, Education, Community, and Wellness.
These core values help communicate who we are and provide everyone here at Black Bee Honey with a sense of purpose and meaning to guide their work. We strive to have the highest possible ethical and moral standards for ourselves as we honor our commitment to serving our customers and our community.
Black Bee Honey isn't just about how healthy our products are. It's also about creating a healthy community, physically, socially, and economically.
Parramore Kidz Zone Youth Employment Program has created PKZ Inc. as an entrepreneurial enterprise. PKZ Inc. will function as a learning tool by giving students in the Parramore area a chance to start their own business. Their first venture is Black Bee Honey.
When and how did this program begin?
The PKZ Black Bee Honey program started in 2017 before the official opening of the Parramore Farmers Market. Students looking to learn entrepreneurial skills spent months before the farmers market debut working on a business plan, attending an online business course and developing marketing tools. When the market opened in January 2018, students shifted into sales and customer service, attending the market each Saturday to sell their product.
How is it impacting the community now?
The program has inspired the youth involved on an entrepreneurial level, demonstrating that it's possible and obtainable to start a business, while also contributing to a larger picture issue – in this case, food deserts in our community.
What are some things students learn from the program?
Students are learning entrepreneurial skills relating to operating a business, including understanding profits, sales and management.
How can the community get involved and help?
Support PKZ by visiting the Parramore Farmers Market each Saturday! For a full schedule, visit: http://www.cityoforlando.net/economic/parramore-farmers-market/.
For more info, visit: http://www.cityoforlando.net/parramorekidzzone/black-bee-honey/