Beets & Burrata – Cherry tomatoes, radish, beech mushrooms, white balsamic
We were invited to Four Seasons Resort Orlando to check out the new menu items at PB&G, short for pool bar & grill.  The restaurant has added several new healthy options, perfect for those who prefer to eat on the cleaner side and/or those who are currently working on their summer bod!
Fruit & Berries – Bourbon vanilla granola, lemon honey Greek yogurt, coconut.  The granola had bourbon vanilla in it and it tasted really great!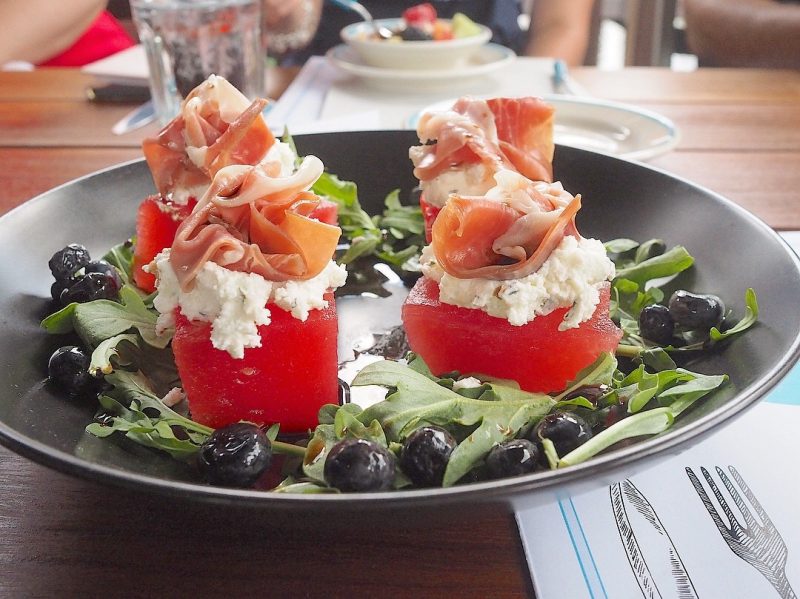 Watermelon & Prosciutto – Pressed watermelon, herbed goat cheese, prosciutto, marinated blueberries, arugula
BLTA – Smoked bacon, bibb lettuce, tomato, avocado, parmesan cheese vinaigrette.  This was the best salad that I've ever had!  The bacon was perfection. 
Herb-Citrus Shrimp – Grilled pineapple, spinach, baby kale, quinoa, red union, cucumber, feta cheese, red wine vinaigrette
Seared Ahi Tuna – Kale, cabbage, cucumber, jicama, mango, crispy wontons, wasabi ginger cream, sesame vinaigrette
Lobster Roll – Avocado, tomato, remoulade, Hawaiian roll.  The crab is 100% real, 100% delicious!  Omit ketchup and fries to make it healthier.
Chirashi Bowl – Spicy tuna poke, salmon poke, sushi rice, avocado, soy glazed mushrooms, cucumber, edamame, carrot, seaweed salad, spicy mayo
S'mores for dessert!  Because life is all about balance, right?
Kudos to our talented and wonderful chefs!  We really enjoyed our meal.
Upcoming Events at Four Seasons Orlando Resort:
Saturday, 06.09
Global Wellness Day
8 a.m. – 3 p.m.
Enjoy special fitness classes for Global Wellness Day, plus spa treatments and a healthy cooking demo and lunch.
Sunday, 06.17
Father's Day Brunch at Plancha Restaurant
10 a.m. – 3 p.m.
Three course brunch (appetizer buffet, choice of entree, dessert buffet), bottomless mimosas and Bloody Mary for $68 per person.  Dads will receive a choice of a complimentary bourbon or complimentary cigar.
Four Seasons Resort Orlando
10100 Dream Tree Boulevard
(407) 313-7777
fourseasons.com/orlando/