Today, I was humbled…inspired…by coffee. Axum Coffee in Winter Garden, to be exact. It's hard to believe, but it's true, one-hundred-percent of Axum's profits are donated "to make a better world" (as clearly defined on their coffee menu above the counter).
Being the sometime skeptic I am, I needed further proof. I spoke to the charming and intelligent, young girl behind the counter who spilled the beans (get it…coffee beans…moving on). No lie, it's a true statement. Profits go to the city of Axum, Ethiopia (hence the name of the coffee), a city void of clean water, adequate medical care, and streets over-crowded with orphans and beggars, most of which are physically-impaired in some way. For over ten years, since the coffee shop opened, Axum has been supplying the means necessary to help this community. However, their charity extends to other non-profit organizations as well (locally, nationally, and internationally). Organizations that fight human trafficking, aid women and children in need, place children in need of homes with loving families, and so on. Axum wants their coffee shop to be a place of openness in which people come together, to share ideas, in order to help those in need and our world as a whole, "We had been envisioning a gathering place for the community to do life together.  Not just a place about the coffee, tea, smoothies, pastries, panini and desserts, but rather a place about people in the community coming together around a cause.  A place about helping those in need: locally, nationally and internationally.  A place about giving instead of taking.  A place where guests are not just numbers, but people with stories to tell.  We wanted to find a way to tangibly touch the lives of people in need: orphans, human trafficking victims, the poverty-stricken, those without potable water, etc while creating a place that unites the local community." (http://axumcoffee.com/our-story/)
Humbled by the giving attitude of Axum as I am, fantastic tasting coffee and food can't hurt, right? First, I love the feeling of Axum in Winter Garden (Axum coffee can also be found in other locations in Clermont and Dr. Phillips), the industrial feel of the piping that covers the high ceilings, over-sized windows that gladly welcome in the Florida sun, plenty of comfy seating inside and out, with painted walls in tranquil hues of blue and mahogany.
With so many specialty coffee combinations to choose from (plus the usual favorites), thankfully, I had a good friend with me who suggested I order the Creme Brûlée. So glad I did! Made with espresso, caramel sauce, vanilla syrup, your choice of milk, and topped with foam and sugar in the raw…this is my new favorite! I felt like I had dessert before lunch. Axum coffee is beyond smooth-tasting to begin with, but this drink takes it to a-whole-nother level. Not to mention, it's pretty. Expertly decorated topping like a piece of art.
Of course there are many other drink options to pick from: black, green, and herbal teas, smoothies, cold drinks like Italian soda, hot chocolate, and several types of coffee/espresso drinks (cold brew, french press, manual brew, Americano, Cappuccino, etc.) You can also take some delicious Axum coffee home with you (perfect for those days when you can't make it out of the house because of some menial task like laundry, or your daughter is sick, you know…life…or, is that my life?).
As if my Creme Brûlée espresso wasn't treat enough, of course, my hungry eyes had to try more. Not just pastries, muffins, and other sweet favorites, but Axum also offers savory bites (panini, quiche, bagels, etc). Now, you tell me your will-power is strong enough to resist these goodies: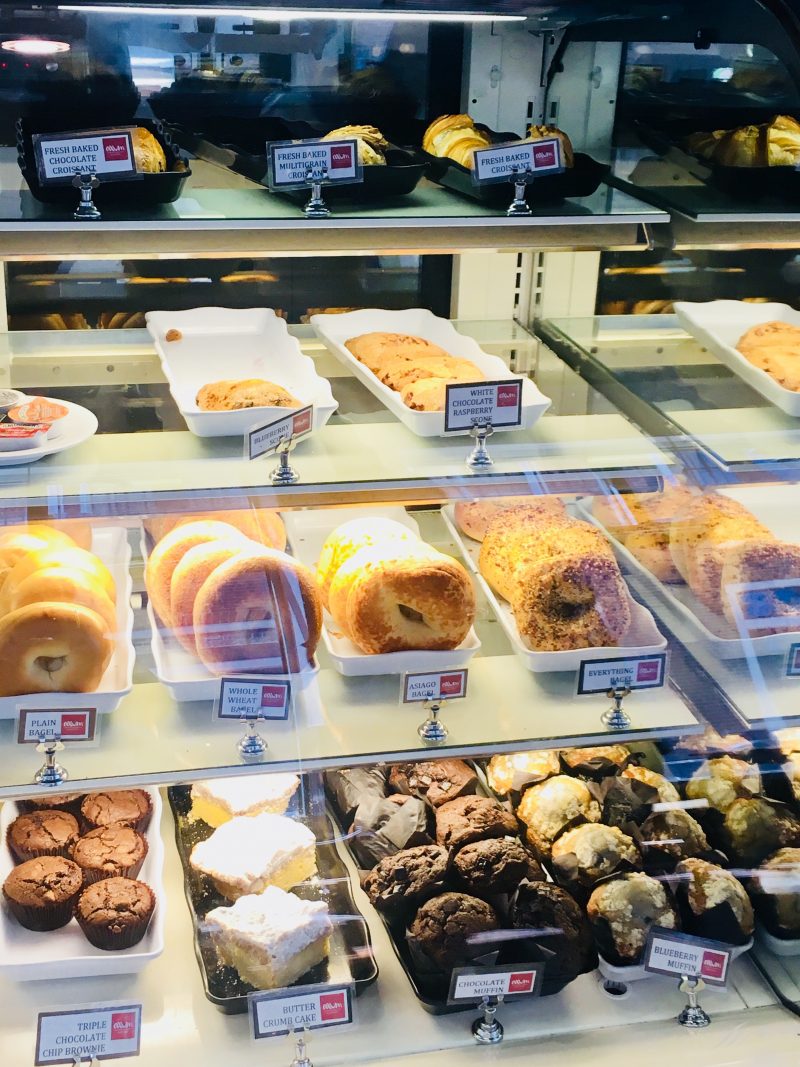 After much back-and-forth with my friend (what do you want? – well, what do you want? – you pick – no, you pick…you know how that story goes, got to be polite and all), we settled on the Caprese Panini and Bacon Quiche to share. They were hard to share, but, we kept our cool. The Caprese Panini was perfectly toasted, buttery, with soft mozzarella, sweet tomatoes, and zesty pesto. Not heavy or dense, the Bacon Quiche tasted light and airy, but also had a perfect combination of savory and salty from the cheese and bacon.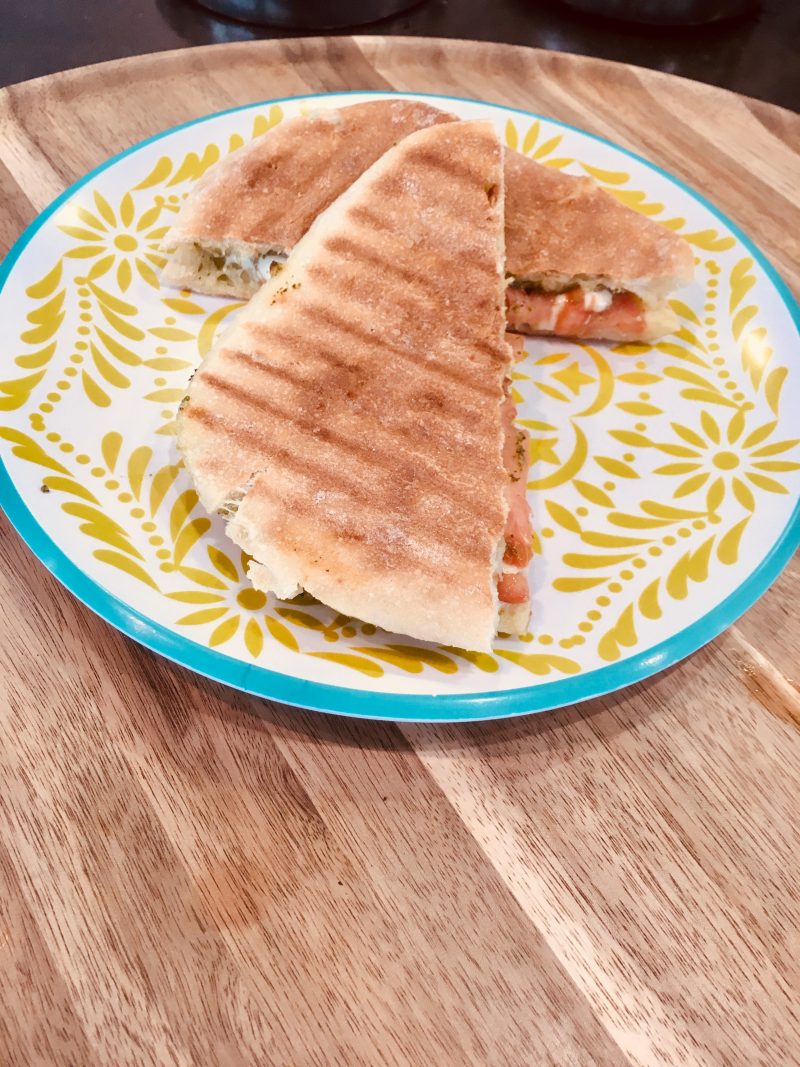 Cozy spot, heart-warming talk with an amazing friend, and delicious food, what could be better? How about something sweet to only confirm how much I love Axum?! Thankfully, my friend and I didn't do the "what do you want" dance, and we quickly decided on what to order. We are smart women…we know our desserts. Next up – the Coconut Creme Bomb and Peanut Butter Pie. No lie, at first bite of the Coconut Creme Bomb, I rudely interrupted my friend's story and said, "What is this? Why does it taste so good?" Simply fantastic! Imagine, if you can, your best Pina Colada flavor and favorite yellow cake, got together, and well, you get it. A perfect amount of white icing with flakes of coconut adorn the outside, and sweet, coconut cream nestled between two layers of soft, yellow cake on the inside. Heavenly. However, the Peanut Butter Pie is no slouch, and also deserves a bow. If you love the combination of peanut butter and chocolate (as I do), this pie is perfect for you. The chocolate pie crust is rich and the peanut butter is velvety.
Axum also offers vegan sweets from CayCakes Bakery. If you read my last blog (of course you did), you will remember my husband is now on a vegan kick (no joke, we had vegan burgers last night for dinner), and after a brief phone conversation while I was enjoying my lunch at Axum, in which he told me he ate avocado with salt and olive oil for his lunch, I figured, I better bring something home for him. My husband was very happy with his vegan cinnamon bun and vegan cinnamon, brown sugar pop tart.
I would say, after our two desserts, our lunch date was complete. It was exactly what I needed – a good cup of coffee, terrific food, and conversation with a loving friend. Also, in a comfortable and inviting spot – Axum Coffee in Winter Garden – doing "good" for the community here and far.