David Ramirez Chocolates was founded by award-winning chef David Ramirez in 2010 – and now they have two locations in Orlando and 42 employees. Their flagship store is located just a few minutes away from the Ritz-Carlton and their second location is on Plant Street in Winter Garden.
At David Ramirez Chocolates, it's all about passion and perfection. They place a high value on using the best ingredients available, sourced from across the globe.
Whether you are looking for artisan chocolates, macarons, chocolate gifts, milkshakes, chocolate covered bacon, or event catering, they've got you covered.
We recently spoke with chef David Ramirez about David Ramirez Chocolates and their upcoming plans here in Orlando! Check it out below –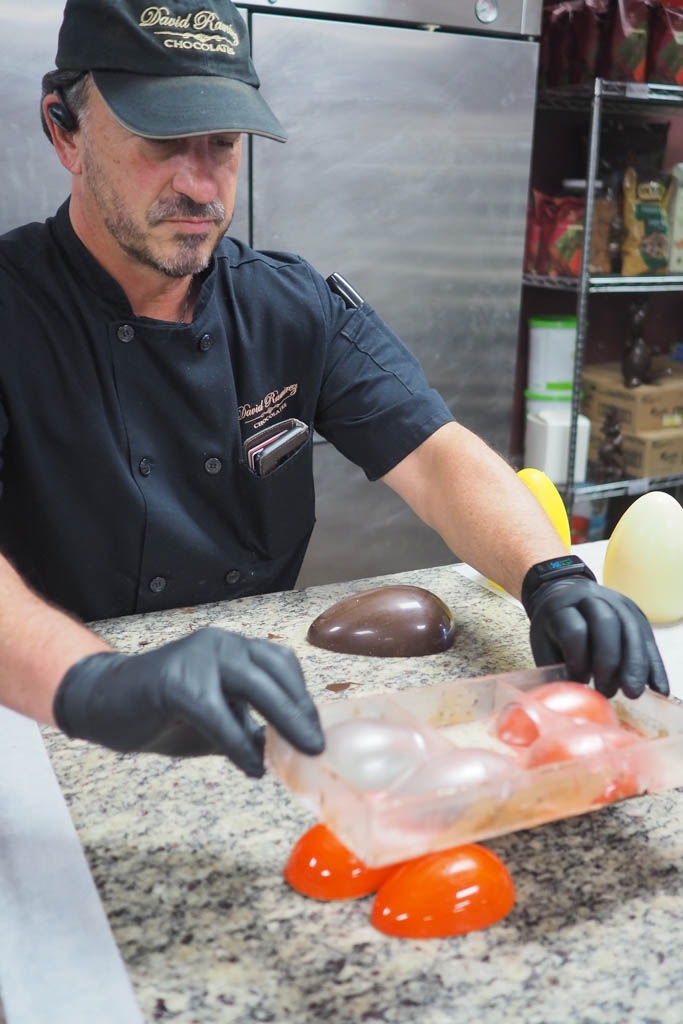 Tasty Chomps – Q and A for David Ramirez Chocolates
Ricky Ly, TastyChomps: What are some of the most popular items right now at David Ramirez Chocolates?
Chef David Ramirez: Chocolates of course but now corporate gifts are the big push
– What makes the chocolate at David Ramirez unique?
We use quality ingredients from around the world and we are always creating new and unique flavor profiles.
– What are your upcoming plans this year?
We are entering our busiest time of the year, so saying that we are producing to fulfill all our specialty and holiday orders
– How has business changed if at all since the pandemic?
Increased retail sales were the biggest change and of course working through all the Covid shortages and price increases. Price increases seem to be the biggest change.
– What are the best ways for Central Floridians to order chocolates from David Ramirez?
Online orders we can always fulfill but it always seems to be walk in traffic. Plant st market is always a great place to hang out and pick up some chocolates, macaroons and pastries. Central pkwy always has some great deals on our not so perfect chocolates. We have several names for them but it's a pre-selected dozen for $15, great for gifts that are simple and will please all palates.

Interview with Executive Chef David Ramirez
– Tell us about your training and experience – what were some of your favorite memories throughout your career?
Oh were do I begin, you can always read my bio, favorite memories are so many from world championships to working and training with my staff and seeing them learn and grow.
– What inspired you to become a pastry chef?
My mom, you know always in the kitchen cooking something up, the smell the taste and then the time spent making things in the kitchen. The kitchen was the heart of my house back in L.I.N.Y. you always had to pass through the kitchen to get anywhere in the house.
– Tell us about your background and childhood
I was always hustling work from delivering newspapers, cutting lawns, working in bakeries and restaurants. Having a lot of fun in the neighborhood with friends, playing soccer, stickball, handball anything with a ball or puck. Of course getting into all sorts of shenanigans was always a high priority on the list.
– What makes great chocolate? What makes great pastries?
Great chocolate starts with great craftsmanship from growing the bean to processing the chocolate. Respect of the product, environment and production of product is always crucial. Sourcing quality ingredients and then of course having creativity and imagination.
– What is your advice to aspiring pastry chefs?
Work hard and stay humble – No one owes you anything you have to earn what you get and having thick skin always helps. It's a different world with social media and things that help and influence our industry. Our industry is all about working hard and staying creative that will never change. I think the best quote I ever read was from Anthony Bourdain "shut up and cook" society today is a bit more sensitive. Most of all "love what you do and do what you love" and everything will work itself out.
David Ramirez Chocolates
Orlando Location
2154 Central Florida Pkwy, Suite B-8, Orlando, FL 32837
Hours of Operations
Monday-Friday 10:00am-6pm
Phone Number
(407) 816-7400
Winter Garden Location
426 W Plant Street, Winter Garden, FL 34787
Hours of Operations
Monday-Thursday 11am-7pm
Friday 11am-9pm
Saturday 10:30am-9pm
Sunday 11am-6pm
Phone Number
(407) 614-8278