We would like to introduce you to Stop and Sip The Rosé Fridays at Ocean Prime Orlando where guests can enjoy half price glasses of Veuve Clicquot Rosé and $1 oysters from 5-7pm every Friday in the summer, in addition to their daily happy hour menu.  Stop and Sip The Rosé Fridays ends on Friday, August 31, 2018.
Ocean Prime is an award-winning modern American restaurant and lounge from renowned restauranteur Cameron Mitchell, with 14 locations across the country.  The service we received at Ocean prime Orlando was truly exceptional.  Ocean Prime is an ideal place to socialize, talk business, celebrate and indulge.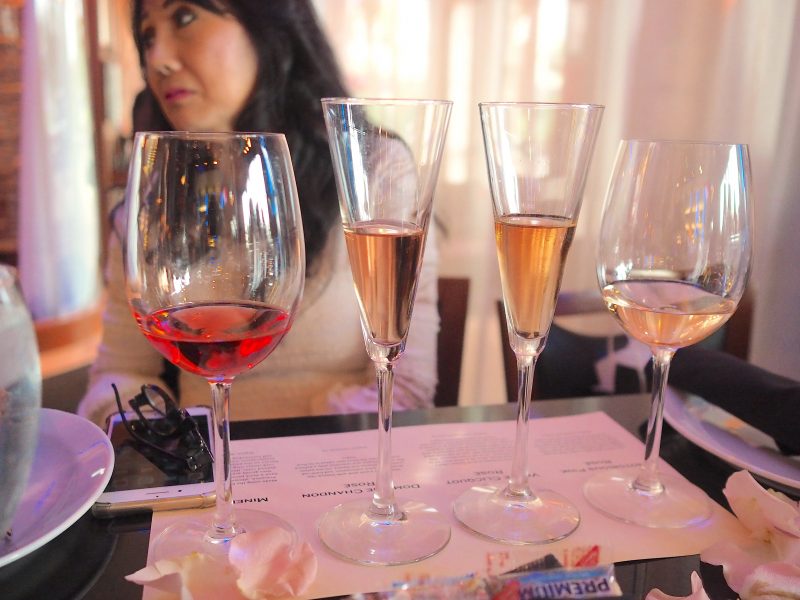 Miner Rose, Domaine Chandon Rosé, Veuve Clicquot Rosé, Notorious Pink Rose
All four Rosés are offered at a special price during their daily happy hour menu from 5-7pm.  On Fridays, the Vueve Clicquot Rosé is offered at a special discount of 50% off from 5-7pm.
Happy hour every day from 5-7pm.  Enjoy $5 off small plates and sushi offerings.
Oysters On The Half Shell

Prime Roll – Tempura Shrimp, Cream Cheese, Scallion, Beef Carpaccio
Dynamite Roll – Tempura Shrimp, Spicy Mayo, Sesame Seeds
Prime Sliders – Bacon, Bleu Cheese, Sundried Tomato
Lamb Lollipops – Teriyaki Marinated, Sweet and Spicy Glaze
Fish Tacos – Corn Tortilla, Avocado, Pickled Cabbage
General Manager Michael Kopoian, very outgoing and passionate man.
Executive Chef Jeremy Mattson.  Chef Jeremy has won several honors including Ruth's Chris Hospitality Group's "Executive Chef of The Year".
Great media dine with these lovely ladies!
A talented musician playing some tunes
Be sure to check out Ocean Prime Orlando soon for Stop and Sip the Rosé Fridays!
(Source credit: Ocean Prime Orlando)
Ocean Prime
7339 W Sand Lake Rd, 400, Orlando, FL 32819
(407) 781-4880
http://ocean-prime.com