We were wonderfully invited to enjoy dinner at Eddie V's to celebrate summer with some Sparking Sounds, which meant oysters and sparkling cocktails. However, let's shed some light on the experience and menu items you can find for a longer time duration.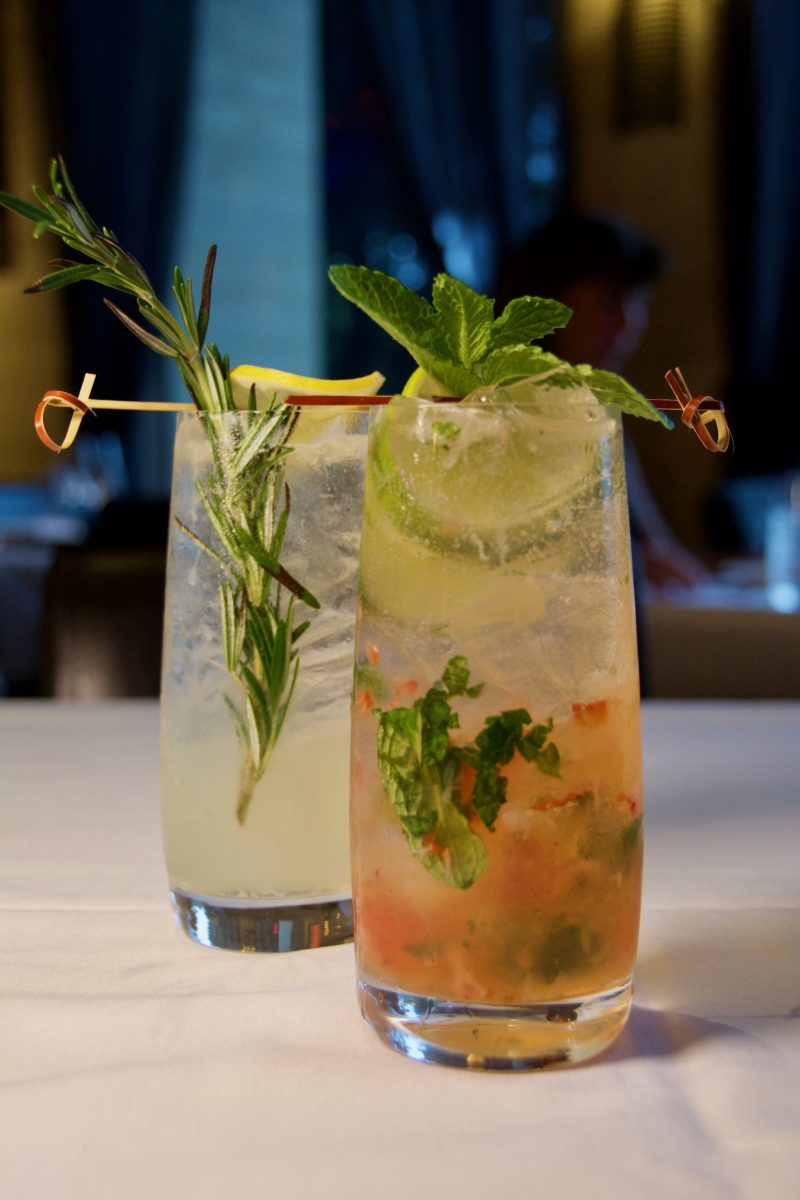 Of course, you can't attend the Sparking Sounds celebration without delicious cocktails. Photographed are the Lemon Rosemary Spritz (left) and Red Dragon (right). The Lemon Rosemary Spritz is made with Aviation Gin, St-Germain Elderflower Liqeur, Roederer Brut, and fresh lemon. The Red Dragon is made with Bacardi Dragon Berry Rum and fresh muddled Strawberries, mint, and lime. Both are very refreshing, but they weren't mixed very well.
Also, there's no way anyone should attend a prime quality seafood restaurant and not have some oysters. Photographed here are two Capital oysters from Spencer Cove, WA. I don't know about you, but I fancy West Coast oysters over East Coast oysters. Nevertheless, I wouldn't mind a challenge if you bring others to my plate. These Capital oysters were fresh and you could taste the ocean.
If you're not fond of enjoying bold oysters on their own, you could try them with some flavor like this Asian Fusion.
The Tartare of Pacific Ahi Tuna is made with curry and sesame oils, avocado, mango, and citrus. Each ingredient was fresh and delivered on a nice sesame cracker for additional texture. Yet, I would have liked the tuna to be a colder temperature than room temperature.
The Jumbo Lump Crab Cake is sautéed Maryland style with spicy chive remoulade. The crab cake is tasteful and I prefer it without the lemon. There's a dominant sweet, but slightly spicy note to this dish. The lemon would have been nice if there were no additional flavors to the crab besides the natural sweetness from the crab itself.
Chilean Sea Bass is steamed Hong Kong style with a light soy broth. The broth adds a sweetness to the buttery sea bass. The sautéed spinach that comes along for the ride is slightly saltier than preferred, but it is balanced out when eaten with the sea bass in the same bite. Like some spice? Take a bite of the sautéed ginger provided with the dish to the left of the sea bass.
One of Chef's Classics include a vegetarian dish – Miso Marinated Tofu served with fried rice and sautéed vegetables. The tofu is on the soft spectrum of the texture scale; I believe crispy tofu would have added more texture and make the tofu more exciting. A bite of the tofu with the fried rice will balance out the abundance flavors offered to the palate by this dish.
For some extra texture, try their Grilled Asparagus with sea salt, fresh lemon and a drizzle of butter. I was grateful to have my own professional hand model to pour our butter for us. The butter adds a nice smoothness to the crunchy asparagus I loved so much.
There isn't a proper meal if it doesn't include a decadent and cheesy dish, which brings the Truffled Macaroni and Cheese into play. Each bite coats your mouth with rich and earthy flavors.
To end the night, we experienced the Hope Diamond made with Grey Goose Vodka, Combier Pamplemousse Rose Liqueur, Lemon, Pea Flower Tea, and a Diamond Ice Cube. This drink notes romance, indulgence, and hopes for the best in life. It represents the elegance of the classy and upscale experience at Eddie V's. Not only that, but it is fun and allows you to take part in making it by pouring in some ingredients yourself to see the liquid change colors!
Our nearby Eddie V's in Orlando is located at:
7488 West Sand Lake Rd
Orlando, FL 32819
The hours at Eddie V's include:
Sun – Thu 4:00PM – 11:00PM
Fri – Sat 4:00PM – 12:00AM
Feel free to give them a call at (407) 355-3011 for a nice dinner to celebrate an event or life in general.
For more information, visit Eddie V's.