We were invited to La Tavola, which are Italian dinners based on its culture and cuisine. Well- known local chef Kevin Fonzo, formerly of K Restaurant, prepared fresh cooked Italian dishes that were paired with Franciacorta – currently the best "sparkling wine" in Italy.
There were five flights of wine. The first four flights consisted of two wines and the fifth was a single wine. Here is the menu as follows:
Wine Flight 1– DOCG Franciacorta La Valle Naturalis Extra Brut 2012 & DOCG Franciacorta Ricci Curbastaro Extra Brut
Wine Flight 2– DOCG Franciacorta Lo Sparviere Saten & DOCG Franciacorta Villa Franciacorta Saten 2013
Wine Flight 3– DOCG Franciacorta Majolini Brut & DOCG Franciacorta Ronco Calino Brut 2010
Wine Flight 4– DOCG Franciacorta Bonafidini Opera Rose & DOCG Franciacorta Antica Fratta Essence Rose 2011
Franciacorta: Flight 5 – DOCG Franciacorta Ferghettina Pas Dosé 'Riserva 33' 2010
Cheese, pastrami,sliced bread, olives, and roasted peppers were set on the table as a warm up.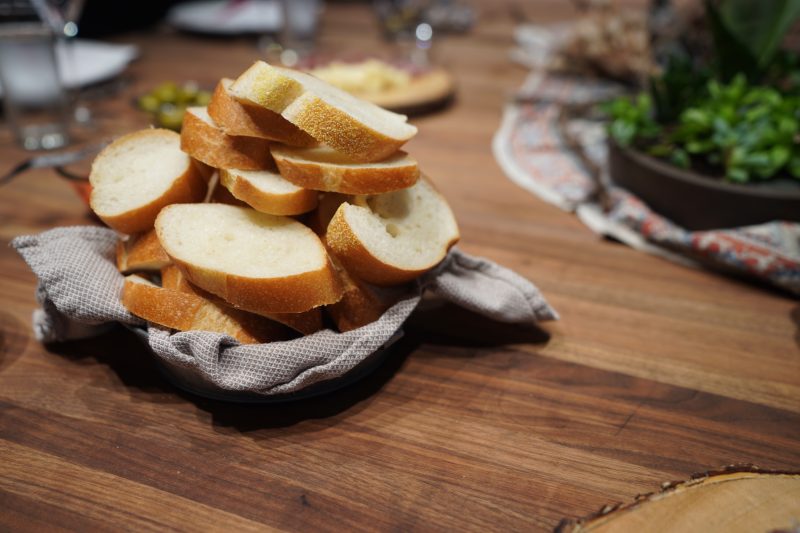 Here is a look at the dishes that were prepared and served by Chef Fonzo.
The chef says he chose these dishes because it was more about feeling comfortable at the table and the food went with every kind of wine. It's like going to an Italian grandmother's house on a Sunday.  He wanted it to be casual and encourage conversation.
"To me all the food tonight was from the heart. It's food I grew up on," says Fonzo. He is from New York but his grandparents are from Italy. His favorite dish that he served was the the tomato sauce and meatballs because that's his comfort food. 
 Rashmi Primlani, creator of The Primlani Kitchen and presenter of the dinner shares her thoughts, "Italy is an enchanting land of endless discoveries, dreams, & vino.  Like India, Italy is one country where regionality is not only accepted, it is encouraged, revered, and passionately pursued."
"What makes Italy particularly alluring is unlike the yuppies of the west, who voluntarily surrendered tradition for consumerism; Italians, including the champions of change, the younger generation, confidently and with great pride wear their cultural identity as a comfortable cloak or second skin, while crusading their local region onto contemporary stature. Speaking of Italian Wine, Franciacorta – Italy's leading sparkling wine region's quality conscientious producers, driven by passion and unwavering pursuit of perfection, undeterred by the wind or fashion, are forging exhilarating beauties dipped in sensuality and finesse. The single recurring note that dance in our minds – Franciacortais so much more than simply a toasting wine, it indisputably belongs on the dining table as every day affordable luxury, that marries well with all international cuisines, be it a family style meal or 12 course gourmand culinary experience. It's our duty to share the love for Franciacorta!"
At the end the night, Fonzo brought out some fruits and sweets along with different cheeses as something light on the stomach since we all ate until our bellies were full. There was no strict pairing as we could mix and match freely to our liking.
It was a night well spent with other local food and wine lovers. We laughed, mingled and shared moments together as we broke bread around the large wooden table. It was an intimate and homey experience. The wine had an approachable taste and it's true, it can be served with anything or you can drink it alone. It is not too harsh and the sparkling aspect gives it an enjoyable bounce and personality that you'll love.
Facts about Franciacorta Wine as provided by the Franciacorta Blend of Passions presentation – 
The 1st Italian Sparkling Wine
produced exclusively through
second fermentation in bottle
to gain DOCG in 1995.
As for its current market: 
117 producers
• 19 townships included in the Franciacorta area (including
municipality of Brescia)
• 2,800 hectares of vineyards producing Franciacorta DOCG
• 82% Chardonnay, 14% Pinot Nero, 4% Pinot Bianco
• 350 hectares of vineyards producing Curtefranca DOC
• 16.5 million bottles sold in 2015, 1.5 million of them abroad
• The leading export market was Japan, which accounts for
22% of the total exports, Switzerland and USA.