One of the first interviews I ever did on TastyChomps was with Master Sommelier George Miliotes, where he taught me some of the most basic things about wine, as well as his family's history in Orlando.
Now, Mr. Miliotes, with more than 40 years experience in the industry, has opened a new concept at Disney Springs – the eponymous Wine Bar George. Disney Springs – formerly known as Downtown Disney – has exploded in recent years with a plethora of new dining experiences led by celebrity chefs and arguably home to some of the best eats in Orlando.
We were recently invited to visit the 200-seat, 6,000-square-foot space to learn more about the new restaurant as well as a first-hand lesson from the Master Sommelier himself on wine tasting.
The opening at Disney Springs is a kind of coming home event for Mr. Miliotes who was part of the opening team of the California Grill restaurant at Disney's Contemporary Resort and managed the venue from 1995 to 2002. While there, he created an award-winning wine list and one of the first "100 wines by the glass" lists in the country.
As one of only 249 worldwide industry professionals certified by the Court of Master Sommeliers, Miliotes features wines from acclaimed and well-known wineries as well as growing regions and wineries that are up-and-coming. The location offers an unparalleled wine list including more than 130 selections by the ounce, glass and bottle. Wine Bar George is actually the only Master Sommelier-led wine bar in Florida.
"The wine list will feature more than 130 wines all served by the ounce, glass or bottle," Miliotes said. "The list will include more than 40 varietals from regions around the world. We will use the Coravin, the Vinfinity system and wine on tap to ensure each wine is enjoyed to its fullest extent. Servers will adeptly pair a range of small plates, cheese and charcuterie, shareable entrees and dessert with each wine. If you are looking for an awesome $9 glass on tap or a few ounces of Château Margaux, we will have wines for you to enjoy."
In addition to the extensive wine list, Wine Bar George offers a variety of cocktails, a selection of beer and cider and frosé.
Executive Chef Ron Rupert worked closely together with Mr. Miliotes to create a menu that would pair perfectly with the extensive wine selection, from small plates to artisan cheese and charcuterie boards, but also sharable entrées. The food here is definitely not an afterthought, but indeed is a part of what makes wine tasting such an enjoyable experience.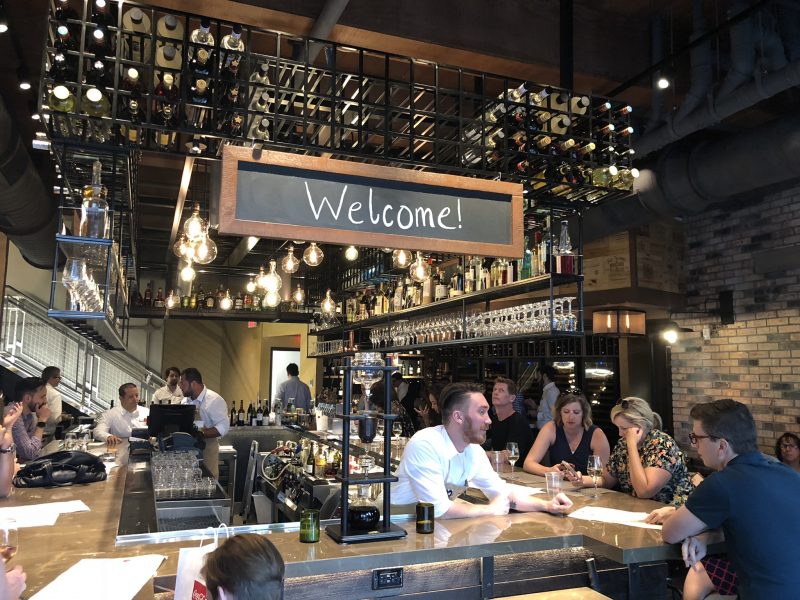 Upon arrival, we were treated with a selection of their craft cocktails including the American 75 and the New York Sour, with a board of select artisanal cheeses and charcuterie.
American 75 St. George Terrior Gin / Roeder Estate / Lavender
New York Sour Russell's Reserve 10 Yr Bourbon / Venta Morales Tempranillo
The Big Board Chef's selection of six artisanal cheeses & five crafted meats / condiments
Master Sommelier George Miliotes then gave us an education on wine tasting by giving us tips on the smells and tastes of wine, from dry to sweet, depth of flavor and taste, and how this all ties to the age and origin of the wine.
Taste Like a Master Sommelier Tasting of three wines led by George
Tasting:
Giocato Goriška Brda, Slovenia '17
Casas Del Bosque, Reserve Casablanca, Chile '16
Zuccardi Salta, Argentina '16
Our dinner included some small appetizers as well as family sized shareable entrees, all paired wonderfully with our wines. My favorites of the evening included the crispy mac and cheese bites (you will never guess what they are coated in!), the togarashi dusted chicken skewers, house-made meatballs, supremely tender skirt steak, and the wine braised chicken in mushrooms and vegetables.
Crispy Mac & Cheese Bites – tomato nage / pecorino
Chicken Skewers – togarashi / Asian slaw
House-Made Meatballs – triple cheese polenta / tomato sauce
Pairings selected by George Miliotes
First Wine: Selbach-Oster, Bömer, Zeltinger Schlossberg, Mosel, Germany '16
Second Wine: Foillard, Côte du Py Morgon, France '16
Grilled Whole Greek Sea Bass – cannellini bean ragout / seasonal vegetables / lemon
Wine Braised Chicken – mushrooms / Yukon potato hash / seasonal vegetables
Skirt Steak – roasted potatoes / chimichurri / seasonal vegetables
Desserts
Olive Oil Cake – candied olives / lemon mascarpone
Key Lime Pie – A Florida favorite
Follow George @WineBarGeorge on Twitter, Instagram and Facebook and join the #WineBarGeorge conversation. Visit WineBarGeorge.com for more news and updates.