I was invited to hang out with John Rivers, Founder/CEO 4 R Restaurant Group, at an exclusive grand opening ribbon cutting ceremony for the newest 4 Rivers' concept – 4R Cantina Barbacoa Food Truck!  Following the ceremony I got to enjoy a taste of the 4R Cantina Barbacoa signature dishes.
The Mexican-inspired eatery offers a variety of new signature dishes, including Taco Cone, Tacos, Burrito Bowl and Nachos filled with choice of meats such as Brisket Barbacoa, Nana's Pork Sofrito, Chicken Tinga or Grilled Tri-Tip Steak.
Each signature dish can be made vegetarian-friendly using Black Beans and Cilantro Rice as the filling.  The 4R Cantina Barbacoa Food Truck also offers a Squash Blossom Quesadilla as a standout vegetarian option.  Decadent desserts such as Chocolate Hazelnut Spread Nachos are available as well.  Seasonal specials can also be found on the menu.  During September and October, food truck patrons can enjoy the limited-time-only Pumpkin Spice Churro Balls.
The 4R Cantina Barbacoa Food Truck at Disney Springs is the only 4 Rivers location to offer service seven days a week – including Sundays.  Following in the philanthropic footprints of the 4R "Barbecue Ministry," all net proceeds from sales every Sunday support The 4R Foundation, which in 2017 helped more than 950 local schools, churches and charitable organizations.
4 Cantina Barbacoa Food Truck is located in the Marketplace at Disney Springs, next to Ghirardelli Ice Cream & Chocolate Shop.
(Source credit: 4 Rivers Smokehouse)
I love a good nacho trio!
Dulce de Leche Churro Balls
Chocolate Hazelnut Spread Nachos.  Great dessert!
Squash Blossom Quesadilla – Fresh squash blossom, zucchini, tomato, onion, refried beans, chihuahua cheese, and queso fresco served with a side of pico de Gallo.  It was delicious!
Taco Cone – Choice of Brisket Barbacoa, Chicken Tinga, Nana's Pork Sofrito, Grilled Tri-Tip Steak, Black Beans and Rice, plus shredded lettuce, guacamole, sour cream, pico de gallo, queso, cilantro, jalapeño, and a lime wedge.  I had so much fun eating this!
Chicken Tinga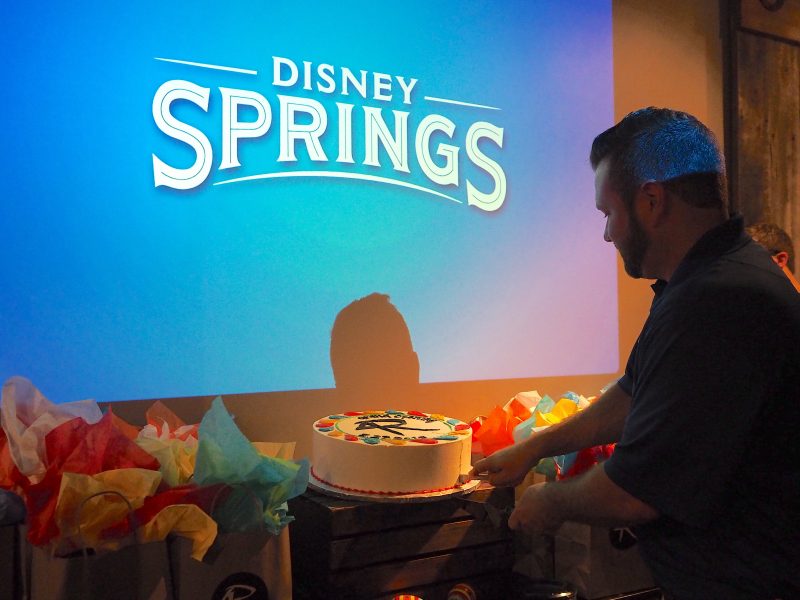 John Rivers being interviewed by Christina Thomas, voted one of the best bloggers in Orlando!

Congratulations John Rivers and welcome to Disney Springs!!  Be sure to check out the 4R Cantina Barbacoa Food Truck next time you are at Disney Springs!
4R Cantina Barbacoa Food Truck
Disney Springs, Buena Vista Dr, Orlando, FL 32830